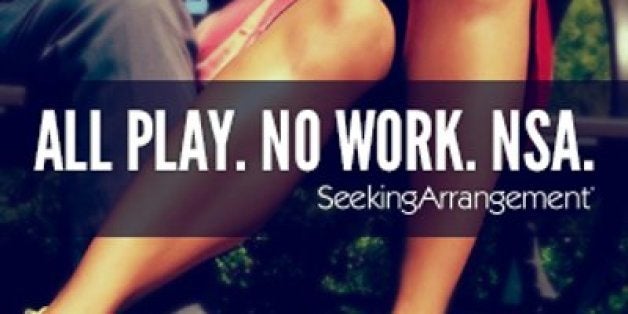 About 40,000 public school teachers are supplementing their salaries with a night gig likely too scandalous for your average PTA. The job title? Sugar baby.
That's according to dating site SeekingArrangement.com, the go-to Internet marketplace for "mutually-beneficial relationships" almost exclusively between older men and younger women. The site's "successful and generous" sugar daddies provide pre-determined allowances to "attractive, ambitious and goal oriented" sugar babies, in exchange for their young, nubile companionship.
The website recently announced it noticed an "influx of teachers signing up last month, prior to heading back to school."
So why are so many public school teachers cashing in on their sugar baby potential? Seeking Arrangement founder and CEO Brandon Wade has his own take.
"It's unfortunate what is happening in the American public school system," Wade said in a recent news release. "Teachers are placed under enormous pressures to mold the young minds of tomorrow, but are expected to do so with less wages than their peers, and by working longer hours."
The statistics seem to agree with Wade: Teachers currently earn 50 percent less than the average American with a bachelor's degree, according to the National Education Association. (That's despite the fact that over half of teachers have some sort of graduate degree.) On top of that, educators work about 12 hours of non-compensated hours a week.
Given their exhausting, underpaid profession, Wade argues, "they can't possibly be judged for whatever extracurricular activities they choose to pursue to stay afloat."
You don't have to share Wade's moral compass, though, to see that the benefits of the sugar baby lifestyle can be sweeter than Stevia: The average school teacher on the site asks her respective sugar daddy for $3,000 a month, the release notes.
The top school district where teachers are seeking out the sugar baby night shift? Philadelphia. (Incidentally, that school district announced 646 teacher layoffs this past June alone, according to the New York Times. Now, the district is pushing its teachers' union to accept $133 million dollars in cuts.)
Along with Philadelphia, other popular school districts for teacher/sugar babies include Miami-Dade, Los Angeles and New York.
Of course, teachers aren't the only ones trying their luck on Seeking Arrangement. Other common sugar baby occupations include servers/bartenders (almost 73,000) and nurses (about 65,000). That said, those demographics are eclipsed by the college student population: 682,078.