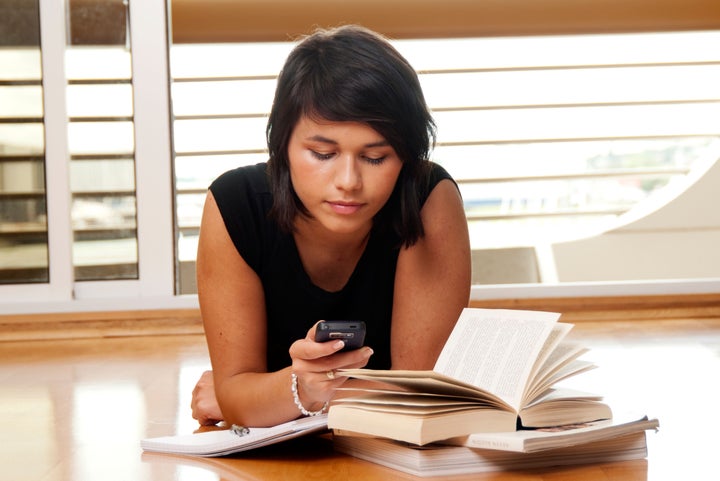 This year has already seen a slew of controversial incidents involving teachers texting students. Earlier this month, Pennsylvania teacher Timothy Moll was accused of texting one of his students and offering good grades for naked pictures.
Meanwhile, school districts and lawmakers around the country have been developing or revising policies on electronic communication and social media interaction between teachers and students. And with no shortage of scandals, many are erring on the side of caution by crafting stricter regulations. But some educators say such limitations can be detrimental to the young people they're trying to protect and could prevent teachers from taking advantage of one of the most valuable tools they have to interact with students: the text message.
"There's a lot of administrators, policymakers and elected officials trying to put out these ban dates -- a banning mandate," said Lisa Nielsen, who works in education in New York and authored "Teaching Generation Text: Using Cell Phones to Enhance Learning."
"It makes their job easier but it's not necessarily what best for children," Nielsen added.
Many policymakers are placing blame on the tools used to communicate rather than the person behind the communications, Nielsen said. "What we need to be doing is making policy about behavior. It's not because of these tools that teachers are engaging this way," she said. "If a teacher has said something inappropriate to a child, are we going to ban teachers from talking to students?"
Texting is far more effective as a means to engage students than email, which young people have found outdated for at least five years, Nielsen said.
"Teachers can send thought-provoking questions to their class for what it is they're going to be learning that day, and let students respond with their thoughts," Nielsen said. Every student gets a chance to respond and later have his or her ideas discussed, as opposed to what happens in the classroom when the teacher might not have the time to call on everyone or shyer students might be hesitant to speak.
So, while many are pushing back against the texting between teachers and students, some educators are embracing the medium as a way to more directly connect with students.
When former Harvard professor Mica Pollock collaborated on research for the OneVille Project with students and teachers at Massachusetts alternative school Full Circle/Next Wave, they began exploring the potential of text messages for providing students with support.
"It was the most obvious way to reach young people," said Pollock, now at the University of California, San Diego. "They were saying, 'If you need to reach me, texting is the way to do it.'" While not every student has a computer or a smartphone, most have phones with texting functions, she added.
As part of the continuing research project, two teachers have been texting frequently with their students -- about everything from students' needs to school events.
"Students started to ask questions about all sorts of school support issues," Pollock said. "We also started to see students and teachers using the channel to build relationships that were very valuable in motivating young people to come to school and to sort of feel valued by their teachers and to feel more committed."
Eric Sheniger, the principal at New Milford High School in Bergen County, N.J., and a Huff Post blogger, maintained that despite these incidents, technology can be incorporated into schools without compromising the students' safety.
"Many educators don't know that there are avenues out there to securely communicate with students via text messaging," Sheniger said. "It comes down to a lack of information."
Some members of Sheniger's staff use Tweet text, which turns public tweets into text messages that show up on a phone. Last month one of Sheniger's teachers started using Remind 101, a texting service that blocks phone numbers so that personal information isn't exchanged.
"We have the tools and we have the means. Many schools just don't have the will to move forward," he said. "We're missing a golden opportunity."
Mike Simpson, a general counsel for the National Education Association, said he encourages members of his organization to find a middle ground: communicate only about professional matters and use tools that can be tracked by the schools.
"We encourage users not to use personal cell phones or laptops and to go though the school servers," said Simpson, whose association is the nation's largest teachers' union. "Knowing that there is an administrator looking over your shoulder is going to make a teacher think twice about saying something, even in a joking manner."
At the same time, Simpson said, if states and school districts try to be too restrictive about what teachers can do, they risk being met with resistance.
"It may be a tough area to legislate in because believe it or not, teachers and other school employees still have some free speech rights," Simpson said.
"I hate this policy, and I could never work at a school that thinks this way about managing its teachers," wrote one commenter. "It is not wrong or illegal to give personal info, so don't stop me."
Related
Popular in the Community