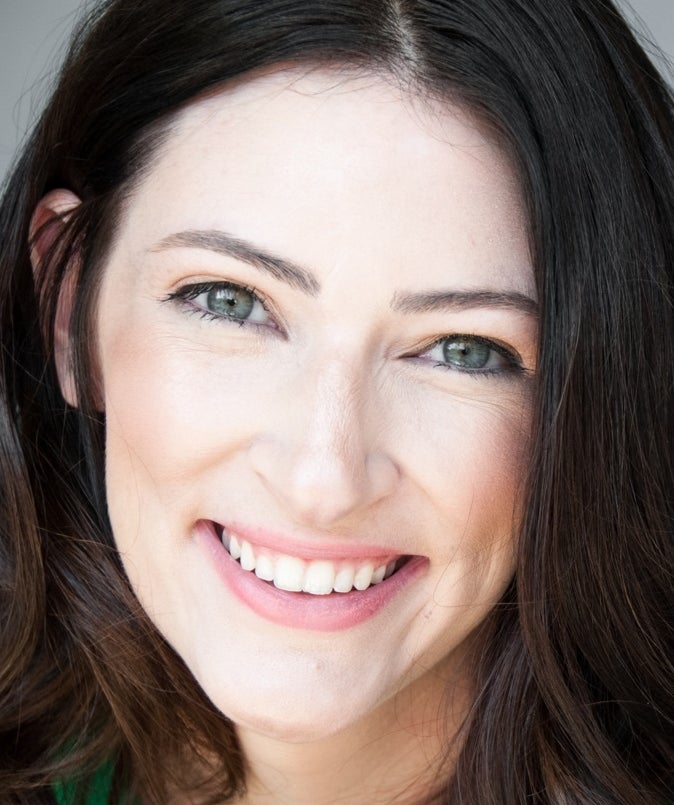 Comedian Katy Colloton is part of an improvisational group comprised of 6 women who have variations of "Kate" (or "Cait") in their names. The Katydids, as they call themselves, were brought together by comedian Caitlin Barlow (who I briefly confused with The Bachelor alum Kaitlyn Bristowe because it's all so c-c-confusing. This sometimes happens when I'm trying to keep up with Kardashian names as well) who saw the humor in the fact that so many Kates were in the comedy world. Together in Chicago, the six women performed a show that they thought was a "one off." Colloton reflects that some of the Katydids only first met that night for their initial performance held at the Playground Theater in Chicago. As I consider the coincidence of the names, I actually know several Kates who are comedians. One is Kate Casey who hosts the podcast Reality Life and the other is Caitlin Cutt of the podcast White Wine True Crime.
But getting back to Katy Colloton: "We had so much fun in that initial performance that we said let's keep on doing this," she reflects. "We were all taking classes at Second City and we had this organic beginning because we never expected it to be more than one show. After a couple of performances, it turned into a run. Then the run turned us into an official group."
Online sketches would soon follow live performances. Then the Katydids were approached by Matt Miller, a director who turned their shtick into a web series. Adds Colloton, "He came up with the topic of 'teachers' after hearing a podcast say that it was among the top 5 most adulterous and most admired professions. We thought 'hey, there's something funky going on in the teachers' lounge that we want to explore!'"
Now, playing the eponymous roles on TV Land's Teachers, the Katydids show viewers a hilarious and often hyperbolic side of the profession.
"We're all in our 20s or early 30s so we show teachers who are in their first jobs. They're still maturing and they're going to make mistakes. There's the teacher who is hung over. There's another who is attracted to 'Hot Dad.' The reality beyond the comedy is that there's a standard for these women who are in a profession where everyone expects them to be perfect."
Colloton and I spoke further about the show, currently in its second season:
SHW: What was the response to Season One from real life teachers who watched?
KC: We actually received tons of responses saying the show is hilarious. Many also told us how they could individually relate. They'd say 'that's what I wanted to say. I wish I had handled things that way,' or 'I had a coworker who actually did that!' It made us feel good because we wanted this to be a show that people relate to….and can laugh at (the exaggerations).
SHW: Was there any backlash? I feel like you can never tell what will offend some people.
KC: There was a little bit, but only a little! That was from people who would say 'I haven't watched the show but… you shouldn't make fun of teachers.' We're not doing that. We want teachers to be able to enjoy the comedy and also laugh at themselves.
We did a Facebook Live last year and half of the comments submitted were about the copier being broken, how it was the worst day for the teachers. We had no idea going in that so many people would even bring that up, so we went and did a plot about that, how the worst day ever is when the copy machine is out. When that happens, the teachers actually have to relate and talk to their students because they can't give out quizzes and assignments.
SHW: Are the majority of viewers actual teachers?
KC: No. There are some and many others are just comedy fans. The topic is something that everybody should be able to relate to because each of the characters are unique and have their own quirks. Many viewers say 'I had that teacher when I was younger.' Being that viewers were students at some point, they reflect back to their school days and are reminded of certain personalities.
SHW: I've noticed that there are many young kids filling the classrooms. As a parent who has no child actors, I'm curious where and when you film these scenes.
KC: We shoot an episode in 4 days, so we block-shoot the classroom scenes and kids can come in and film their scenes for 4 or 5 hours and then we go on to something else. We film in a real school building in Woodland Hills. It's really beautiful but also vacant right now because sadly, it lost its funding.
SHW: For this season, did you go in any different directions with the characters or thematically than you did in season one?
KC: This season, we were able to go deeper with the characters and explore more territory. We got more into political and social issues. My character Ms. Snap gets involved with politics in an episode about 'slut shaming; and in another where she runs a 'Women Empower Women by Women…' group. Then there's an episode about breastfeeding as well as a plot about a girls' math and science class. We also continue with Ms. Bennigan's relationship with 'hot dad.' You see these characters get closer and how their relationship progresses. That storyline was a fan favorite last year, so viewers are excited to see how it all goes down.
What's also really different this season is that we will end the first 10 episodes with a musical one. You get to see a different side of us as performers and each of our characters, the teachers, in this musical forum. We actually started the season with a 2 minute musical number and so the last episode (of the 10) is the other book end and it's fully musical.
SHW: I love that you say you get into politics a bit this season. I know from my own kids that the reactions post-Election Day caused some mayhem in the classrooms.
KC: I can only imagine! I would be very conflicted regarding what to say if I was a real teacher. It's a weird time and also an exciting one because so many children are actually interested and having a reaction. Even really young kids! At the same time, it's not good that there's a divide among kids. It's not good to have kids hating each other based on who parents voted for and the differences in opinions right now.
SHW: Does Trump exist in the land of TV Land's Teachers?
KC: We wrote just assuming that Hillary was winning, so it's interesting to go back and look at the episodes. There are no direct political mentions, but suddenly it's just different now…Had we known then what we know now, we may have written the episode about 'slut shaming' differently. We are still writing the back 10 episodes now, so we will incorporate that in there. I feel like being a comedian and having this platform instills this responsibility in us to comment on what's currently going on in this country. All 6 of us write, produce and act so we're very involved in what goes on in the show and that's been really amazing! The first 10 episodes air this month (January) and the next 10 will air in the summer but we will shoot them in February.
SHW: There are many highlights of the show, but from last season I particularly enjoyed the teacher who is sensitive and still harping about her childhood bully. Then the former bully ends up being a parent of one of her students! As an adult, I had the opportunity to confront a former bully myself, so this is the teacher I most related to…although you guys are poking fun at her 'emo' status.
KC: I had a girl who bullied me and now she likes all my Instagram posts. (Laughs) She probably doesn't remember how awful she was. She probably remembers us as good friends! Who knows? But that actually is an interesting plotline for that reason. Childhood is such a crazy time and the things that we hold onto are not the things that others even remember! It's the same with teachers as it is with peers. There are teachers who struck us as so bizarre but we don't remember them until we watch a comedic sketch and we're suddenly reminded. That's what viewers really enjoy about the show.
Teachers airs Tuesdays at 10/9c PM on TV Land.
Calling all HuffPost superfans!
Sign up for membership to become a founding member and help shape HuffPost's next chapter
This post was published on the now-closed HuffPost Contributor platform. Contributors control their own work and posted freely to our site. If you need to flag this entry as abusive,
send us an email
.