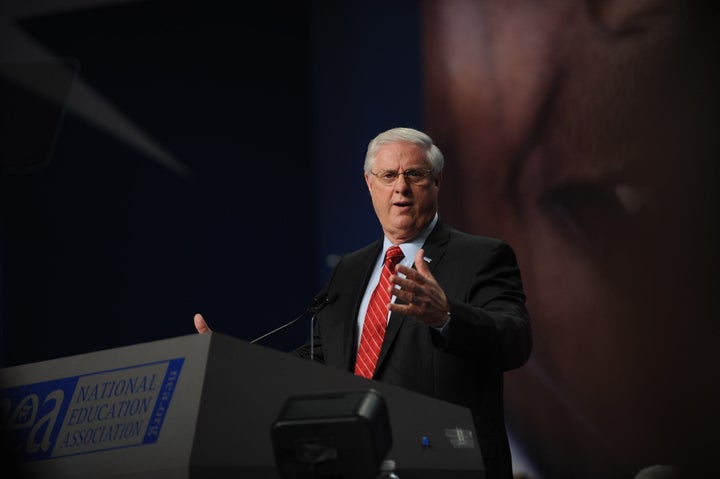 Mike Antonucci went through the National Education Association's financial disclosure report so you don't have to. The NEA is the nation's largest teachers union. He found that the union spent $15 million on advocacy -- $3.8 less than the previous year.
Some interesting (but mostly predictable) grantees include Center for American Progress, American Bridge, Committee for Education Funding, Economic Policy Institute, Education Writers Association, Marylanders for Marriage Equality, and the Republican Main Street Partnership. Also, the NEA gave $25,000 to something called the Hip Hop Caucus Education Fund.
One standout recipient is Idahoans for Responsible Education Reform, which received a gift of over $1.04 million. As you may recall, Idaho was a hot and expensive place for education activism this fall. A ballot contest forced state schools chief Tom Luna to defend laws that dramatically changed school technology and the ways teachers are compensated. Idahoans for Responsible Education Reform played a big role in the fight against Luna. Thanks, in part, to the NEA contribution, voters took down the so-called Luna laws in November.
See the full list below, per Antonucci:

AFL-CIO - $1.15 million

Alliance for Justice - $5,000

America Votes - $376,100

America Works - $250,000

American Bridge 21st Century - $200,000

American Constitution Society - $10,000

American Sustainable Business Council Action Fund - $15,000

Asian American Justice Center - $10,000

Asian Pacific American Labor Alliance - $5,000

Be the Change - $100,000

Board of Hispanic Caucus Chairs - $10,000

California Community Foundation - $6,000

Campaign for America's Future - $20,000

Center for American Progress - $35,000

Center for Economic Organizing - $12,800

Center for Teacher Leadership - $63,178

Center for Teaching Quality - $120,767

Central Intercollegiate Athletic Association - $50,000

Citizens Helping Heroes - $10,000

Citizens for Tax Justice - $15,000

Committee for Charlotte 2012 - $250,000

Committee for Education Funding - $17,713

Committee on States - $25,000

Congressional Black Caucus Foundation, Inc. - $70,000

Congressional Hispanic Caucus Institute - $55,000

Council of State Governments - $6,000

Daily Kos - $30,000

Democracy Alliance - $235,000

Democratic GAIN - $10,000

Economic Policy Institute - $250,000

Educating Maryland Kids - $200,000

Education Writers Association - $10,500

Edward M. Kennedy Institute for the United States Senate - $200,000

Excelencia in Education - $10,000

Fair Districts Now - $478,000

Fair Elections Legal Network - $50,000

Gay Lesbian and Straight Education Network - $7,500

Good Jobs First - $15,000

Great Lakes Center for Education Research and Practice - $250,000

Health Care for America Now! - $125,000

HEROS, Inc. - $100,000

Hip Hop Caucus Education Fund - $25,000

Idahoans for Responsible Education Reform - $1,042,000

Initiative for Responsible Investment - $5,000

Japanese American Citizens League - $5,000

Jump$tart Coalition for Personal Financial Literacy - $9,300

Kansas Values Institute - $49,950

Keep It Local North Dakota - $135,000

Lawyers Committee for Civil Rights Under Law - $25,000

Leadership Conference on Civil Rights - $5,000

Learning First Alliance - $91,200

Learning Forward - $25,000

Marylanders for Marriage Equality - $50,000

MediaMatters - $100,000

Mexican American Legal Defense and Educational Fund - $10,000

Montanans for Fiscal Accountability - $25,555

Moving South Dakota Forward - $225,000

NAACP - $11,000

National Action Network - $25,000

National Association of Latino Elected and Appointed Officials Education Fund - $5,000

National Black Justice Coalition - $20,000

National Coalition on Black Civic Participation - $5,000

National Conference of State Legislatures - $31,385

National Council for Accreditation of Teacher Education - $202,646

National Hispanic Leadership Institute - $25,000

National Public Pension Coalition - $135,000

National Women's Law Center - $10,000

Netroots Nation - $15,000

New Hampshire Unity Table Fund - $50,000

Ohio Democratic Party - $150,000

Organizations Concerned About Rural Education - $5,000

Opportunity to Learn Action Fund - $300,000

Parent Teacher Home Visit Project - $58,353

Partnership for 21st Century Skills - $35,000

Patriot Majority PAC - $100,000

People for the American Way - $135,000

Progressive Majority - $50,284

Project Love Remember the Children Foundation - $250,000

Project New West - $140,000

Protect Maine Votes - $81,500

Public Education Defense Fund - $1 million

Quality Education and Jobs - $50,000

Republican Main Street Partnership - $25,000

Ripon Society - $10,000

Robert Russa Moton Museum - $50,000

SEIU - $15,333

Taxpayers in Support of Public Education - $30,000

TIDES Foundation - $100,000

University of Colorado Boulder Sponsored Project - $250,000

U.S. Hispanic Leadership Institute - $100,000

Voces de la Frontera - $23,515

Washington, DC Martin Luther King, Jr. National Memorial Project Foundation - $166,666

We Are Ohio - $4,568,000

Wellstone Action - $30,586

Related
Popular in the Community