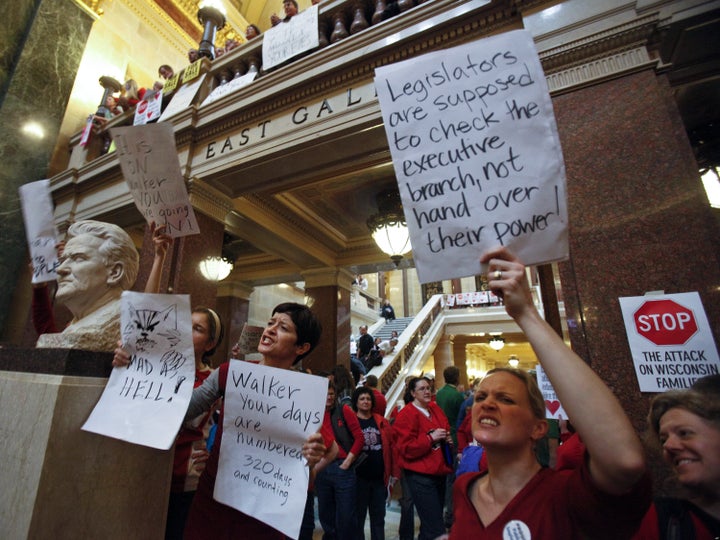 UPDATE:
It's back to school for Madison schools today for the first time in a week. Teachers are planning on discussing the protests in an objective way with students and possibly incorporating Wisconsin labor history into their lessons, reports the Wisconsin State Journal.
The protests there have had a ripple effect across the country.
Idaho teachers unions held rallies in Boise and 10 other cities in the state on Monday to protest proposed layoffs for hundreds of teachers and limitations on their collective bargaining, according to Reuters.
And in Florida, with teachers at the helm, union workers are posting plans on the "Awake the State" Facebook and Twitter pages for protests on March 8, the Sunshine State News reports. Protesters will speak out against a proposed $5 billion in budget cuts.
The Wisconsin State Capitol bulged with thousands of union members, including teachers, Thursday protesting Wisconsin Gov. Scott Walker's bill that would limit union bargaining rights.
Walker says it's a way to tighten the state budget, and he's not singling out any one union group, the New York Times reports. Still, with two days of "sickouts" across the state, teachers are making sure Gov. Walker knows they feel targeted.
Milwaukee schools made the call this morning to close due to teacher absences. Officials of the state's largest district say staff who didn't show up will be "punished," reports the Pierce County Herald.
Madison schools aren't in session for the third straight day today, and more closings across the state have cropped up as well.
The governor's plan calls for teachers to pay more for their pensions and health insurance to help eliminate the state's budget deficit.
Politico calls the Wisconsin protests a "a convergence that is remaking the politics of education."
Both Democrats and Republicans want reform on teacher pay and employment practices, and what's happening in Wisconsin could be the beginning of a movement.
"Teachers unions, historically one of the most powerful interest groups in American politics, are being besieged like never before -- under attack from conservative GOP governors with a zeal for budget-cutting even while taking fire from some Democrats, including President Barack Obama, who has suggested he agrees that unions can be an impediment to better schools."
From Nevada to Florida to New Jersey, state governments have challenged their own public unions with plans similar to Walker's, The Atlantic reports.
New Jersey GOP Gov. Chris Christie believes union contracts take a toll on the state budget, according to CNN.
"I'm attacking the leadership of the union because they're greedy, and they're selfish and they're self-interested," New Jersey's Republican Gov. Chris Christie told a conservative conference Wednesday.
Wisconsin is one of about 30 states with collective bargaining laws covering state and local workers. The Wisconsin Education Association Council, the biggest teachers union in the state, says they understand the budget crisis but feel the legislation will strip away the rights of workers.
"We know these are tough times and we have made it clear to the governor and legislators that we are prepared to do our part to help our state recover. This isn't about protecting pay and benefits - it's about protecting the right to collectively bargain. That's what's being stripped away here - the rights to be represented," council president told ABC News.
President Obama told WTMJ-TV in Milwaukee that public workers should be ready to give up some slack. He did, however, call Walker's plan "unduly harsh."
Secretary of Education Arne Duncan Duncan says he'll personally call Gov. Walker, the Chicago Tribune reports. Duncan didn't provide details about what he'd say, but he promised to pressure the governor to work with the unions.
Politico points out that The National Education Association, the largest teachers union, spent $40 million on the 2010 elections.
"The backlash threatens to undercut one of the Democratic Party's most stalwart backers -- and upset a mutually beneficial relationship where the unions provided financial support and foot soldiers for Democratic campaigns, in return for political cover to protect their prerogatives in the U.S. Congress and state capitols across the nation."
Today, it was widely reported that Senate Democrats disappeared as a protest, making a vote on the bill impossible.
Fox News reports that the Wisconsin governor called the lawmaker's actions "disrespectful to the hundreds of thousands of public employees who showed up to work today and the millions of taxpayers they represent."
Popular in the Community