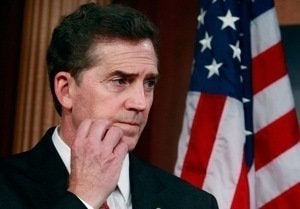 Joining several LGBT and women's rights organizations, the nation's two major teachers unions are now coming out and criticizing Sen. Jim DeMint's (R-S.C.) recent comments that openly gay individuals and unmarried pregnant women should be barred from teaching in public schools.
"We thought these battles had already been fought and won decades ago," said National Education Association (NEA) Government Relations Director Kim Anderson. "This is one of the reasons why the NEA has fought for civil and human rights ever since its conception 157 years ago, and we want qualified people in the classroom, and it doesn't matter whether they're married or what their sexual orientation is."
When asked whether DeMint should apologize publicly for his remarks, Anderson replied, "I hope that voters will make their minds up clearly and send a message to him about what his policy statements should reflect."
The American Federation of Teachers (AFT) is run by Randi Weingarten, who is out as an openly gay woman. "On a personal level, as a gay woman, I am very disappointed that a senator would place more emphasis on who we are as human beings than on what we do as professionals," said Weingarten in a statement to The Huffington Post. "That is not the UNITED States of America that was on display at last Saturday's One Nation rally in Washington, D.C. That event better reflected the country that I know and am proud of."
Both the NEA and the AFT stressed that comments like DeMint's are why union representation is still so essential for teachers. "There are still some of our members who get threatening comments by principals about, 'You'd better not get pregnant or you won't have a job,'" said Anderson. "These types of circumstances are still happening today, and so you know, to the extent those battles have been fought and won legislatively, we still have a lot of hearts and minds to change, and behaviors to change. And Mr. DeMint's comments don't help that change."
Weingarten noted that the AFT is pushing for the passage of the Employee Non-Discrimination Act, which would protect members of the LGBT community. "Discrimination and ignorance go hand in hand," she said. "Not only were Sen. DeMint's remarks reprehensible and irresponsible, but they add nothing to the dialogue on quality public education, or on the preparation, ability and skill of teachers."
At an event in South Carolina last week, DeMint reiterated his personal belief that single, pregnant women and LGBT individuals should not be be allowed to teach in public school, comments he first made in 2004. "(When I said those things,) no one came to my defense," DeMint said on Friday. "But everyone would come to me and whisper that I shouldn't back down. They don't want government purging their rights and their freedom to religion."
In the past week, groups ranging from the Log Cabin Republicans, the National Organization of Women, GOProud and the Human Rights Campaign, among others, have come out and criticized DeMint.
In a statement to The Huffington Post on Saturday, Wesley M. Denton, communications director for DeMint, said that the senator was "making a point about how the media attacks people for holding a moral opinion." "Senator DeMint believes that hiring decisions at local schools are a local school board issue, not a federal issue," he added.
*************************
What's happening in your district? The Huffington Post wants to know about all the campaign ads, debates, town halls, mailings, shenanigans, and other interesting campaign news happening by you. E-mail us any tips, videos, audio files, and photos to election@huffingtonpost.com.
Calling all HuffPost superfans!
Sign up for membership to become a founding member and help shape HuffPost's next chapter