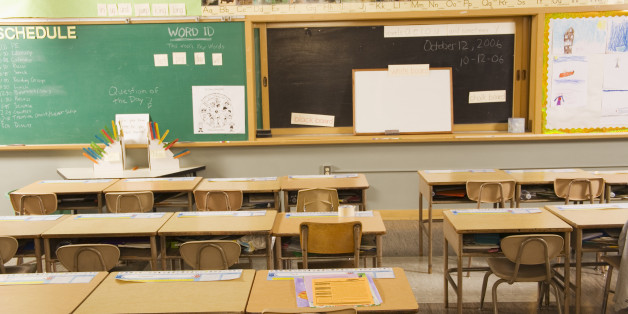 From New York to California, teacher tenure has been under attack across the nation this summer.
In June, a judge in California struck down the state's teacher tenure laws -- which give educators increased job security -- saying they potentially interfere with children's right to a basic education. One month later, an advocacy group led by former CNN anchor Campbell Brown filed a lawsuit similarly trying to roll back teacher job protections in New York. In Kansas, the state's teachers' union recently filed a lawsuit to fight new legislation that ends due process rights for teachers facing dismissal.
But as this issue currently plays out in courts, it's hard to know where the general public stands.
In collaboration with YouGov, The Huffington Post conducted a poll last week on Americans' views about teachers unions and teacher tenure. The results were mixed, and there does not seem to be overwhelming support for teacher job protections or opposition to them.
The Huffington Post started by asking respondents about their views on labor unions, as teachers' unions generally work to protect practices like tenure. About half of respondents said they had a somewhat favorable or strongly favorable opinion about labor unions. On the other hand, 36 percent said they had a somewhat unfavorable or strongly unfavorable opinion about labor unions. When broken down by party lines, Democrats were more likely than Republicans or independents to express support for labor unions.
When asked about their thoughts on teachers' unions specifically, respondents responded similarly:
The numbers of respondents who said they support or oppose teacher job protections was also split almost down the middle. Forty-three percent of respondents said they somewhat support or strongly support teacher tenure practices, and nearly the same amount said they somewhat oppose or strongly oppose them.
Still, only 31 percent of respondents said they thought it is too difficult to fire public school teachers in their state. Conversely, 12 percent of respondents said it was is too easy to fire teachers, and 27 percent said the difficulty level was about right.
A majority of respondents said they think teachers in their state are mostly good at their jobs. Most respondents also said teachers are paid too little, or that they're paid the right amount. Few said they thought teachers were paid too much.
But respondents generally lacked knowledge about the teachers' unions in their states -- nearly half said they were unsure if their state had a strong and active teachers union.
The HuffPost/YouGov poll was conducted Aug. 5-7 among 1,000 U.S. adults using a sample selected from YouGov's opt-in online panel to match the demographics and other characteristics of the adult U.S. population. Factors considered include age, race, gender, education, employment, income, marital status, number of children, voter registration, time and location of Internet access, interest in politics, religion and church attendance.
The Huffington Post has teamed up with YouGov to conduct daily opinion polls. You can learn more about this project and take part in YouGov's nationally representative opinion polling. Data from all HuffPost/YouGov polls can be found here.
REAL LIFE. REAL NEWS. REAL VOICES.
Help us tell more of the stories that matter from voices that too often remain unheard.
BEFORE YOU GO
PHOTO GALLERY
SAY WHAT?! The Strangest Bills Of 2013