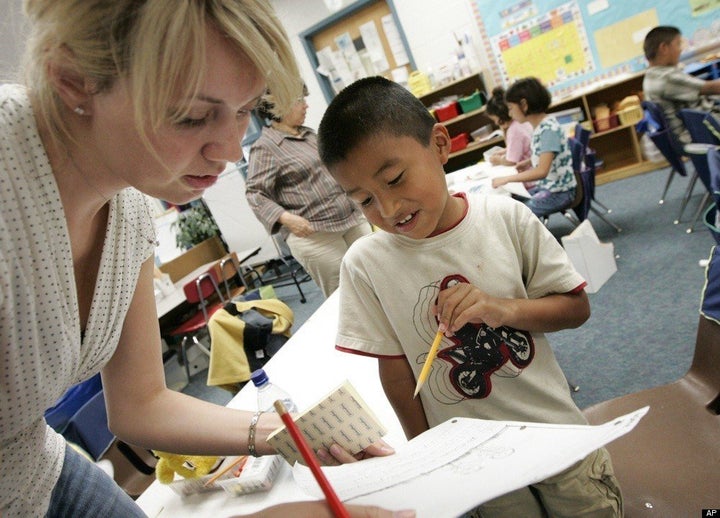 One day soon, my name and performance evaluation could be printed in your morning newspaper. It will tell you that I'm a teacher who has clear strengths and weaknesses in helping my students advance academically.
But as valuable as my so-called "Teacher Data Report" is in helping me identify these areas, it really doesn't say much about the overall quality of my teaching. And printing the results -- as an NYC judge just gave the city the right to do -- will do little to make me, or any of my colleagues, better teachers. At least, not right away. What will help is the Department of Education and the teachers' union putting aside their differences and improving these reports so that teachers like me receive good information about our performance and clear steps towards achieving our classroom goals.
As an educator, I want to be evaluated. I know that my students' success hinges on the quality of my teaching. The Department of Education is actually on the right track with the "value-added" method it uses to calculate the impact teachers have on their students' academic growth. Value-added compares a student's predicted performance on standardized assessments with how he or she actually performs. I, and many of my fellow educators, support this approach as one measure of our overall performance for several reasons:
1. Value-added methodology is one of the most accurate tools available to gauge a teacher's contribution to student learning. It is useful especially because it accounts for the many things a teacher cannot control, such as a student's past academic history, English language proficiency, poverty level, or class size. Furthermore, teachers are only compared to other teachers who have similar amounts of experience and teach similar populations of students.
2. Value-added provides us with meaningful feedback as to our strengths and weaknesses in the classroom. The Teacher Data Reports help us analyze how we are doing with certain sub-groups of students. For example, a teacher might learn that he is particularly adept at making progress with English Language Learners, but did not perform as well with Special Education students. Using this information, teachers and administrators can set instructional goals to push all students forward.
3. Value-added results can add a lot to the current teacher evaluation system. The existing system rates more than 98 percent of teachers "satisfactory." This binary "satisfactory/unsatisfactory" system does not account for range in teacher performance. It provides little to no feedback to teachers and most certainly does not help students. These evaluations are based primarily on administrator observations of teacher behaviors; value-added, on the other hand, focuses on how much students learn.
However, value-added results alone do not tell the full story of a teacher's performance, which is why the publication of these scores in their current form would be misleading. Only a small percentage of teachers actually receive these reports, and they currently only measure performance in math and reading. Teacher evaluations, especially ones that are made public, should provide the full picture of a teacher's ability to help students gain knowledge. A comprehensive evaluation system must also include other measures such as rigorous observations by well-trained administrators and/or peers.
And of course, the information is only as good as how it's used. It's only helpful when principals discuss the evaluations with each of their teachers and use them to set meaningful goals for progress. Furthermore, administrators and the Department of Education should support targeted professional development for individual teachers to address weaknesses the Teacher Data Reports reveal.
I want an evaluation system that helps me to help my students. In other words, a meaningful system that doesn't just lead to headlines, but to real results for kids.
Related
Popular in the Community