During my first year of teaching, I decided what students would read and write about, and how I would grade their work, without their input. I determined what success looked like in my classroom.
Unfortunately, it took me a long time to realize that the classroom policies I created unilaterally were not having the impact I wanted. As I began to include students and their opinions in making decisions, I discovered my students became happier and more engaged, and, most importantly they learned and grew more.
Our research in Teacher Engagement and Perspectives on ESSA: An Eagerness to Engage and Be Heard indicates that when it comes to planning and designing policy, key decision makers spend their time a lot like I did my first year of teacher, failing to understand that it's difficult to design systems and structures to support student success and teacher growth without asking stakeholders what they think.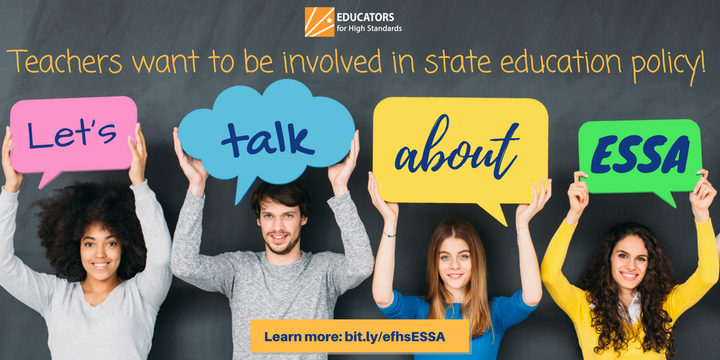 Because we feared teachers were being excluded from important conversations about student success, Educators for High Standards set out to explore what current classroom teachers really think about ESSA, and how states have engaged teacher voices in planning to implement the new legislation.
We found that teachers are ready and willing to be heard. Unfortunately, they also feel like no one is listening.
A shocking majority of teachers – 96 percent – believe their voices should influence education policy, and they have a clear vision for establishing measures to hold schools and districts accountable for making sure students succeed, ranking their own professional qualifications and the development of social and emotional skills highest.
However, only 50 percent of teachers believe that their state has sought adequate teacher input in the development of their state's plan to implement ESSA.
While teacher advocacy leaders – classroom teachers engaged in education advocacy work – feel that they understand ESSA reasonably well, teachers overall are less confident in their and their colleagues' understanding of the law. Encouragingly, teacher advocacy leaders are more optimistic than the overall teacher population about the type and magnitude of impact they believe ESSA will have, but both groups are skeptical about whether their own state will actually make significant changes under the law.
Overall, we learned that the passage of ESSA in 2015 was accompanied by the hope that it would support school improvement, student learning, and teacher growth.

It's too soon to tell if ESSA will actually advance or achieve any of those goals, but one thing is clear - without engaging teachers in critical policy decisions, schools, districts and state are ignoring the voices of those who potentially have the most opportunity to impact student learning.
Everyone involved in the policy process, from parents and teachers to legislators, deeply want children to succeed in school and beyond. To accomplish that – to craft and implement a system in which every child succeeds academically, socially, and emotionally – we have to come together and invest in a policy process that puts students at the center and invites crucial shareholders, and particularly teachers, to create a collaborative vision for student success.
Popular in the Community