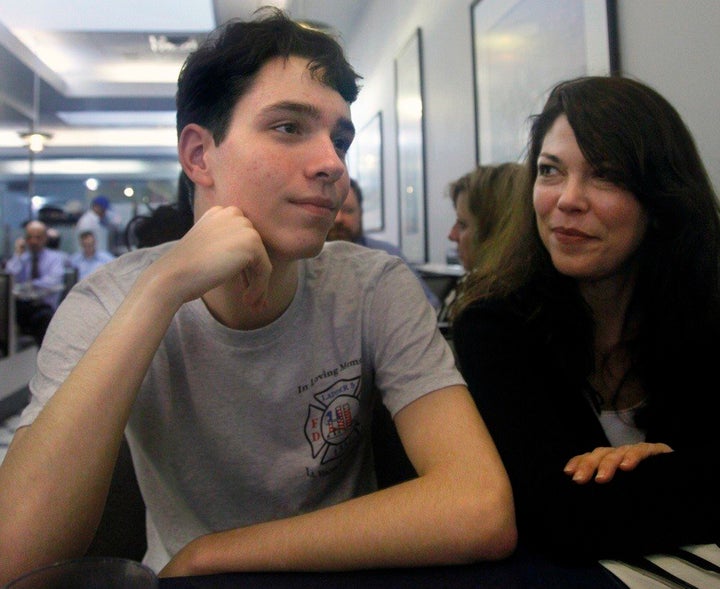 NEW YORK -- Brook Peters saw the twin towers fall on his second day of kindergarten at Manhattan's P.S. 150. He was 4 years old and eight blocks away, listening from his school at Greenwich and Jay streets to the tragic events that would define his youth.

The images of that day haunted him –- including the fire truck he rode on and the temporary classrooms he endured. And yet, for the next 10 years, not a single teacher in any classroom explained the world-shaking he'd witnessed.

"I was disappointed teachers didn't deal with it," Peters, now 14, said. "I did want to learn more about 9/11. ... There wasn't the opportunity in class. Me and a few other students took it upon ourselves and learned more outside."
Like Peters, many children who grew up in the post-9/11 world haven't been formally educated about the events of that day and their aftermath, and researchers have no idea how many teachers even touch on the subject in the classroom. Still, they think the number is less than it should be.
"What we've seen is the curriculum pressure these folks are under," said Jeremy Stoddard, an associate professor at William & Mary College of Education, who has examined the issue. "If it's not in their standards that's going to be tested, it's not likely to be taught."
Those who do teach about 9/11 are forced to be creative with their lesson plans, because 10 years after the attacks, the events of Sept. 11 are not settled in textbook curricula, Stoddard said. Shortly after Sept. 11, many organizations disseminated their own curricula, but instead of presenting only facts, he found, these materials served the missions of those groups, leaving teachers with a confusing array of resources.
Indeed, only a few states require the teaching of Sept. 11 in their standards, and teachers themselves are often scared to have deep, politically tinged conversations about terrorism. "They're worried they're going to be seen as indoctrinating students," Stoddard said. "Anytime you get into something that might be deemed controversial, teachers are anxious about opening up the question for fear of what might come out."
With his former adviser Diana Hess, a professor at the University of Wisconsin-Madison, Stoddard examined the proliferation of 9/11-related curricular aides and released a study in 2007, finding that "[n]on-profit organizations used 9/11 in ways that aligned with their missions, while textbooks treated 9/11 in ways that are directly linked to the subject of the books."
For example, Brown University's Choices for the 21st Century Project, a broad program that uses role-play to facilitate learning, focuses on foreign policy -- and so did its 9/11 materials. The Close Up Foundation at the time was producing a video about youth voting -- so it tacked on an introduction about 9/11. "Thus, while the Choices Project suggested deliberation as an appropriate citizen response to 9/11, Close Up promoted voting," Hess and Stoddard wrote.
The report also found that textbooks in particular tended to have few factual details, such as the death count.
Still, there are efforts to standardize 9/11's lessons. New York City introduced a new curriculum on Sept. 1, available for teachers' use across the city. Developed by the city's Department of Education and the National September 11 Memorial & Museum, it includes lessons on such subjects as "historical impact" and "heroes & service." New Jersey also recently released a new curriculum, which stresses tolerance. It was jointly created by the New Jersey Commission on Holocaust Education and victims' families.
Several states have written standards for 9/11 into their curricula. But the quality and complexity of the standards and the curricula vary, according to Stoddard. "Some state standards, like in Texas, lead to stereotypes," he said. "Texas points to fundamentalist Islam for the study of terrorism."
Last month, Stoddard and Hess released a followup paper examining newer materials. They found that, while still lacking detail, the updated curricula increasingly open up questions about terrorism for discussion, allowing students to think instead of memorize. Still, according to the study, textbooks specifically do not allow "for the possibility that its [terrorism's] definition may be contested or wrong." They praised some curricula, such as the U.S. State Department's, for encouraging debate.
Yvonne Mason, an English teacher in Mauldin High School in Greenville, S.C., looked at the barrage of curricular offerings, but distrusts ready-made lesson plans. "The packages don't give much leeway for actual thinking," Mason said.
Instead, she's using the news to teach 9/11. "I'm having them find accounts of the anniversary from international newspapers," Mason said. "We're going to talk about how the diction and language impacts the story itself." Her students will write comparisons of the domestic and foreign stories, with the goal of understanding how nationalism colors a country's recounting of its own tragedies.
Jane Balvanz, an elementary school counselor in Carolville, Iowa, plans to read a children's book to younger students. She's also continuing a Red Cross donation drive first inspired by a student named Hannah, who, in 2001, posed the question, "Who would buy toys and clothing for the kids who lost their mommies and daddies?"
And Lisa Carter, who teaches comparative philosophy of war at Housatonic Valley Regional High School in Falls Village, Ct., is using the program from Brown's Choices for the 21st Century Project. "We talk about why people fight wars with each other," she said. "We'll talk about how should the United States go about making policy with regard to terrorism." Students will act out different scenarios based on their findings.
The confusion raised by teaching about 9/11 led Lisa Dolan, a Northern Virginia teacher who helped create the Pentagon's educational materials, to poll her peers. "I don't think 9/11 is being taught adequately in our schools, if at all," she said. "Everybody is so afraid to talk about the facts."
That fear might be why Brook Peters heard so little about 9/11 in class. So he took his schooling into his own hands, creating "The Second Day," a documentary that tells the story of 9/11 through the eyes of students.
"One of my main goals for the film is to get it into education," Peters said. And already, teachers and officials in several countries -- including Australia, Israel, Spain and Vietnam -- have bought "The Second Day" for use in classrooms and broadcasts.
Peters added that he was trying to help bridge the gap between what happened on 9/11 and what people thought about that day. He said he wanted to "piece together this giant puzzle."

Calling all HuffPost superfans!
Sign up for membership to become a founding member and help shape HuffPost's next chapter