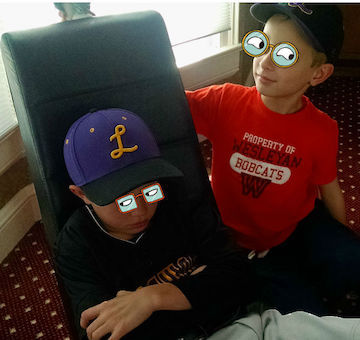 2nd Grader: Mama, isn't it true that no one can say that you like something?

Mama: That's right. You are the only one who can say if you like something or not.

5th Grader: But you liked it yesterday!

Mama: It is OK to like something yesterday and not like it today. Like granola bars. You used to eat four of them a day, and now they make you want to throw up.
In my head, all I could think was that this is a discussion of informed consent. This is the message women have been explaining in the bedroom for years. And these innocent conversations help shape the core ideas that ease that discussion later on.
Kids have to do things they don't want to do (like clean their rooms) and eat things they don't want to eat (like casserole).
Teaching children about proper behavior is often about what they can't do:
No, we don't throw things at our brother when we are mad.
No, we do not do the bottom dance in the kitchen. Or in front of people.
No, pants are not optional, even though the sign says, "no shirt, no shoes, no service."
But teaching appropriate behavior is also about the basic right to say no.
No one can say whether you like something or not.
No one can tell you that you had fun when you didn't.
Just because you wanted to play Star Wars yesterday does not mean you want to play Star Wars today.
You don't have to play with your brother just because he wants you to.
Maybe if kids get these messages early on, that whole informed consent thing won't be so hard to understand later.
"Go play with your brother!"
"Give your Grandmother a hug!"
"You know you had a good time at the zoo!"
And then when children turn into grown-ups, we get mad when they say things like:
You know you like it.
But you liked it yesterday.
Just one kiss wouldn't hurt anyone.
Smile.
I think we need to be raising boys as well as girls to have boundaries of their own.
No, you don't have to hug Grandma, you can high-five instead.
Yes, your brother has the right to refuse to have a light saber duel even though you want him to play very badly.
The zoo stunk? I'm sorry you felt that way.
Maybe respecting children and allowing them to own their feelings is the first step in teaching them to have respect for others.