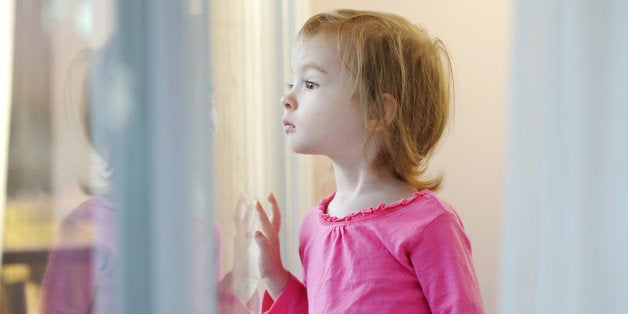 Welcome to week one of the Stress-Less Parenting Club's first workshop. Get started here to find peace while parenting, and if you haven't signed up yet, visit the purple box on the right side of this page to receive our weekly newsletter.
Visualize a French mother sitting on a bench in a beautiful park in Paris. Ignore the fact that she looks like a supermodel or that her scarf is tied perfectly (because that's just annoying) and focus instead on what she's doing: peacefully reading a novel as her children enjoy the playground behind her.
Her 5-year-old son comes up to her, and says quietly, "Ecoute-moi, Maman." He waits patiently until she finishes reading the paragraph and looks up at him.
He tells her he's hungry.
She reminds him that he only gets one snack a day, and that will be an hour from now.
The boy nods and goes back to the play set. No tantrum. No frantic search for a miniature bag of Goldfish in her purse.
According to best-selling author Pamela Druckerman, who is our leader for this first workshop, there is nothing unusual about this scene. It is not a fantasy. She told us over lunch at HuffPost that when she moved to Paris she was the only mother carrying screaming kids away from the park. Everyone else was calm -- kids, moms, dads, everyone.
If you've been that parent on the playground facing down a child who refuses to go home (and really, how many of us have not?), you know how stressful those meltdowns are. That's why we've chosen patience as this week's theme -- specifically, how to teach your kids to "wait a minute." Pamela says a big reason why French family life feels calm is that parents work to instill this mentality in their children from an early age. Here, she offers three ways to get started.
As you read through this week's keys to French parenting, think about how you can practice them with your kids over the next few days. Then, at the bottom of the page, Pamela offers up our first workshop challenge -- a fun way to put this week's lesson into practice.
1. Give Kids Lots of Chances to Practice Waiting
The secret to patience isn't expecting a child to be a stoic who freezes and silently waits. Scientists have found that kids become good at waiting once they learn how to distract themselves -- by inventing a little song or burping at themselves in the mirror, for instance. This makes the waiting bearable. French parents have discovered this too. They know that they don't even have to teach a child how to distract himself. If they simply say "wait" a lot (attend in French) and make a child practice waiting on a daily basis, she'll figure out how to distract herself. But if they drop everything the instant she complains that she's bored, or if they get off the phone when she interrupts, the child isn't going to get good at waiting. She's going to get good at whining.
2. Treat Kids as if They Can Control Themselves
Play to the top of a child's intelligence. Expect her not to grab things, and to be able to put all her Legos back in their box. Get down on the floor and gently tell a toddler who's pulling books off the shelf that she should stop, and show her how to put them back. When she tosses grapes on the floor, show her how to keep them on her plate. Do this patiently and face-to-face. A child needs to learn the limits, but she also needs love. "It takes both love and frustration for the child to construct himself," one expert explains. If you give the child just love without limits, she'll soon become a little tyrant (the French call this an enfant roi -- a child king).
3. Slow Down Your Response Times
Embrace a French pace of life. When you're busy scrambling eggs and your daughter asks you to inspect her tower of toilet paper rolls, explain nicely that you'll be there in a few minutes. At dinner, don't leap up to grab a napkin the moment she demands it (or, better yet, put the napkins on a low shelf so she can get one herself). When you're busy, politely point out to your child what you're doing, and ask her to take it in. This doesn't just make life calmer. It's also what the French call an obligatory passage for the child, when she learns that she's not the center of the universe. Parents believe that a child who doesn't realize this -- and who feels she's entitled to anything she wants -- won't see any reason to grow up. The French have reasonable expectations. They wouldn't ask a young child to sit through Shakespeare (or Molière). They just want her to be able to wait a few seconds, or a few minutes. Slowing things down even this little bit will make her better at coping with boredom, and take the panicky edge off things. Patience is a muscle. The more a child plays on her own, the better she gets at it.

THIS WEEK'S CHALLENGE
Bake a cake with your family.

As Pamela writes in her new blog post, one fun -- and effective -- way to teach children patience is to bake a cake together. Include them in all the steps, from the measuring, to the mixing, to the actual baking. When it's finished, make them wait a little longer for a special time later that day to enjoy it together. You can use your own recipe or one that Pamela recommends.

Click here to get her easy recipe for Yogurt Cake.

Be sure to send us a photo of the messy fun at stressless@huffingtonpost.com.
Q&A
How do you handle tantrums in your house? What have you tried with your kids when it comes to teaching patience? As you think about this week's keys and plan to make your cake, we also invite you to leave thoughts and advice in the comments. Later this week, Pamela will answer some of the biggest questions about patience here on the site and we'd love to feature your tips and tricks too.
The three keys are excerpted from Bébé Day by Day by Pamela Druckerman. Reprinted by arrangement with The Penguin Press, a member of Penguin Group (USA), Inc. Copyright Pamela Druckerman, 2013.
The following recipe is from Bringing Up Bébé, and is what Pamela recommends as a great first cake to bake with kids. Not only is it super-simple to prepare, she also says it's fun because you use yogurt containers as measuring cups. And as every parent knows, it really is the little things that make activities more enjoyable.
Yogurt Cake (Gâteau au Yaourt)
2 six-ounce containers of plain whole-milk yogurt (use the empty containers to measure other ingredients)
2 eggs
2 containers sugar (or just one, depending on how sweet you like it)
1 teaspoon vanilla
Just under 1 container of vegetable oil
4 containers flour
1 1/2 teaspoons baking powder
Crème fraîche (optional)
Preheat the oven to 375 F
Use vegetable oil to grease a 9-inch round cake pan or loaf pan.
Gently combine the yogurt, eggs, sugar, vanilla, and oil. In a separate bowl, mix the flour and baking powder. Add the dry ingredients to the wet ingredients; mix gently until ingredients are just combined (don't overmix). You can add two containers of frozen berries, a container of chocolate chips, or any flavoring you like. Bake for 35 minutes, then five minutes more if the cake doesn't pass the knife test. It should be almost crispy on the outside, but springy on the inside. Let it cool. The cake is delicious served with tea and a dollop of crème fraîche.
-- Excerpted from Bringing Up Bébé: One American Mother Discovers the Wisdom of French Parenting by Pamela Druckerman. Reprinted by arrangement with The Penguin Press, a member of Penguin Group (USA), Inc. Copyright Pamela Druckerman, 2012.
Related