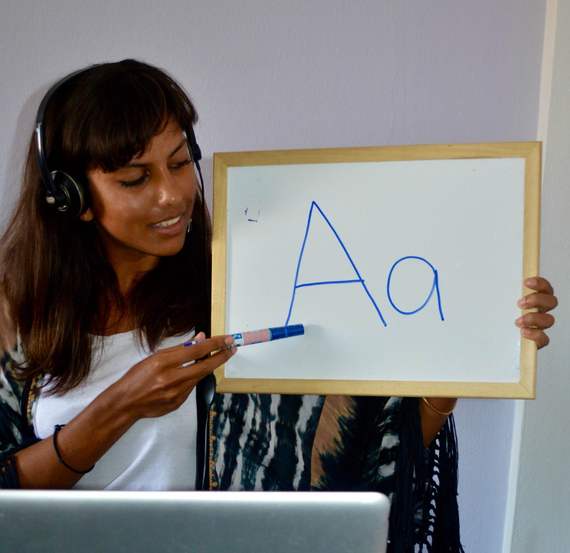 There's a new way to make money while traveling (or from home) and it's taking the world of learning English by storm: online English classes.
I first heard about teaching English online from a fellow traveler while backpacking through Cambodia in 2014. I was already making money as a freelance writer, but was curious about other means of income so I could continue to trek the big bad world and never ever EVER go back home.
There are loads of opportunities to work abroad, from volunteering to teaching at a school, manual labor and freelance work. Teaching English online was one avenue I had yet to encounter, and by golly did it strike my fancy. I completed my TEFL certification in a jiffy and dove into the online job hunt.
For the past six months I have been teaching for two online English programs and can say that it has been a rewarding and at times, a frustrating journey. Here are my pros and cons of teaching English online.

Pro: You can work from ANYWHERE
.....that has a stable Internet connection. I have been working for two Asian-based companies while living in Thailand and jet setting around Southeast Asia. I have worked from home, friends homes, Internet cafes, hostels and co-working spaces. You get to work while you travel, meet other digital nomads and work comfortably from home when you don't feel like going anywhere.

Con: Tech issues
This is probably the biggest frustration of online teaching. Depending on your location, the company's location, the student's location, the Internet speed and even the weather, you never know what tech problems can pop up. This can cause cancelled classes, which in turn means you don't get paid.
Each company has their own set of policies when it comes to tech issues, I mean, it can't be helped and s*** happens. But, it can still be mentally draining when you complete a heartfelt grammar sermon, then find out your students heard absolutely none of it...or you can't hear them. Then, the student complaints ensue.

Pro: Make your own schedule
With the two companies I work for, the teachers get to make their own schedule each week by filling in their availability on a registration calendar. This is superb! I can choose when I want off and whether I want to teach eight classes one day or just two the next...or none if I so desire.
Con: TIME ZONES and unpredictable classes
You can find yourself working late at night or early in the morning depending on time zone differences and usually there are peak times of the day when you are more guaranteed to get classes filled. Also, students cancel or don't show up. This happens from time to time and can affect the number of classes you get paid for (generally you are paid per class). That is why I recommend not relying solely on online teaching for income. Use it to supplement!
Pro: You get to interact with people from all over the world & exchange culture via the interwebs

This one is my favorite. Besides the moola part. Once again, depending on the company, you will be teaching a broad range of demographics. I lead English conversation with Vietnamese adults that, for the most part, have a basis of English knowledge. I talk with housewives, engineers, doctors and students. I hear about their lives, traditions, customs and perspectives on issues such as sexism, marriage/divorce, family, travel and school. As a westerner, the discussions can be passionate, eye-opening and emotional. Not only do you teach them, but they teach you.
This is just one of those unavoidable thangs. The classes I teach are both under an hour long, and it is imperative that teachers stick to the time limit. If you have back-to-back classes scheduled, timed classes can get stressful depending on a) the student's level of English knowledge (you may have to work longer on a lesson with lower level students) b) sometimes students (adults in particular) can be quite the chatterbugs c) those lovely tech issues I mentioned earlier. You may find yourself having no breaks and rushing through lessons.
You will find a plethora of online teaching companies spouting benefits that sound too good to be true. Well, be careful and research the company beforehand, because I have heard of some online teaching opportunities that aren't legitimate. With that being said, there are the one's that really, truly are legitimate. With online teaching you may not make as much as you would teaching at a physical school, and they are generally contract jobs, so don't expect health benefits. But, if you are looking to continue your travels, make your own schedule and despise cubicles, then this is a wonderful way to supplement your income. Overall, I approve and recommend it.

Some more tidbits from my own personal experience:
There can be bonuses offered
I was hired with a TEFL certificate and zero teaching experience. You may or may not need one (once again, depends on the company)
I don't make any lesson plans
Interested in teaching English online? See the original post and contact me on my travel blog A Great Perhaps.
Related