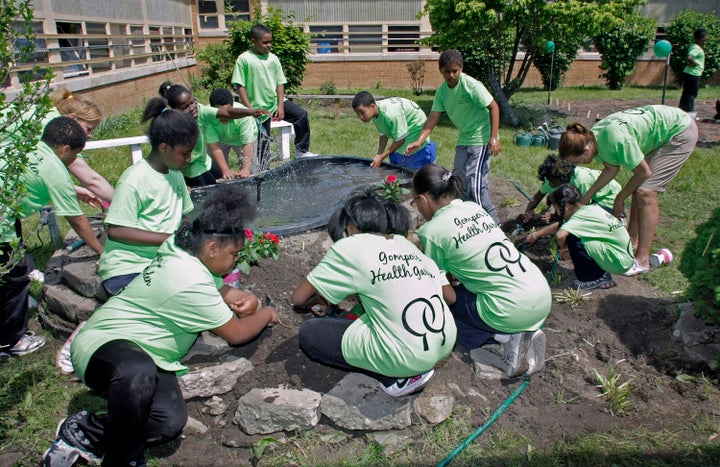 Dr. Seuss' timeless story, The Lorax, reinforces what we as moms instinctively know -- when kids plant the seeds and nurture and harvest the plants, they learn the value of good eating habits and appreciate the environment.
On Teaching Garden planting days, I often ask kids to define the "environment." The typical answer is to describe mountains, oceans or other landscapes out beyond their reach.
I then draw an invisible circle around my body and say, "the environment starts here." To kids living in inner cities where trees and plants are scarce, personalizing the environment helps hit home that message -- it matters how you fuel your body, and good health starts by caring.
That's what the Teaching Gardens program is all about. We've designed it to provide hands-on learning experience rooted in offering nutritional choices. Students have fun planting seeds, nurturing growing plants, harvesting the food and ultimately understanding the connection between the environment and their health.
Thanks to a deep-rooted commitment from our friends at The California Endowment, along with support from Parenting magazine, we showcased a Teaching Garden at the worldwide premiere of Universal Pictures' Dr. Suess' The Lorax, This exposure is helping us get the word out about the value of healthy eating to lots of kids and their families.
Last week, we transported that very special garden to The Accelerated Charter Elementary Schools in South Los Angeles. We danced a little, talked about healthy bodies, planted some seeds and the kids even got a surprise visit from The Lorax himself. It was so much fun.
I love that Teaching Gardens are sprouting up everywhere. In just one year after we were adopted by the American Heart Association, there are more 100 Teaching Gardens in the ground and more are being planted every week.
This amazing growth reminds me of something The Lorax said: "Unless someone like you cares a whole awful lot, nothing is going to get better. It's not."
Driven by the ever-increasing role that parents play in advocating for positive change in the education system, Parenting magazine launched the Mom Congress initiative. This week in Washington DC, Parenting has gathered a group of outstanding moms who have made a difference from every state, where they meet with leaders in education and advocacy to discuss the best ways to effect positive change in education.