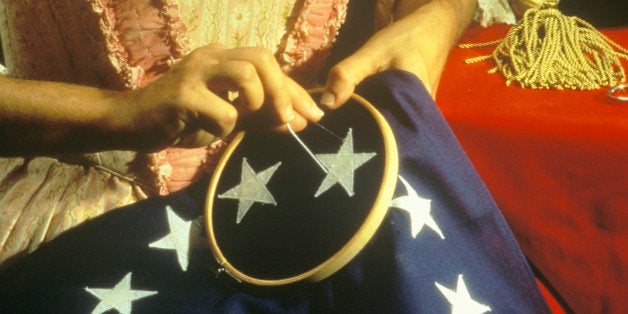 I reviewed a copy of the teacher guide to Pearson My World Social Studies: The Growth of Our Country at the New York State Council for the Social Studies annual conference. Curiously (a word I will use throughout this post) the hard-copy teacher guide does not identify a grade level, but online it is designated for 5th grade.
Online Pearson also includes a price list. Nothing is free, although the curriculum package repeatedly tells students about the benefits of "free enterprise." The student edition of myWorld costs $25.97 each but includes a one-year digital course which you probably have to pay for again if you want it for another year. The workbook costs $24.97, a student atlas is $16.97, for a total of $67.91 per student. Each teacher guide is an additional $245.47. A school district can get a package of activity cards for $46.97, "leveled readers" for $877.47, leveled reader lesson plans for $53.47, an activity kit bundle for $429.97, a student edition DVD-ROM for $44.97, an exam DVD-ROM for $122.47, a myStory DVD-ROM for $190.97, and a Digital Courseware 1-year license for $15.97. I figure for a class of 25 fifth-graders, the entire Pearson myStory package with all the extras would cost a school district $3,725.48, but this bill is just for social studies and for one class. Pearson is also selling packages for all the other subjects.
The Pearson package begins with the statement:
This work is protected by United States copyright laws and is provided solely for the use of teachers and administrators in teaching courses and assessing student learning in their classes and schools. Dissemination or sale of any part of this work (including on the World Wide Web) will destroy the integrity of the work and is not permitted.
I guess this statement is supposed to scare everyone and Pearson appears to be serious. In New Jersey, Pearson was monitoring social media after the recent PARCC exams to see if any students were discussing the Pearson PARCC tests. Apparently Pearson complained to the New Jersey Department of Education that they had actually caught three students who discussed specific questions and they felt were violating Pearson's copyright.
Let me make this perfectly clear from the start. My purpose in reviewing their curriculum package is not to destroy its integrity because I could not find very much integrity in the package. If Pearson does not like the review, they can sue me.
On the same page as the copyright threat and on page vi there are rejoinders explaining that although its "Program Consultant," Grant Wiggins, is associated with the Association for Supervisors of Curriculum Development (ASCD) and they are the registered owners of the trademark "Understanding By Design," which is a fundamental component of the approach used in the teacher guide, ASCD "has not authorized, approved or sponsored this work and is no way affiliated with Pearson or its products." It is a curious disclaimer because as anyone who attends an ASCD conference knows, Pearson is the major sponsor of its exhibit hall and featured presentations and delivers conference swag labeled with the Pearson brand to all the participants. ASCD has also been championing its partnership with Pearson at least since 2012.
As with all Pearson curriculum material, this one includes a list of its consulting authors and reviewers. What is curious here is the list of "Program Teacher Reviewers." There are twenty teacher reviewers, nine from Florida. It is not explained why so many reviewers were selected from one state, especially a state that has had academic performance issues. On the 2013 PISA exams, Florida high school students scored lower than their peers in the United States and internationally in math, reading and science.
The reviewers list is also misleading. One teacher is listed as teaching in Pittsford Schools-Allen Creek in Rochester, New York. The Rochester City school district student population is 85% African American and Latino and 90% of the students are considered to be from economically disadvantaged families. As a district, it confronts all of the problems facing urban minority schools. Pittsford is an affluent suburb of Rochester with a student population that is over 90% White and Asian and a collection of award winning schools. Four percent of its students are from economically disadvantaged families. The teacher from Holmes Elementary School in Chicago may be wonderful, but the school itself has only 16% of its students meeting or exceeding state standards. I am not sure what the teacher reviewers do or what their qualifications are but it is not a list that builds confidence in the product.
The curriculum package opens with essays for teachers that cover all the latest education buzzwords and establish Pearson's alliances and priorities. They include understanding by design, the importance of big ideas, how the package aligns with National Common Core Standards, correlates with national social studies standards, supports English Language Learners, promotes digital citizenship, prepares students for the 21st century, utilizes differentiated instruction, is geared for assessment, and supports "real" student learning. District purchase agents need to know that it is a one-stop-to-shop package that includes everything and everyone.
Pearson is so thoughtful that it provides teachers with activities, images, reading passages, and assessment questions, and just in case the teacher is an idiot and does not understand the material, they also provide the answers to student short-written questions. On page 223, students are asked to "Tell whether or not you would have approved of John Brown's raid." The Pearson provided "possible answer" is "I would not approve; slavery is wrong, but you still should not murder people."
One of the most curious Pearson statements appears at the end of every chapter in the teacher guide. Pearson recommends that in case there is "Not enough time for social studies" because of pressure to prepare students for the high-stakes Common Core English tests, teachers can use material from the package "during your reading block." I would expect the National Council for Social Studies to be howling and threatening to cut all ties with Pearson, but so far I have not even heard a quiet whimper, which may be because they depend on Pearson to exhibit at their conferences as well.
The package itself offers a curriculum laced with myth and blather. Common Core aligned lessons are in theory supposed to promote higher order thinking, but critical thinking and historical accuracy are missing in this package.
Pages SSH 6 through SSH 10 offer a unit on "Our Market Economy" that starts with the "law of supply and demand," stresses the "importance of competition," and explains scarcity, opportunity costs, and "basic concepts of banking." According to the unit, the United States has a "free market economy" where "private businesses make decisions about what they produce and sell, and what prices to charge in the marketplace. Then individuals choose what to buy in the marketplace."
Pearson may not like it, but the United States actually has a "mixed economy" where government regulates and subsidizes business. In fact, government is Pearson's largest customer. The unit also leaves out the manipulation of demand through advertising and of government policy through lobbying and contributions to political campaigns. The words capitalism, profit, and globalization do not appear in this benign and misleading unit. And in case there is not enough time to teach social studies, students can just read the Pearson propaganda on their own. The two-paragraph passage on "The Marketplace" uses the word "free" six times. Unfortunately, in the real world, nothing is free. The economic myth building continues on pages 398-403 where students learn about the creativity and risk-taking of the entrepreneurs who created really big companies "because it could help them keep costs down."
Free and freedom are also very big in the reading passage on the "Gettysburg National Battlefield, Fighting for a Cause" (218-219). "Eleven-year-old Trent" who is a "history buff" wonders about the segment's big question, "Why do you think both sides in the battle fought so fiercely?" As he reads the Gettysburg Address, Trent discovers his answer. "It was for our freedom," he decides, "All of our freedom. I'd say that is something worth fighting for!" The reality is that people fought for many things, but very few were fighting for freedom. Some soldiers fought to protect homes, some fought to defend the buddy standing next to them. Some fought for the union and others fought for slavery. Some joined the armies because they were bored on the farm and wanted adventure, others because they needed work or hoped for citizenship. While 200,000 African American soldiers did fight for freedom, their segregated units were not at Gettysburg. To add to the fiction and confusion, on page 306, students are told "both sides" in the Civil War "were fighting for freedom but disagreed about what freedom meant" and that the enslavement of Africans in the South was really about "differences in geography." I guess Pearson and I just disagree about what freedom means.
Pearson promotes Common Core and Common Core creates markets for Pearson. Teaching history the Pearson way means teaching it the Common Core way, without any meaningful content. The text, no matter how inaccurate or misleading, rules. Myth replaces history, if teachers have the time to include social studies at all while prepping students for Pearson standardized tests. That is the real "free market" at work in Pearson World.
Pearson Customer Service: If you have a Pearson complaint or are still waiting for Pearson to grade your teacher certification exam, call Pearson Customer Service and let them know how you feel. You can speak with a customer service representative directly Monday-Friday 8 AM to 6 PM Eastern Time. After all, we are all Pearson customers. 800-848-9500.
Related
Popular in the Community