Forget about the yoga studio. Conference room, bank vault, kitchen area, and game room are just a few of the unique spaces that were brought up when I spoke to some of San Francisco's top office yoga professionals. Working as an office yoga teacher is something altogether unique from working at a studio, and comes with its own set of benefits and challenges.
Maryam Sharifzadeh, the CEO of OfficeYoga.com, knows this, and is hosting San Francisco's first Office Yoga Teacher Training this March to help yoga teachers break into the growing industry. Her main challenge? Finding qualified teachers. The general 200 hour training doesn't prepare teachers for the population an instructor encounters when teaching in a corporate environment. Beyond that, Sharifzadeh hopes to support other entrepreneurial yogis starting their own office yoga businesses. After all, her first year teaching office yoga, Maryam made $31,000 working five hours per week.
Many companies are beginning to discover the benefits of having regular yoga and meditation instruction during the work day. Studies in the Journal of Occupational Psychology and the Journal of Occupational Medicine have shown that mind-body stress reduction programs, offered in the workplace, have been effective in reducing work-related stress. In a randomized controlled trial, 239 participants of a national insurance carrier were given 12 weeks of either yoga or mindfulness training with accompanied at-home support. Individuals were then measured for stress levels, in addition to sleep quality, mood, and productivity. Those who received training had a marked reduction in perceived stress and sleep difficulty.
There are many other medical studies that have proven the benefit of yoga in the workplace. But employees aren't the only ones benefitting from the office yoga industry. Teachers are experiencing benefits, as well.
"The group size is much more intimate. Most of the students already know each other, too. You see the same group of students every week. You learn their bodies and movement patterns much faster than in a studio through consistent attendance." says Sharifzadeh.
She started her company in 2012, with her first client, Moovweb. They have been a client ever since.
"I've really developed a great relationship with the employees at the companies I teach. I consider them my friends and happy to share the practice with them. I get to see the changes and hear stories of how yoga has directly benefitted them at work and in their personal lives."
Building close relationships with consistent students is one of the greatest perks of being an office yoga teacher. Many employees have their first yoga experiences in office yoga. Michelle McManus, a yoga teacher who contracts with OfficeYoga.com, had her first client in 2014.
"Maryam was growing Office Yoga and was looking for someone to help sub. Just so happened, I was hoping to teach full time. I started subbing for Maryam at Design Map in San Francisco. I fell in love with the DM yogis, and we transitioned the group over to me full time shortly after subbing!"
The true talent of an office yoga teacher comes from being able to negotiate awkward spaces. McManus describes what she's used to:
"Being an office yoga teacher is the best. You can see the relief in people's faces when you show up. It's a true gift to take a break during the day and move your body. I literally teach in a kitchen of a start up. We move the sofa, rug, and coffee table out of the way to make space to move. Your students have been sitting in chair, staring at a computer, all day. Most of the time, other people are still working at their desks while you're teaching. Kind of odd, but totally awesome. They get the yoga too, they just don't know it."
Chandra Lovejoy, another San Francisco office yoga instructor, emphasized the importance of setting boundaries for those who are practicing in the office yoga environment and those that are still working.
"I have had experiences where people are working away at their desk, while others are practicing yoga just a few feet away. Music is a helpful tool to drown out noise but sometimes one must acknowledge the elephant in the room and then learn to move past it. As teachers we simply remind our students (and ourselves) to come back to the collective intention of the practice via breath and mind-body connection."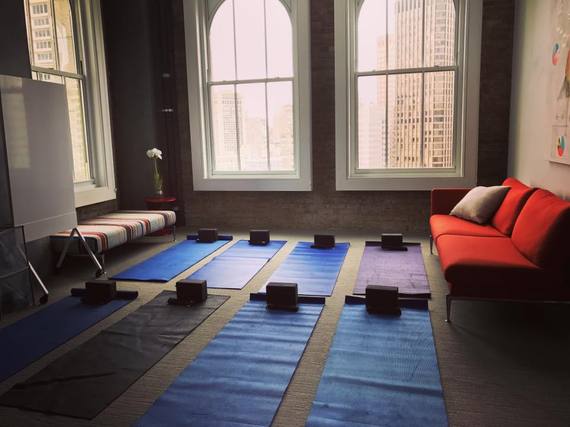 An office yoga instructor must learn how to use any space for yoga

Although it can be a huge challenge to learn how to instruct yoga in an office environment, it is clear that office yoga teachers firmly believe in what they are bringing to workplace communities.
Lovejoy says it best when she described her feelings about being an office yoga instructor.
"I feel honored and privileged to teach yoga in general and especially to those who work in an office for most of their day and evening. I believe this is very important work; breath control, meditation, and mindful movement of the body is key for optimal health and well-being. To bring this practice to people in their work environment is extremely rewarding."
As the office yoga industry grows, so will the office yoga teaching workforce. Sharifzadeh is excited to be moving the industry forward, and equipping instructors with the tools to be the best office yoga instructors they can be. Even though teaching office yoga can be a challenge, Sharifzadeh notes that the benefits far outweigh the challenges.
Lauren Coles is the Founder of Daisy Office Yoga in New York City, where she brings yoga to people at work. She believes in the power of yoga to improve people's relationship with their minds and bodies, and hopes to encourage more yoga instructors to pursue a career in the office yoga industry.

Related