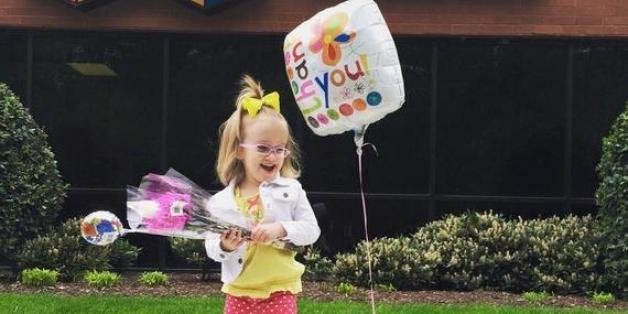 Last Thursday, my daughter finished her last physical therapy session. It won't be her last physical therapy session ever, with mild CP and a lot more growing to do, she'll be back. Our yearly insurance-covered visits finished at the perfect time: Abby needed a break.
We woke up extra early that morning, got ready early, ate breakfast early. We turned off the cartoons after one episode of "Mickey Mouse Clubhouse." Abby's appointment was at 9:00 a.m. and we needed time to get a little something as a thank you to her physical therapist.
You see, Abby had very little core strength when she started therapy in October. Because of the brain bleed she suffered as a 24-week preemie, she'll always have an uphill battle with gross motor skills on that left side. With the help of physical therapy, Abby's gotten strong. She can climb up and down the stairs on her own. She's learned to peddle a bike. Perhaps most important, her body confidence surfaced. After a month of therapy she was climbing up on everything: pillows, sofas, toys, furniture and on and off her chair at preschool. It's been amazing to watch her progress.
Therapists, nurses, doctors, social workers, child life specialists... they all work hard each day. But how often do they hear 'thank you'? Or 'good job'? Or 'you saved my life'?
After years in and out of hospitals and doctor's offices, this is what I've learned: If you're thankful, show it. Say it. Mean it.
Abby's thank-you was a bouquet of flowers with a balloon she picked herself.
When Jackson finished radiation, we baked cupcakes for all the staff on the Day Surgery floor and at Radiation Oncology.
When we finished all treatment, I wrote a "10 Things We Love About You" list for our primary oncologist and hem/onc nurse.
On Jackson's one-year stem cell anniversary in 2010, we brought homemade breakfast casseroles, muffins and fruit to the hem/onc floor's break room.
Abby sent her three primary NICU nurses azaleas in a little painted bird house for the first nurse's day she was home back in 2012.
Even a kindly-worded email, as I've sent several times to her neurosurgeon in Boston, means a lot.
The people who work the hardest to serve, often do so without recognition. They do it because it's what they're called to do. But there are days when even the most dedicated people get run down and question their commitment. The next time you notice a good job, say something, do something and make something special out of an average day. What a great lesson we can teach our children.
National Nurses Week 2015 begins on Wednesday, May 6 and ends on Tuesday, May 12. Don't forget to say thank you.
This blog post is part of a series for HuffPost Gratitude, entitled 'The One Thing I'm Most Thankful For.' To see all the other posts in the series, click here To contribute, submit your 500 - 800 word blogpost to gratitude@huffingtonpost.com.