When my own kids used to misbehave on the Internet -- be it foul language, plagiarism or porn -- I would take their privileges away chiding, "Remember you weren't born with a silver URL in your mouth."
But, in fact, most of today's kids are born digital natives. Screens dominate their landscape. Social media is like oxygen and life without a selfie to document the moment barely happened.
To them the high tech world is not magic. It is just the way it is.
Contrast that, to the world of the aging population. Often their world shrinks in size because of the difficulties of mobility. Engagement with everyday life, connections to friends and a validation of each day, gets more difficult when movement is limited.
Brenda Rusnak, a tech savvy Canadian mother of four saw a connection. When one of her kids had to complete her public service requirement for school (Oh, Canada!), Brenda thought it might be interesting to team her daughter and peers with senior citizens to help the seniors get up to tech speed.
What happened is documented in Cyber-Seniors (pictured below), a charming movie where old folks nod when asked if they've ever heard of YouTube and kids try to get them to understand the notion of finding a friend on Facebook. Hilarious moments abound, like the YouTube contest featuring a winning granny rapper and a grandma who is visibly shocked when her young tutor has never heard of the Hallelujah Chorus.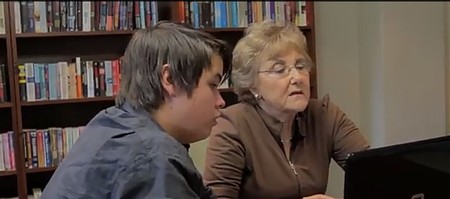 Rusnak made the movie to empower seniors and she gets her point across. Clearly, the cast of characters, all well into their eighties, learn to reap the benefits a connected world. They find friends, search the Internet and have doors opened to keep them engaged and occupied for a long time to come.
But as I watched, it became clear to me that the kids benefit equally. In a world where so much of teen's online behavior is seen as narcissistic and self-consumed, they were forced to see their world from a different perspective.
The simplest things they take for granted, chatting with a friend, watching a kitten frolic on YouTube, looking up a good recipe, were seen as nothing short of magic through the eyes of the seniors.
The documentary was made to show the benefits that seniors got when young mentors guided them through the wacky world of the web. But, IMHO, the biggest winners were the kids. They're so used to the connected world that watching someone who'd never grown up with it make those connections let them see, with eyes wide open, the power of the tool they so often take for granted.
Robin Raskin is founder of Living in Digital Times (LIDT), a team of technophiles who bring together top experts and the latest innovations that intersect lifestyle and technology. LIDT produces conferences and expos at CES and throughout the year focusing on how technology enhances every aspect of our lives through the eyes of today's digital consumer.
Related
Popular in the Community