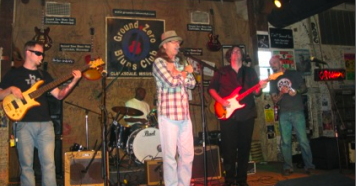 J.K. Terrell Jamming with the Daddy Rich Band at Ground Zero, Clarksdale
Southerners love their blues the way we New Yorkers love our Broadway. And no matter where I go in the south -- Alabama, Mississippi, Louisiana, I can never get enough of the raw, gritty blues. This music lifts me up, makes me clap my hands, stomp my feet, my body bobs from side to side, and there's a huge grin plastered on my face. Last week, I was in Mississippi for my blues fix at Hill Country Harmonica, listening to Sugar Blue and his band. In between songs, he talked about how he first started playing blues harmonica and couldn't stop practicing. Then he lowered his voice and said, "Trouble with kids today is they stand on the corner wearing these headphones in their ears and carrying a little box. They know nothing about the blues."
Fortunately, thanks to the Delta Blues Museum Educational Project in Clarksdale, Mississippi, and the Alabama Blues Project in Tuscaloosa, Alabama, professional musicians are now teaching school kids how to play and sing the blues. This isn't really new. The late great singer/guitarist Johnnie Shines used to visit schools in Tuscaloosa and teach kids about the blues. After he died, guitar player and professional blues photographer, Tuscaloosan Mike McCracken (who played with and also went fishing with Johnnie Shines), had the idea to start the nonprofit Alabama Blues Project. The mission was to preserve Alabama's blues heritage and educate kids about the blues. McCracken knew that learning to play an instrument would build self-esteem, and teach teamwork and self-discipline.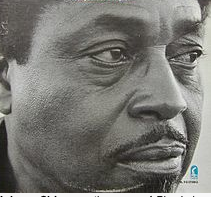 The Late Great Johnnie Shines
Today, the Alabama Blues Project does hands-on musical instrument blues instruction both after school and through a summer blues camp. There's also a life-skills curriculum (developed by Tuscaloosan social worker/musician J. K. Terrell) created for those from foster homes, local housing projects, and state care facilities. The kids learn to play together as a blues band, and then perform for audiences at community centers, retirement homes, and at festivals. The Alabama Blues Project students learn the history of the blues and are taught to play by professional musicians. Past artists include Willie King, Little Jimmy Reed, and Carroline Shines, daughter of Johnnie Shines. Last year, the ABP helped positively impact the lives of over 3,500 elementary and middle school children, 70% of them from Alabama's most impoverished families.
Says Shines, "The Alabama Blues Project helps children learn that there's something out there besides sports and trying to be the next top model. It also teaches them life skills. It's a safe haven, and children have a chance to learn no matter what color or walk of life they come from. My father used to say, "How do you know where your going if you don't know where you've come from?" I only wish my father had gotten a chance to see his dream come true. I always tell the students 'you can do whatever you want to do in life, and be whatever you dream, because love knows no color and music has no end.'"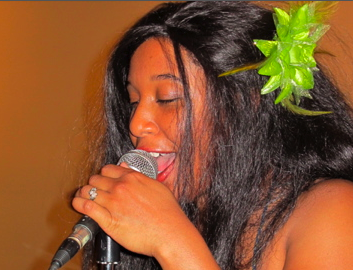 Blues singer, Rachel Edwards from Tuscaloosa
When I was in Montgomery last month, I stumbled upon a young 18-year-old Alabama Blues Project student, Rachel Edwards. She was performing live in a small bar with some ABP teacher/musicians, and she belted out three songs in a voice that could easily hold up with Ella, Etta, and Koko Taylor. Remember the Memorex TV ad in which Ella shattered a glass with her voice? Rachel could do the same, I'm sure. Watch for that name, because she's going to be a huge star.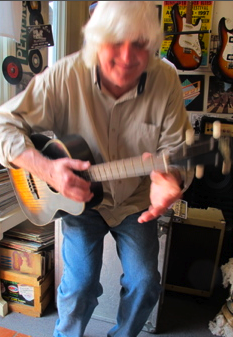 Ronnie Drew of Bluestown Music, Clarksdale
But Alabama isn't the only Southern State teaching children about the blues. In Clarksdale, where Robert Johnson sold his soul to the devil, you hear blues everywhere from Red's Juke Joint to Bluestown Music. I entered the small shop where owner Ronnie Drew was strumming one of the guitars he buys, sells and trades. While there, my friend Kris bought a Larrivee acoustic-electric guitar. I thought Ronnie was going to cry when Kris walked out with his "baby." Just before we left, I noticed a hand-written sign Ronnie had written:
1.THOU SHALT NOT BREAK STRINGS.
2.THOU SHALT NOT BREAK WIND
3.THOU SHALT NOT BREAK ANYTHING
4.THOU SHALT NOT PLAY STAIRWAY
5.THOU SHALT NOT DE-TUNE INSTRUMENTS
6.THOU SHALT NOT ASK WHERE BLUES MUSEUM IS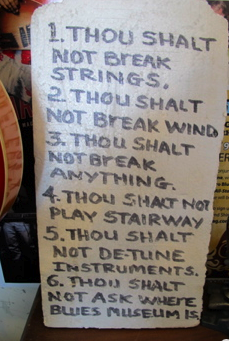 Sign on wall at Bluestown Music, Clarksdale
Mostly everyone who comes to Clarksdale makes a pilgrimage to the Delta Bues Museum to gape at artifacts from such legendary bluesmen as Muddy Waters, Son House, and Charlie Musselwhite. But the Delta Blues Museum also hosts a year-round music education program to keep the blues alive. They provide drums, guitars, and keyboards for classroom use, and professional musicians teach students to play the blues on an instrument of their choice. Students progress from learning the basics of playing music to working together as a band.
Even though I'm a jaded New Yorker (and we have VERY FEW BLUES performances here), I would have killed to have a professional musician teach me guitar - or drums - or bass. Less than a year ago, I went to Jon Gindick's Harmonica Jam Camp in Clarksdale, the beginning of my blues journey. I started as a raw beginner and now that I've learned to bend, I consider myself slightly half-baked. Imagine if there'd been a blues program when I was in elementary school. I never would have had to sell my soul to the devil because by now, I'd be playing even better than the devil. I know I'll never sound like Sonny Boy or Little Walter or Jimmy Reed, but nothing's stopping me from hopping a plane to Alabama, Mississippi, or Louisiana anytime I'm jonseing for some blues.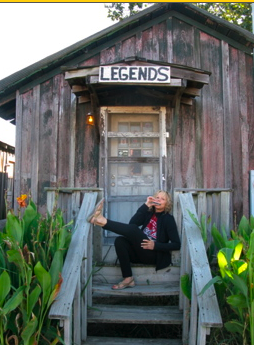 Margie Goldsmith practicing blues harp at Shack-Up Inn, Clarksdale
Related