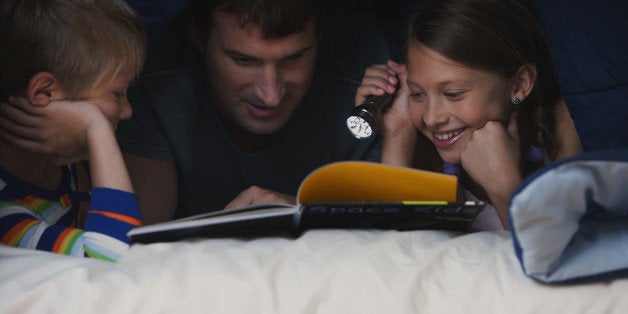 I am not a literacy expert. I'm just gonna say that right up front. I am sure there a people with much more education than I have who can tell you all about what happens in a child's brain when you read to them. There are people who can you tell exactly how to read to a child to increase their pre-literacy skills. There are probably statistics and recommended reading lists. There are probably even peer reviewed studies.
I am a mother and a bookseller. I started book selling in 1991. My first son was born in 1993. My second son was born in 2006. I have been reading kids books to kids for a long time. So while I may not have a bunch of letters after my name that bestow some credential of authority, what I do posses is a 24-year range of experiences that lead me to this one conclusion--reading to your kids makes them readers.
" Sure," you say "my pediatrician gives me a book at every well baby visit. I read to my toddler."

I think about when my sons were young. Their young bodies snuggled into mine as we sat on the couch turning the pages of a beautifully illustrated picture book is one of the simplest joys of life. There were evenings before bed when I would read WhereThings Are to my oldest son for the millionth time because this was the book he needed to fall asleep. There was a time when I could recite that book to him if he got restless waiting for the metro bus. It would instantly calm him. I have pictures of my younger son all through his very early childhood "reading" books.
And then they go to school. School has a different agenda when it comes to reading. First they need to teach children to read who present in the classroom with a range of ability. Not an easy job. As the children move through elementary school they need to move those early readers along so that they can read fluently and with comprehension. As a bookseller I have many a desperate parent come into the store looking for anything that will inspire their reluctant reader.
So, bearing in mind that I am not expert, I will present this unsubstantiated theory. I think it is as important, if not more important, to read to your older children, even if they know how to read already.
Here's why--- school wants your child to learn to read. That is their job and it is not an easy one. They have scores to meet, benchmarks to reach. It can be hard work for some kids. Reading to your elementary school age children can keep the pleasure of reading for them as they are learning a very complicated skill. Reading to them still keeps them engaged in a story. My 9 year old son and I just finished a great book called the Blackthorn Key by Kevin Sands. It takes place in the mid-late 1600's. I let him interrupt my reading to ask questions about the book. It has inspired many a wikipedia search as we learned what natron was, if it was the same time that Louis the 14th and the Musketeers lived, and what is oil of vitriol (sulfuic acid).
Well, okay I confess. I also love that time we connect. Once the kids are in school life just seems to accelerate. After school activities, homework, cello practice...never mind my work and rush to get dinner on the table. It can be hard to carve out that time. But I admit that it is also a pleasure for me. He's will be a teenager soon enough. While I look forward to the books he will choose as he grows older that we can discuss together, for now, we still have this.
So with this in mind I would like to recommend a series of chapter books and authors we have enjoyed as read alouds in our home. Some are in hardcover and some are paperback. Some will be in your local or school library. Also, I'd like to make a plug for shopping at your local indie bookseller. They are knowlegable and read many of the books they recommend. They'll find something for your young reader that will fit. Please feel free to leave a comment if you would like other recommendations or have a recommendation yourself.
Castle Hangnail by Urusla Vernon--elements of fantasy, friendship and team work. A nice soft touch reminiscent of Evan Ibbotson.
The Cats of Tanglewood Forest and The Seven Wild Sisters by Charles De Lint---gorgeous writing, beautiful illustrations, hints of native american folklore.
Timmy Failure series by Stephan Pastis-- funny and sweet. He is a legend in his own mind.
The Willoughbysby Lois Lowry. There is something in this for kids and adults; lots of classic children's literature references.
Captain Underpants -Both my boys learned to read with these books. Sure there is bathroom humor and enough silliness to fill up a hall pass. But George and Harold are struggling students as well and kids can relate to them.
Anything by Roald Dahl because the kids in his books overcome great obstacles using their own innate ability.