The posters are up. The pencils are sharpened. The floors have been waxed, and the desks have been wiped clean of all the doodles middle school students love to leave on their desks. For the tenth time in my life, I've finished prepping my classroom for a new school year.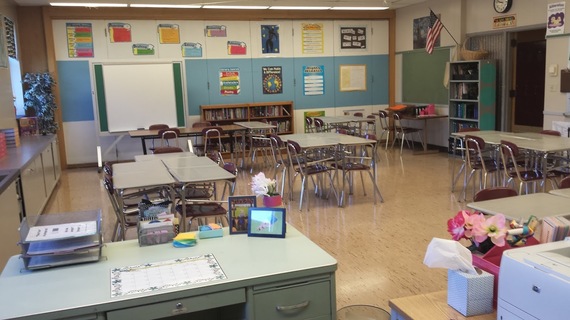 Sitting back admiring my masterpiece, I can't help but think to myself, it would be so much easier to quit right now.
And as studies show, many do.
Some estimate that has many as 50 percent of teachers leave the profession within the first five years. I can't say I blame them. The ever-changing mandates. Standardized testing. Complicated, convoluted formulas for evaluating teachers. Poverty. Lack of parental involvement. Common Core. Social promotion. Negativity. Achievement gaps. Not being able to use the restroom when you want to. Not to mention, I have a Master's degree and make a little over $45,000 and still shop on Old Navy's clearance rack.
As students, we see these people in the front of the classrooms presenting lessons with excitement, style, and grace. Some make it look so easy! What we don't see is all of the behind-the-scenes work that it takes to get there.
As I prepare to conclude the first decade of my career, I feel the need to reflect on my choice. Why do I continue to put myself through the stress, exhaustion, and frustration that is a school year?
I stay because I am needed. As an English teacher, the obvious need I must address with my students is the need to learn how to read and write. But for many, my role goes far beyond that. I am their motivator. I am their coach. I am the only person who may ask them how they are doing that day. I've needed to be a mother. I've needed to be someone who would simply listen to them. I had one student in particular who needed me to literally save her life, which was in the clutches of an addiction problem. For some students, it is their teachers who are their only hope of helping them see the goodness and the opportunities that exist in the world.
I stay because every year I get to start over. Some of us get frustrated with the constant changes in education. Just as we've felt like we got it, some new state mandate comes down and we have to change everything. Some of us, on the other hand, love change! At the beginning of each school year, I can scratch those lessons that were failures, and replace them with new ones that I learned during a professional development, from a newly graduated colleague, or, let's face it, from Pinterest! It is so easy to keep my job fresh and innovative because every year I get a fresh start with new students. How many other professions can say that?
I stay because I work with others who also want to stay. Don't get me wrong, there are some of us that are only in this for June, July, and August. But the vast majority of my colleagues come to work every day because they love their subject matter, and truly believe that they can make the difference in the lives of their students. We collaborate to create amazing lessons. We put our heads together to figure out how to reach the seemingly unreachable kids. We bring each other coffee. We lift each others' spirits when the roller coaster of our career is going downhill. I have so many colleagues who are truly inspiring and make me do my job better.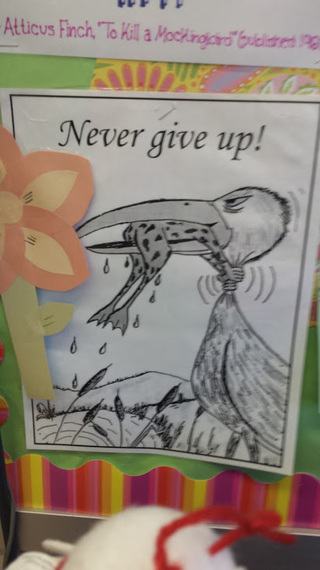 I stay because it brings me fulfillment. My job gives me 180 opportunities to make a difference in the lives of hundreds of children. Whether it's helping them discover a love for reading, or showing them the power of kindness, or inspiring them to want to work to their full potential, I have the power and the privilege of changing the world in which I live one student at a time. Maybe they will be the next great American novelist. Maybe they will have learned study habits that will have helped them succeed in other classes. Maybe they will be able to communicate effectively in an interview so that they land their dream job. Maybe they will just be nice to others. I can't begin to describe the feelings of pride and accomplishment that teachers feel when we see the investment we made in our students doing so well. It may come in the form of seeing a light go on in their minds on any given day, or perhaps a bit of good news years down the road. Their success feels like our success, and that feels good in my heart and soul.
This is a career that I love and was born to do. After ten years, chances are I am not going to quit even if it is the easy thing to do. I have things to teach, kids to reach, and lives to change. Maybe even lives to save. I hope everyone can say the same in their line of work.
REAL LIFE. REAL NEWS. REAL VOICES.
Help us tell more of the stories that matter from voices that too often remain unheard.