Hillary Clinton and the groups that back her are dominating the fundraising game. (AP Photo/Matt Rourke)
Many polls suggest the presidential race has gotten closer in recent weeks, but the financial status of the two campaigns and their allies is far less competitive.
Since Citizens United and other court decisions beginning in 2010 changed the landscape of federal campaign finance, it makes sense to look at presidential financing as a three-legged stool. The campaigns themselves, while still central, are supplemented and occasionally surpassed by the national party committees and independent outside groups that exist only to support one of the candidates.
Here's how the money race stood at the end of August, reflecting the most current FEC reports: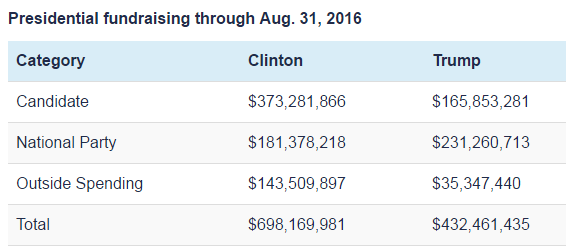 The Clinton campaign and Priorities USA, her main outside backer, have dominated their opponents financially in a way that brings to mind what happened when Barack Obama chose to decline general election public financing in 2008. Obama raised many hundreds of millions of dollars more than Sen. John McCain (R-Ariz.), who accepted the public grant.
In 2012, however, when both Obama and Mitt Romney raised their own money for the general, the comparison through August looked like this: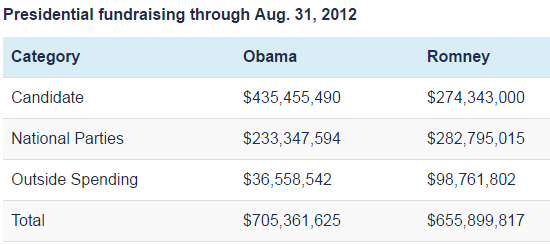 While the Clinton effort has raised nearly as much as a sitting president running for re-election, the Trump team has raised nearly one-third less than Romney at this point four years ago.
Breaking it down: The candidate committees
Clinton's campaign has raised nearly $300 million in large contributions, or donations bigger than $200, the threshold for detailed disclosure of donor information. Presidential campaigns often receive contributions in larger increments, and her experience as a White House candidate in 2008 and in two successful Senate bids have established her fundraising prowess. About 19 percent of her contributions (roughly $70.7 million) have come in smaller amounts. By comparison, Obama, through August 2012, received twice as large a share of his contributions in increments of $200 or less, or about 37 percent.
Donald Trump, on the other hand, has apparently touched a nerve in a small donor base since he began actively seeking contributions just a couple of months ago. While he has only received $26.6 million in larger contributions from individuals directly to his campaign, he has also pulled in $48.3 million in smaller gifts -- about 29 percent of his haul from individual donors.
In addition, a large share (perhaps even half) of the $37 million his campaign has received in proceeds from joint fundraising efforts with the RNC and state parties has come in small dollar donations of less than $200 each. That's unique in the history of joint fundraising, a tool that is usually intended to extract the largest possible total contribution from wealthy individuals who are motivated to help the campaign as much as possible.
Trump's campaign receipts in June and July were roughly comparable to, if a bit below, Romney's totals from 2012. But while Trump raised his largest monthly total in August, $41.7 million, this still represented less than half of what Romney was able to achieve that month. The success of the Trump campaign so far has not been a function of money, and it appears that future success will also require something other than financial strength.
The Republican National Committee recovered somewhat in August, after a disappointing fundraising month in July. The $23 million total for the month represented $2 million more in direct contributions and $5 million more in joint fundraising proceeds than the committee received in July.
Still, the total raised so far this cycle ($231.3 million) is behind the comparable figure for 2012 ($282.8 million) even as the party's responsibilities may be increasing, taking on a greater role in voter ID and mobilization efforts to make up for Trump's lean ground game.
In keeping with its lagging fundraising, the RNC's cash-on-hand figures have been low from early on. Typically parties devote the summer to building a reservoir of funds they can deploy n the final weeks of the campaign. The chart below tracks cash balances at the end of each month for the RNC in the last four presidential election years from January through August.
The current $40 million balance is just more than half of the comparable totals in 2008 and 2012 and less than half what it was in the Bush re-election campaign of 2004.
The Democratic National Committee is also trailing its fundraising performance from 2012, and has become increasingly reliant on the success of joint fundraising efforts between the presidential campaign, the national committee and state party committees.
More than two-thirds of the DNC's revenue in August came through the Hillary Victory Fund. The committee has also taken advantage of changes resulting from the 2014 Supreme Court decision in McCutcheon v. FEC, which eliminated the overall per-cycle limit on individual contributions to all federal political committees. The practical impact, as the Dems have structured it, is that a whole lot of money is going to various state parties -- which then transfer the funds back to the DNC to further add to its coffers.
The DNC has been the leader in using this path to circumvent the specific contribution limit that technically prohibits an individual from giving more than $33,400 per year to the national party. A small group of Democratic supporters have given many hundreds of thousands of dollars each to the DNC by way of Hillary Victory this cycle. Some of the largest donors include Mary Quinn Delaney, the founder of the Akonadi Foundation; Sherry Lansing, the former CEO of Paramount Pictures; and television producer Steven Bochco.
The final members of the team are the outside groups that raise and spend unlimited sums in support of their favored candidate. As in the case of the campaigns themselves, the Clinton effort here began early and has borne substantial fruit.
Priorities USA, created to support the Obama re-election effort in 2012, is now Clinton's main outside supporter, having raised more than $133 million so far and holding a cash balance of $41.5 million at the end of August. The GOP primaries showed that outside spending doesn't always equate to success, but the ability to raise very large sums very quickly can make it a potent force in the latter stages of the campaign.
Like Trump's campaign itself, the outside groups supporting him have been more disjointed, with several organizations appearing to compete for the attention of donors and the favor of the candidate.
Make America Number 1 is primarily financed by conservative billionaire and Renaissance Technologies CEO Robert Mercer and his daughter Rebekah, who have provided $13.5 million of the $16 million raised by the super PAC thus far. The group supported Ted Cruz in the primary, when it was run by Kellyanne Conway, now Trump's campaign manager.
Great America PAC is an unusual outside spending group in that it relies substantially on small donations of $200 or less. It has suffered some hits in leadership, with Tea Party activist Amy Kremer leaving the group in May; its senior adviser, Jesse Benton, was convicted (and sentenced this week) on federal charges of public corruption. It has raised $11.2 million and says it has spent $7.2 million on independent expenditures, including online, mail and television advertising. The PAC's treasurer is attorney Dan Backer; questions have been raised about the legitimacy of other super PACs with which Backer has been involved.
Several other outside groups have identified themselves as supporting the Trump effort, but they are generally small and appear less organized. But the Trump family doesn't seem to have a cohesive strategy on this front, with the candidate's two sons headlining fundraisers for two different groups. That has stoked the donor confusion: If they can't pick a PAC, how will contributors know which one to fund?
Senior Researcher Doug Weber contributed to this post.
Calling all HuffPost superfans!
Sign up for membership to become a founding member and help shape HuffPost's next chapter