The house was full of dust and the floorboards still only half fit together. You could see at the uneven seams how the water had warped them and pulled them apart underfoot. Music was playing on the construction supervisor's radio and we could see the bright green siding of the house next door as we looked through the open windows. The rooms stretched from front to back in one unbroken line. Towards the back, the team had already begun laying the new deep chestnut flooring. We stepped carefully onto it as we walked into the last room, which was full of boxes and tools and good morning light.
"So, this house is pretty close to done," William Stoudt told us as he combed his hand through his hair. As the Executive Director of Youth Rebuilding New Orleans (YRNO), a local non-profit, that buys and restores homes like these in order to sell them to local teachers and non-profit employees. YRNO sells the restored homes at a discount, providing a path to home ownership and revitalizing neighborhoods with each sale.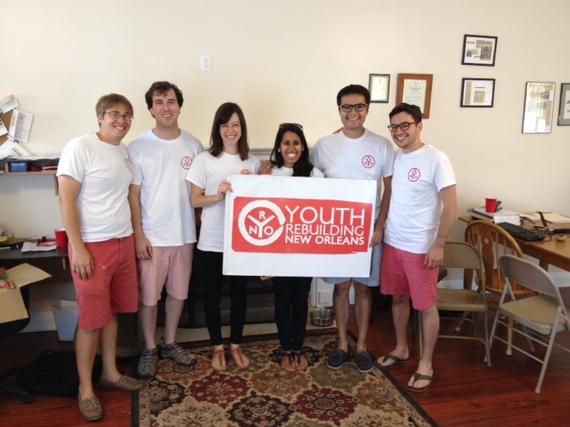 Will oversees the organization's real estate operations from start to finish. He gestured to the window to our left. "You can see from our work next door what the house will look like pretty soon. We're in the finishing stages but it will change a lot over the next few months."
316 Salcedo and 318 Salcedo are counterparts. Both destroyed during Hurricane Katrina and purchased by YRNO for rebuilding, they form a visible tribute to the work that the city's youth has put into restoring neighborhoods that were hit hard during the storm. 316 is a classic New Orleans shotgun house, painted dark green with white trim and a high porch. It's quaint and otherwise wouldn't attract too much notice if it weren't for the gutted frame of 318 huddled up against it.
We came to New Orleans to work with YRNO and with Will. A New Orleans native, Will began working with YRNO when he was in high school. He wanted to get involved in local rebuilding efforts that started in the wake of Katrina, but had difficulty finding an organization that would accept minors as volunteers. So he worked with peers and members of the current board to launch YRNO and continued volunteering with YRNO throughout his time at Tulane. He took the reins after graduation and grew the organization to where it is today.
Our goal during our week was to learn from Will about models for urban revitalization -- and offer insights into his business that would allow him to accelerate the rebuilding process and expand YRNO's footprint in the city. We spent the week diving into potential financing options, talking to similar organizations about their real estate operations, and taking a closer look at YRNO's operations to look for time and money savings. We wanted to leave behind tools that would be useful on Monday, not just recommendations that made sense on Friday. With the entire YRNO team's help, we created tools to help them project costs for each construction activity, quantify the impact that their construction timeline has on the amount of cash they have on hand, and identify new sources of financing. Our hope is that YRNO will be able to use these tools to speed up the construction process and buy more houses next door to each other, on many blocks, in many neighborhoods.
This blog post was originally published here on June 26, 2014.
Calling all HuffPost superfans!
Sign up for membership to become a founding member and help shape HuffPost's next chapter