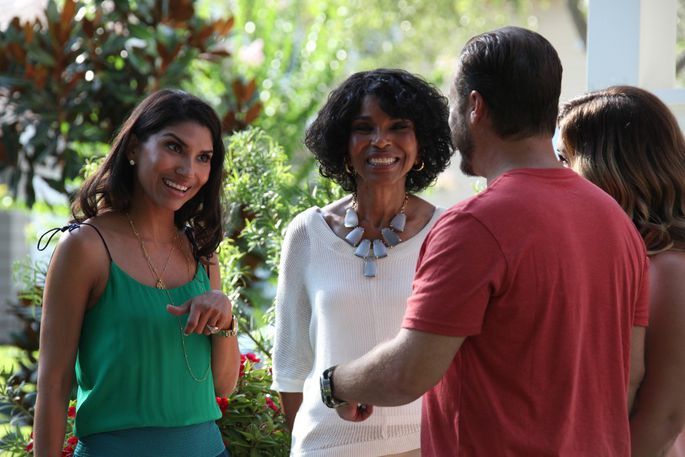 She is the youngest GRAMMY nominee in the history of the Recording Academy. She is the wife of baseball legend, Gary Sheffield and she works alongside her mother Debbie who is a co-Pastor and realtor. While balancing those other roles, Deleon Richards Sheffield is starring on the new show named after the firm she and her mother share entitled "Sheffield Real Estate". Each Thursday night on the FYI Network, the mother and daughter tandem take viewers on showings of Tampa's luxurious homes as they try and close the deal!
Each episode features deals and interactions between Team Sheffield, their clients and the Sheffield family. On the premiere episode, the team was tasked with finding the perfect pad for pro poker player John and his fiancee' Monique. After a few showings, the couple finally found the "wow factor" that sealed the deal! On the second episode, Sheffield was able to use her background in music and the entertainment industry to help another couple find a home with ample space for a recording studio!
Growing up, Sheffield could never see herself following in her mother's real estate footsteps and from the onset of her career, it looked as if she would never have to do anything besides sing. However, after relocating to her husband's hometown of Tampa, they realized that the timing was perfect for a switch hit! After attaining her real estate license and getting into the home ownership market, Sheffield's mother also relocated to Florida from Chicago, got licensed in Florida and Team Sheffield was born!
Though music is still her passion, Sheffield admits that her work in real estate "has taken on a life of its own...you don't pick your path, your path picks you!" Sheffield hasn't forsaken music and even has some new music she's been working on. But it's her years in the entertainment industry that primed her for her latest starring role, as a real estate agent. She and her all-star husband have already experienced as buyers what her clients are undoubtedly coming to her in search of. She admits that she feels that her experienced has given her a better understanding of each client's nuanced needs.
While this proved successful off camera, it wasn't long before the networks came calling with offers to put Team Sheffield on the small screen. Initially, those offers were rebuffed due to her feelings of apprehension and trepidation. But, the repetitive offers and pitches actually helped the family make the decision to finally make the jump to reality television. Of the show, Sheffield says that it will give viewers a "fly on the wall" experience, as they show the homes and work to close the deal. It also gives viewers a glimpse of the strong family dynamic as she fills each role as wife, daughter and mother. Sheffield loves the show's organic moments and loves that viewers will get to see not only the luxurious real estate of Tampa, but the city itself.
Without divulging too much, Sheffield says that each show has a different twist and feels that the premiere season of "Sheffield Real Estate" is feel-good television you'll be entertained by. Team Sheffield is deliberate inits efforts to show a better image versus what is seen on other reality television offerings. "We wanted to make sure that it's done in a way that is good for you. We didn't want to be a part of that scope of television." Sheffield also feels that the show can work to change perceptions of the black family on television today, especially black women. "We can be professional, own real estate, have a life that's abundant and show that. We need to do better and stand together to make a point!"
Calling all HuffPost superfans!
Sign up for membership to become a founding member and help shape HuffPost's next chapter
This post was published on the now-closed HuffPost Contributor platform. Contributors control their own work and posted freely to our site. If you need to flag this entry as abusive,
send us an email
.