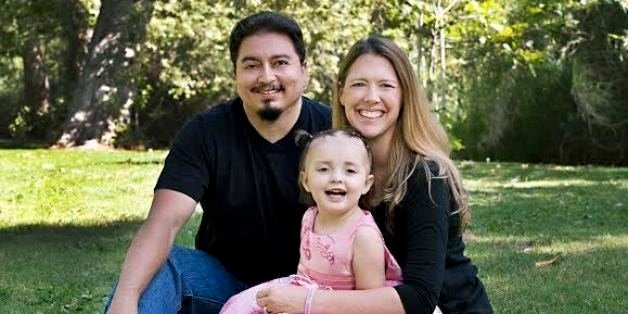 Sandra Andrade never considered herself to be much of an athlete. However, witnessing her young daughter struggle with and ultimately succumb to an aggressive pediatric cancer gave her both the strength and the determination to use sports to continue fighting Sophia's battle even after she was gone.
Andrade, 40, gave birth to her baby girl Sophia on June 28, 2009, in Santa Paula, California. Sophia was a healthy newborn that arrived on her exact due date and met all of her early childhood milestones. She was an early walker at nine months, and was by all measures a happy, normal little girl.
Now a clinical psychologist, Andrade worked as a swim instructor during Sophia's first couple of years, so Sophia was a swimmer as soon as Andrade and her husband Jim could get their daughter into a pool.
"She was a little fish," Andrade told The Huffington Post. "She did her first swim meet (which meant jumping in the pool and turning around and swimming back to the wall) at the age of 2-years-old. She had a blast. Everything was normal."
However, within three months of that first swim meet, Sophia developed a chronic, low-grade fever that left her feeling fatigued and not like her usual bubbly self. It took her parents almost a month to receive an accurate diagnosis from a pediatrician, who sent them directly to Children's Hospital Los Angeles for fear that she had leukemia.
"Getting that diagnosis of your child possibly has cancer is just beyond anything a parent should ever have to experience," said Andrade. "We got there [to the hospital] on a Friday, and on Monday we were told that yes, she had cancer. Soon after that we were given the official diagnosis -- stage 4 neuroblastoma. That was on August 6, 2011."
Sophia started treatment almost immediately, including but not limited to six rounds of chemotherapy, a stem cell harvest, a tumor resection on her adrenal gland, 20 factors of radiation and six cycles of immunotherapy. After her treatment, a tissue biopsy from her adrenal gland revealed no evidence of the disease, so she took oral medication for six months to prevent the tumor's regrowth and was deemed cancer-free by her fourth birthday in June 2013.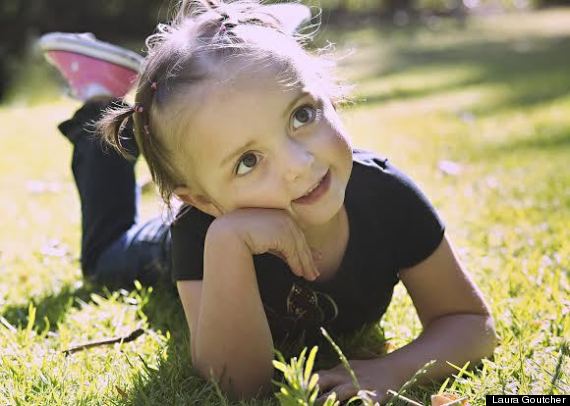 Sophia on her 4th birthday
As Sophia was receiving her various treatments, Andrade heard chatter among her nurses in Children's Hospital about the Nautica Malibu Triathlon, which is held annually to raise money for pediatric cancer research at the hospital. The nurses participate together to support the children they treat and their families they interact with daily. And while the idea of a triathlon intimidated Andrade, she was also intrigued.
"I kept looking at our nurses and what they endure every day, and I thought, 'If they can do it, I can do it,'" she said. "This is a cause that is close to my heart, so I planned on doing it."
Andrade's friend Andrea Knipe offered to participate in the triathlon with her, and together the two women raised $5,000 for the event. The training was challenging, but it provided Andrade with a healthy outlet for her anger about what was happening, as well as a way to channel her own strength, like the strength Sophia exuded every time she returned to the hospital for her treatments.
"Running really is a way to be able to get out anger -- I think it's something about the literal pounding of my feet on the pavement," said Andrade. "There are times when I'm running or biking, and the tears are running down my face as I'm processing and thinking of my child."
On race day, thoughts of Sophia's resilience kept Andrade going from the half-mile, open-water swim to the 18-mike bike ride to the final running leg of the event. She and Knipe crossed the finish line holding Sophia's hands, who joined them for the last 100 meters of the race.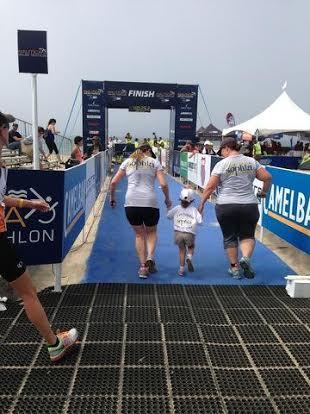 Sophia crossing the 2013 Nautica Malibu Triathlon
with her mother Sandra (left) and friend Andrea Knipe
"It was a metaphor for how we had finished, that we were there," said Andrade. "It was a triumph of 'we survived' and a way to thank the hospital that gave us our child back. I was so grateful that the funding had been there to help our child survive."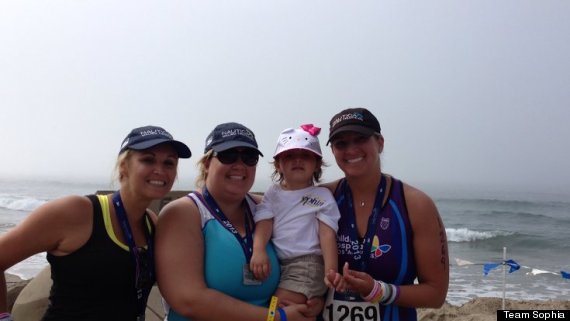 Sophia with three of her nurses from Children's Hospital Los Angeles, Lauren (left), Kim (center) and Jaclyn at the 2013 Nautica Malibu Triathlon
But by the time Sophia was running across that finish line, she was experiencing a new pain in her hips from what would be diagnosed as a relapse of her cancer the following week. This time the disease was smarter than the treatment. She spent the following four months trying different combinations of chemotherapy and radiation before passing away suddenly on January 12, 2014.
Even in the wake of inconsolable loss, Andrade is continuing to push herself to participate in the Nautica Malibu Triahthlon again this fall. Team Sophia has expanded from just Andrade and Knipe last year to 19 people seeking a cure for pediatric cancer. They have already raised $5,000 and plan on increasing that number until this year's race on September 14. September is also nationally recognized as Childhood Cancer Awareness Month.
"This year it's much more about giving back to the hospital that gave us an extra two and a half years with our child, trying to bring awareness and get more funding -- at times screaming at the top of our lungs -- for pediatric cancer research in hopes that some day another parent will not have to go through what we're going through," said Andrade. "And it's to honor Sophia."
Since losing Sophia, Andrade has channeled all of her physical, mental and emotional energy into raising awareness and funding for pediatric cancer research. In addition to her participation in the triathlon, she and her husband permitted Children's Hospital to sample cells from Sophia's tumor so that researchers could study, design better treatment methods, and find ways to prevent the cancer from returning after treatment in future patients. She is also hosting a blood drive at her office this fall, since many pediatric cancer patients can need up to three blood transfusions per day in the early stages of treatment.
"This is something I plan on continuing to do for many years to come, and we just hope that Team Sophia continues to grow and that we're able to raise more and more money to help find a cure," she said. "At this point, these are the different ways we are able to care for her. We aren't physically able to care for our child anymore, but this is the way we're grieving and this is the way we're honoring her and keeping her alive in us."
This article is part of a series produced by The Huffington Post highlighting the contributions of Go-Givers -- people who are looking beyond a "Go-Getter" approach to success and redefining success to include the importance of giving back. To nominate a Go-Giver of the Week, email gogiver@huffingtonpost.com.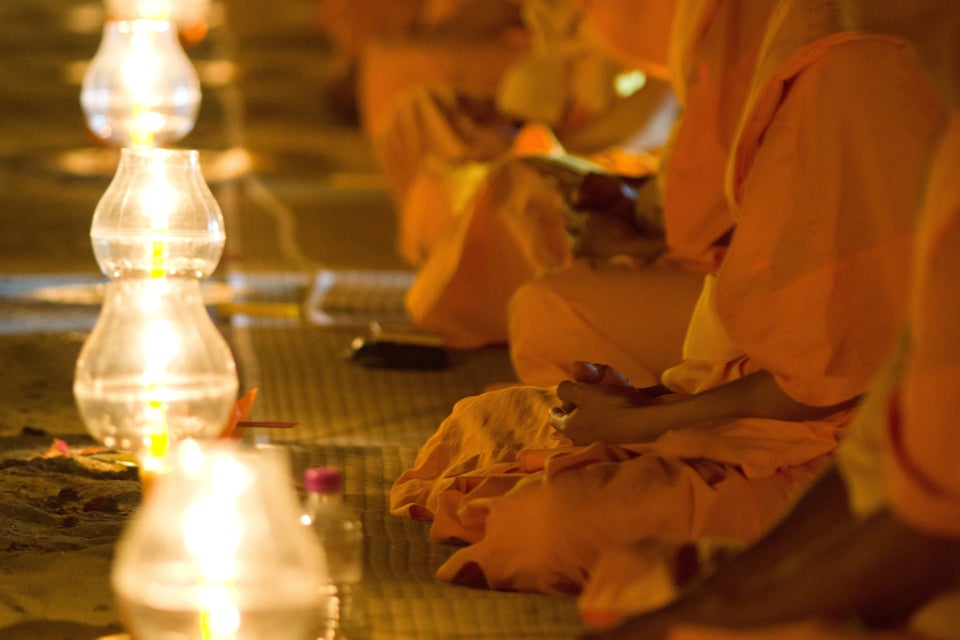 How Meditation Can Train Your Mind To Do The Impossible