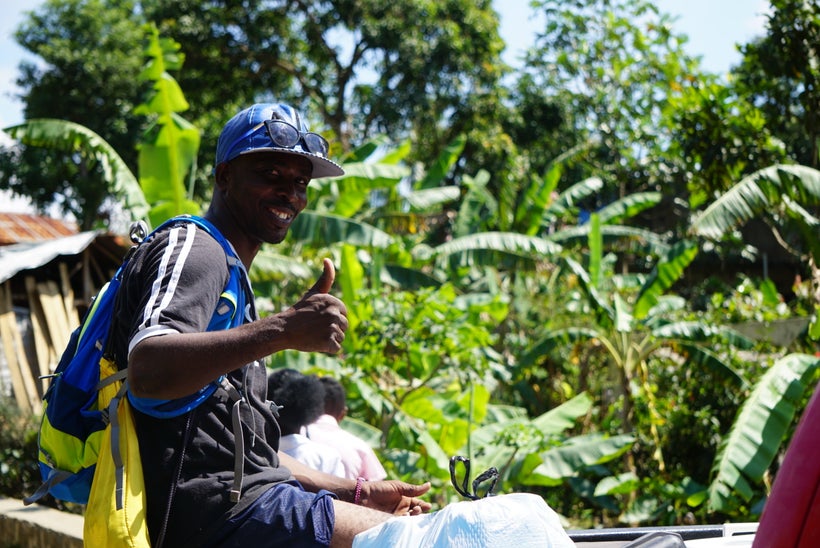 I am a Haiti watcher. I also have a confession to make. Ever since the 2010 earthquake that killed over 300,000 I have become embittered about NGOs. Millions and perhaps billions of dollars went to areas not affected by the earthquake, and to this day people are still living in tents. When I receive an email pitch to write about a charitable effort, my response is always, "I am busy. Sorry I cannot help."
That was until the gentle, encouraging emails kept coming from PR Executive Kate Amery at Pulp PR. Over several weeks, she kept urging me to look at Team Tassy, a nonprofit that helps families in Haiti out of poverty through good, dignified jobs. The organization has just completed its third annual "Run Across Haiti" ultra-marathon to raise $200,000. As of this writing, they have raised $139,498 but the deadline to donate ends on March 25th. In 2015, they created the 230-mile event "to show that Haiti is not a place to be feared or to be pitied." The marathon runs from the northern tip to the southern end of Haiti, and has featured participants, including a Haitian Olympic hopeful, cancer survivors, and seasoned and professional triathletes.
But I am getting ahead of myself. After every email, I had an excuse, some good, some flimsy, saying I really had no time. "Please remind me," I would write, hoping to throw Amery off the scent for a while. Maybe she would just give up. Amery did not give up, and I finally caved, looked at the material, and was moved enough that some of my skepticism evaporated.
Lesson learned. Be open and you might expand your horizons.
The story behind the name is what hooked me. Having been in Haiti a month post earthquake, and on and off for the last seven years, the images of continuing suffering remain. Tassy is a Haitian whom Ian Rosenberger ended up riding with in the back of an old pick-up truck after the earthquake in 2010. Ian is the founder of Team Tassy.
Rosenberger couldn't help but notice a tennis ball sized tumor on Tassy's face. It was cancer. Realizing that the boy had just survived a 7.0 earthquake but had a cancer that would kill him, what could be done?
Here is what impressed me, and it is the answer, whether we are writing about Haiti, Congo, the Standing Rock Indian Reservation, or one of our own inner cities.
"Even if the cancer were to be cured, what would Tassy's future be like? The immediate problem was cancer. The root problem was poverty," according to organizers. Even if Tassy could be saved, he would return to a situation that would likely lead to an early death anyway.
The end to this story is that enough money was raised to get Tassy the treatment he needed and a college education. He is alive and well, but the root problems still exist in Haiti. Poverty is the killer and poverty is the jailer. Poverty is the root problem. Poverty kills hope and restrains the spirit. Poverty is a direct result of international meddling in Haiti, but that is another story. Let's try to focus on this positive story.
Team Tassy works in one community of 500 families and 3,000 people in Port-au-Prince, called Menelas. Services are tailored to meet each family's unique needs. These could include health concerns, access to education, debt and housing. Once the initial poverty-related problems are addressed, family members participate in job training programs and finally placed in employment. There are professional development follow-ups and household budgeting workshops.
Of course this does not address the horrific infrastructure problems Haiti faces, such as the basic right of clean water and housing, but it is a good beginning and certainly provides hope and reasonable goals.
In this TEDx talk Tassy founder Rosenberger tells the story of Tassy, and more than that, discusses why poverty has nothing to do with money.
For those skittish about Internet donations, Team Tassy's Tax ID is 90-0803852, Facebook , and email contacts.
For more reading, here is a Blog , and another, including comments written by one of the Haitian participants.
REAL LIFE. REAL NEWS. REAL VOICES.
Help us tell more of the stories that matter from voices that too often remain unheard.
This post was published on the now-closed HuffPost Contributor platform. Contributors control their own work and posted freely to our site. If you need to flag this entry as abusive,
send us an email
.