Over the last 48 hours, members of the Trump administration have embarked on a stunningly tone-deaf campaign.
After a presidential campaign rife with blatant misogyny, President Donald Trump spent his first months in office contemplating anti-woman policies surrounded by groups of white men. Now, Team Trump would like the public to believe that women's empowerment is an administration-wide priority.
Before you crawl into a corner to laugh and/or weep, let's review the events of the last two days:
On Wednesday morning, First Lady Melania Trump gave remarks at the State Department honoring the 12 women who received the 2017 Secretary of State's International Women of Courage Awards. "As leaders, we must continue to work towards gender empowerment and respect for people from all backgrounds and ethnicities," she said, adding: "Wherever women are diminished, the entire world is diminished with them."
A few hours later, President Trump joined a White House Women's Empowerment Panel to deliver a speech filled with platitudes about women entrepreneurs, working mothers, affordable child care and Susan B. Anthony. "Only by enlisting the full potential of women in our society will we be truly able to ― you have not heard this expression before ― make America great again," he said.
And yet President Trump has done nothing to support women (other than his daughter) who want to see their full potential enlisted.
Apparently, members of Team Trump believe that if they say that they care about women's empowerment enough times, that makes it so. That's not actually how reality works.
This is not a man who was ever going to be a credible spokesperson for women's issues.
Donald Trump became president by tapping into men's fears that equality for women would mean less power for them. He's spent his time in office proving to those men they have nothing to worry about. When he chants "Make America Great Again" to a room full of women, the irony is completely lost on him that the "again" he's referring to means a returning to a time in which women had fewer opportunities, rights and seats at the proverbial table.
Nice-sounding words about women are just nice-sounding words. When you're (a known misogynist) leading a nation, actions speak a whole lot louder, and no faux feminist speech tour is going to change that.
Before You Go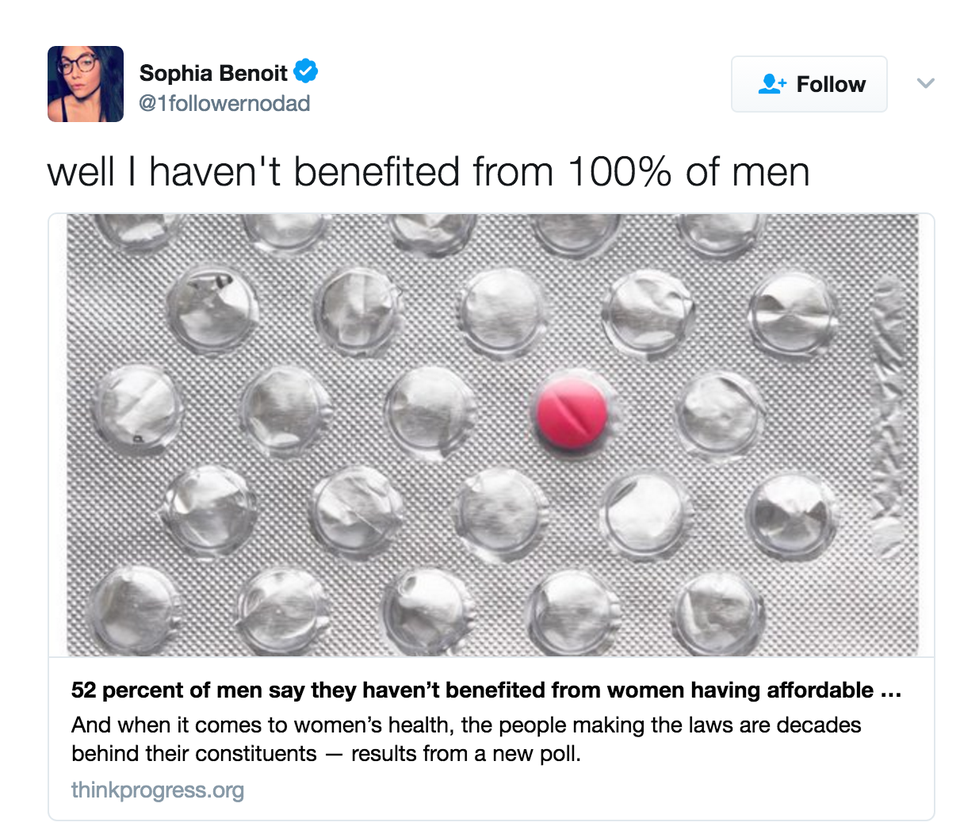 16 Women Respond To Men Who Don't Think They Benefit From Women's Birth Control Access
Popular in the Community