WASHINGTON ― Top associates of President Donald Trump on Sunday joined his new campaign against the mayor of Puerto Rico's capital city, San Juan, over her appeals for quicker federal help following Hurricane Maria.
Mayor Carmen Yulín Cruz has said millions of stranded people are not getting the food and water they need and used media opportunities to say the Trump administration could do more. She rejects the idea that she is attempting to score political points. "I was asking for help," Cruz said Saturday. "I wasn't saying anything nasty about the president."
But Trump, a notorious television obsessive, has reacted harshly to her televised complaints and over the past two days tweeted attacks at her "poor leadership ability" and at other Puerto Rican officials, saying they "want everything to be done for them" and are "politically motivated ingrates."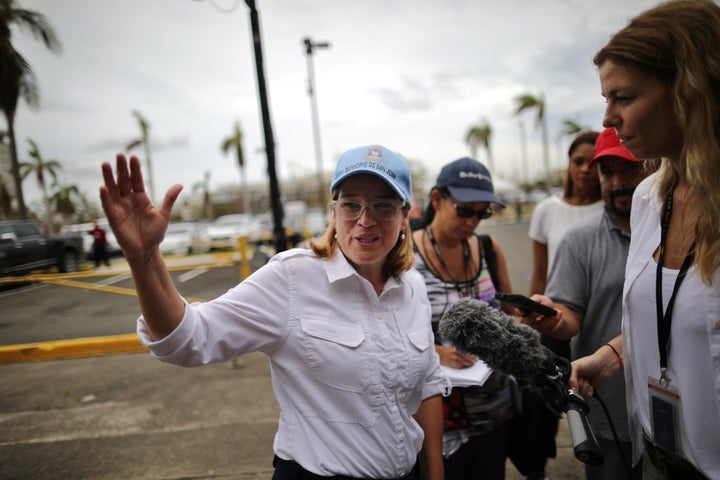 Puerto Rico's government is dealing with a situation in which, as of Saturday, 95 percent of residents had no electricity, the health care system remains crippled and drinking water has been scarce. The Pentagon says the proportion of people reporting no access to clean water grew to 55 percent on Saturday from 44 percent on Wednesday.
"As you know, when the president gets attacked, he attacks back," Treasury Secretary Steve Mnuchin said on NBC's "Meet The Press."
Mnuchin said he could understand the mayor's frustration, but that he thought her comments "were unfair given what the federal government has done."
Cruz is isolating herself, Office of Management and Budget director Mick Mulvaney said on CNN's "State of the Union."
"We have done everything that we can and we will continue to do so.  It's unfortunate that the Puerto Rico mayor wants to ― excuse me ― the San Juan mayor wants to sort of go against the grain," Mulvaney said. "We would love to have her on the team as we all pull the same direction."
Former Trump campaign official Michael Caputo echoed that sentiment, also on CNN, arguing that Cruz only speaks for 12 percent or so of Puerto Rico, given that she only represents San Juan. Many of the Trump surrogates appearing on the Sunday talk shows noted that other mayors and Puerto Rican officials, including Gov. Ricardo A. Rosselló, had been more complimentary about the president's response. 
There's only one goal, and it's saving lives.

San Juan Mayor Carmen Yulín Cruz
But Cruz has said she believes the administration's approach to the crisis has had a chilling effect, preventing some officials from joining in to criticize the federal response.
"Some of the mayors that I have been able to reach or have reached me are scared of voicing their concern, because they are concerned if they do, they won't even get a bottle of water," she told the New York Times. "That is a sad situation in a democratic society when fear takes a hold of people, then you know something isn't working."
Appearing for a brief interview Sunday on ABC's "This Week with George Stephanopoulos," Cruz brushed off her controversy with Trump, saying, "There's only one goal, and it's saving lives."
Discussing the relief efforts by federal officials, she said "their heart is in the right place," but that a greater emphasis is needed on cutting "the red tape."
The administration's preferred reaction seems to be to simply present whatever version of reality it likes and attack those who dispute it ― including the media, which Trump says is misrepresenting his disaster management skills.
On Sunday, even Rosselló seemed surprised by part of the White House spin. Told that Trump had tweeted that "all buildings" had been inspected, the governor said, "I'm not aware of such inspection."
"Perhaps he was referring to a particular set of buildings," he added. "I'm not sure."
REAL LIFE. REAL NEWS. REAL VOICES.
Help us tell more of the stories that matter from voices that too often remain unheard.