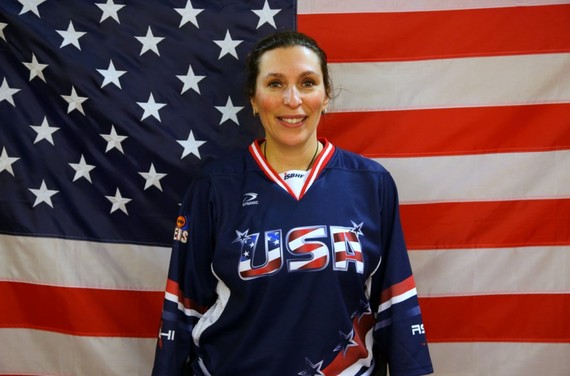 I currently work as a graphic designer for Accenture's North American Proposal Resource Center. But whether it's been on ice skates, rollerblades, or in gym shoes, I've always played hockey. Since my early days playing street hockey and soccer as a youngster, I've always felt most comfortable in the net. That's why I was so proud to guard the net when Team USA's Women's Ball Hockey Team played in the Ball Hockey World Championship in Zug, Switzerland, in June. Our team took fourth place in the tournament.
My uncle was a street hockey goalie in a league and I remember liking how goalies always got to wear cool gear, so I wanted to play goalie too. They say it's the loneliest position in team sport, as you are the last line of defense and must stay level-headed and mentally strong throughout the pressures of the game. I enjoy being in high pressure-situations and being part of a sport that takes a team effort to win.
My hockey résumé includes playing goalie for my high school's boys' team and then joining the women's ice hockey team at Northeastern University. I was a member of Team USA's Women's Roller Hockey Team that won the gold medal in 2003 in the Czech Republic and competed in the first International Ball Hockey World Championship, held in Germany in 2007. In 2013, my ball hockey team won the bronze medal in Toronto and in 2014 I was a member of the Master's USA Women's Ball Hockey Team (over 35) that won the silver medal at the first Women's Master World Championship, held in Tampa.
Playing for Team USA and representing my country at the highest level this sport offers is an honor. It is amazing to be able to compete in different countries and take pride in what we have accomplished thus far. Ball hockey is a very popular sport in Europe, with world championship games televised, and played by many professional ice hockey players to keep in shape during the offseason. To maintain top readiness, I frequently attend hockey camps and work on strength and conditioning five days a week. I also play in a men's ball hockey league during the week and work with a goalie coach closer to tournament time.
Accenture has been very accommodating and flexible with my training times, tournament commitments and fundraising activities. That also means I get to spend time with my husband and Team USA assistant coach Jason, who've I've played against in several tournaments.
There are strong similarities between ball hockey and creating winning sales proposal documents. You want to give your very best for your team and also yourself so you can be proud of your accomplishments at the end of the day. To excel, you push yourself to learn and rely on your team and leaders to ensure we work together to deliver the very best of what we have.
REAL LIFE. REAL NEWS. REAL VOICES.
Help us tell more of the stories that matter from voices that too often remain unheard.