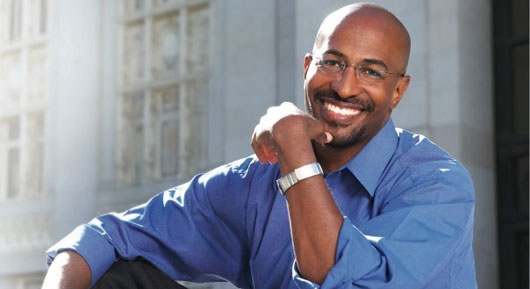 From founding the economically conscious nonprofit organization Rebuild the Dream to publishing two New York Times bestsellers, Van Jones has gained a strong following. In fact, Van's Blog has attracted a large online community fan base which he refers to as #TeamVan.
Jones thrives on the feedback from his readership, welcoming ideas and opinions on his concerns for gun control, the strike on Syria and the climate crisis, and is confident their inspiration will allow him to bring a "truly representative progressive voice to CNN." But some fans are not as positive about Jones' hosting debut on the return of CNN's political debate program Crossfire.
One fan posted on the #TeamVan forum his skepticism about Jones' growing involvement with mainstream media, asking "once you become more enmeshed in a role in CNN will you be coerced in selling out?"
The post continued to read, "I truly hope this is an effort to get the questions that need to be asked out there, and a way to get ideas out to a wider audience."
Crossfire, once known as the longest running political debate program on television, as well as the show that featured 1984 communist party vice president candidate, Angela Davis, will continue to break down views on the current political climate through unique perspectives with an additional twist. Each episode will end with a common ground segment during which Jones and his co-hosts, Newt Gingrich, Stephanie Cutter and S.E. Cupp will agree on some things.
Jones fans hope he will not compromise his stance on controversial issues for the sake of the show's ratings and approval. But they'll just have to keep their fingers crossed. It's too early to put such pressure on Jones. Let's wait for the show to air before setting such high expectations and doubts.
Calling all HuffPost superfans!
Sign up for membership to become a founding member and help shape HuffPost's next chapter