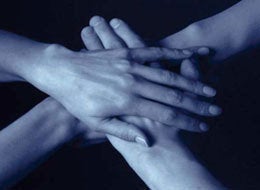 One of my all time favorite commercials is one where American Airlines makes fun of the teambuilding industry -- an industry in which I am a participant. What makes it so funny is its resemblance to what actually does happen at teambuilding off-sites. If you watch the commercial and then think about it for a second, it's hard to believe that companies really do put their employees through programs such as these thinking that they will help people work better as a team. Meanwhile, what it tends to do instead is leave employees feeling foolish, and worse, like their employers just don't "get it."
All jokes aside, it does raise a more serious question about the investments made in teambuilding initiatives and the legitimacy of their outcomes. Let's start by asking why we keep repeating an exercise that involves employees that those same employees hate? And, why do we subject them to it if there are doubts about its efficacy in the first place?
When I've made this argument in the past and been met with typical corporate mentality, I hear, "They (meaning the employees) should appreciate these programs because we are spending a lot of money on them to do this." But if one side thinks it's good and the other doesn't, then it doesn't matter whom it's for or why. It's a waste of time and money.
So again I would ask, why would we allocate resources to something that is supposed to help employees feel better when in fact it can often make them feel worse? Certainly, the goal of building teams isn't to alienate anyone. That would defeat the whole purpose. Granted, it is never the intent to deliberately introduce teambuilding exercises that are divisive, but the assumption that teambuilding is a good idea without giving thought to how certain things will affect certain people, isn't actually that good of an idea at all.
So here are some quick tips to make sure you get positive results from teambuilding efforts.
1. Pick the right venue so it makes sense for the people and the business.
2. Expect it to build culture and generate positive energy for the company.
3. Use it as an opportunity for employees to meet those whom they don't already know.
4. Know what you want to accomplish from a business perspective beforehand.
5. Be sensitive to how people feel and any limitations they may have.
6. Use activities that have different roles in order to make space for everyone.
7. Send out agendas beforehand and encourage employees to come forward and express concerns.
1. Over analyze your objectives or try to make things too serious.
2. Try to make teambuilding into something it's not by expecting unrealistic outcomes.
3. Throw teambuilding into the mix to solve inter-relational problems or conflict at work.
4. Expect it to teach people how to work better together in the real world, in real time.
5. Force anyone to do something he/she does not want to do.
6. Make people feel self-conscious or guilty about opting out.
7. Don't ignore feedback about the events.
In other words, don't expect a game of paint ball or a cooking class to solve relationship problems back in the office. But if done right, you can expect teambuilding to be fun for employees and in turn generate positive feelings about the company for which they work.
Popular in the Community