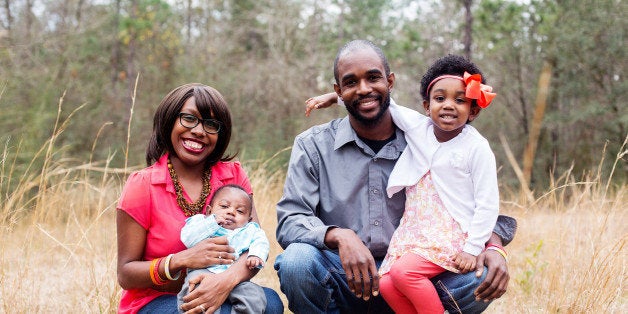 In September 2011, our family was faced with the unthinkable news that our 2-year-old daughter Starla had acute myeloid leukemia, an aggressive form of cancer that is rare among children. When the doctors told us Starla would need to start chemotherapy the very next day, our hearts dropped. As a parent, you can't prepare for this.
Trying to do anything they could to help, my sisters created an event on Facebook, "Prayers for Starla Eve Chapman." Family, friends, and friends of friends joined the event and shared their prayers for my daughter, which meant a lot to my husband and me. We saw the love and support from everyone, and after about a month, I decided to switch from a Facebook Event to a more permanent Facebook Page: "Team Starla Support Page." I wanted to create a place for people to gather together to pray for Starla, and to start raising awareness for childhood cancer. People don't always realize that children get cancer and go through the same chemotherapy that adults do.
I watched my daughter lose her hair and her appetite. She was tired and nauseated, experiencing vomiting and weight loss. We lived through what the St. Jude's commercials don't show. Starla was in the hospital for six months with only three short visits home. She went through five rounds of intense chemotherapy, with each round carrying its own set of side effects.
Early on in her treatment, Starla went into remission. We thought she'd be able to continue chemotherapy and be fine, but in January 2012, Starla's heart failed. After a seizure, she went into cardiac arrest, and it took two minutes of chest compressions before she was revived. Chemo had taken a toll on her heart, and it was functioning at only 6 percent capacity. The doctors told us she would die. Our only hope was prayer. I posted on Facebook and asked people to join us in praying for a miracle.
That miracle came, and over the next few days, Starla gradually improved.
Around this time, Starla's Page grew from 500 people to 20,000 people. People from all over were thinking of us and sending messages. I had no clue where they all came from, but they were the most supportive group of people you could find. Starla recovered and was able to continue her chemotherapy to reduce the chances of relapse.
Through it all, I shared everything on the support page. Every raw emotion and feeling is documented. Some people I know asked how I could post so much of my personal business on Facebook, but I didn't think of it that way. To me, the Facebook Page is a ministry. These people didn't know us, but they prayed for us. They bought "Team Starla" bracelets to help us pay our bills. One man who owned a UPS Store offered to mail out the bracelets to save us the shipping cost. He later gave us VIP tickets to an Alabama football game. A Christian artist we're fans of sent Starla a box of goodies and later invited my husband and me on a free cruise where she performed a song inspired by Starla called "I'm a Fighter." And thousands of people have shared their support through words, for which we're so grateful.
Today, Starla is almost 6 years old and is thankfully still in remission. She still has to take eight types of medicine a day and visit the cardiologist twice a year, but she's a normal child going to school, playing t-ball, taking ballet and being a big sister. We share every milestone with her more than 30,000 supporters. We've also started a small foundation to give back and help other families dealing with childhood cancer.
We are so proud that Starla has been honored as Alabama's Child Champion for Children's Miracle Network Hospitals this year. We hope her story shows people that with faith, anything is possible. And we're going to keep doing our part to raise awareness for childhood cancer and help other families feel the love and support we received from everyone over the past three years.