Members of the International Brotherhood of Teamsters voted overwhelmingly to ratify a new contract with UPS, precluding a strike and ending one of the biggest labor showdowns of the year.
The union said 86.3% of UPS workers who voted were in favor of the new 5-year deal reached late last month addressing wage increases, safety measures and other issues. The collective bargaining agreement ― the largest of its kind in the U.S. private sector ― covers roughly 340,000 UPS employees and helps set standards in the broader logistics industry.
Teamsters said in a statement that the approval rating was the highest ever for a UPS contract in a ratification vote.
"This contract will improve the lives of hundreds of thousands of workers," said Sean O'Brien, the union's president. "Teamsters have set a new standard and raised the bar for pay, benefits, and working conditions in the package delivery industry."
The national contract comes with more than 40 supplemental agreements negotiated between UPS and local Teamsters affiliates. The union said all but one of those were approved, and the national agreement will go into effect once the remaining one is renegotiated and ratified.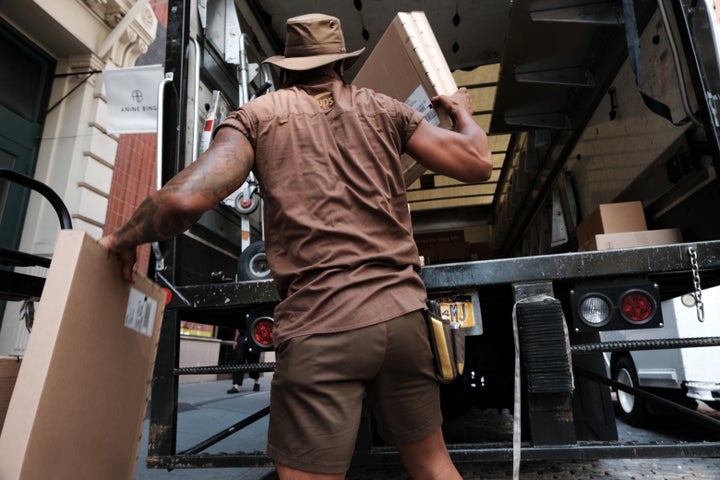 Workers had threatened to strike UPS if the company didn't deliver sizable raises and address other concerns, including heat in delivery trucks and a two-tier compensation system that divided the workforce. Companies large and small rely on the delivery services of UPS, so a work stoppage threatened to hurt the economy at large.
UPS agreed to install air conditioning in all new trucks starting next year, and to scrap the contentious system that paid drivers different rates for the same work. The two sides ultimately settled on wage increases and starting pay floors just before the strike deadline.
The union said current part-time workers ― some of whom earn around $16 an hour ― will be moved to a rate of at least $21 per hour immediately, though they can earn more depending on the market in which they work. Wage increases for full- and part-time workers will amount to $7.50 per hour over the course of five years, putting the top rate at $49 per hour.
Many workers had said excessive overtime made it difficult to spend time with their families. Under the new agreement, drivers cannot be forced to work overtime on their scheduled days off. They will also receive Martin Luther King Jr. Day as a paid holiday.
Support HuffPost
The Stakes Have Never Been Higher
Popular in the Community