BOSTON (Reuters) - Four Teamsters union members in Boston were acquitted on Tuesday of charges they tried to extort jobs from a production company filming "Top Chef" in 2014, using thuggish tactics that included threatening host Padma Lakshmi.
A federal jury found Daniel Redmond, John Fidler, Robert Cafarelli and Michael Ross not guilty of conspiracy and attempted extortion charges over what prosecutors called an effort to secure wages for unwanted services from the non-union company.
The verdict followed a trial that drew national attention for its focus on the popular Bravo network cooking competition show. Headlines also focused on allegations involving the city's tourism chief at the time, who has been charged in a separate union-related extortion case.
Defense lawyers celebrated the verdict. They had argued the Teamsters Local 25 members were engaged in legitimate picketing as the union negotiated to secure real jobs, not to force the creation of nonexisting positions.
"These gentlemen were executing their right to protest in favor of real jobs for union workers," said Oscar Cruz, a lawyer for Redmond.
Prosecutors claimed the Teamsters used homophobic and racial slurs and violent threats to try to secure pay for unnecessary services from a non-union production company filming "Top Chef" throughout the Boston area.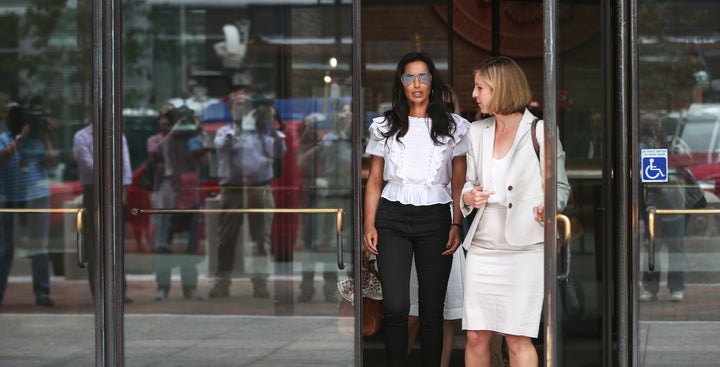 Prosecutors said that on June 5, 2014, Redmond approached the show's crew while it was filming at a hotel, demanded union members be hired as drivers and told a producer to call Mark Harrington, his union supervisor.
They said after another hotel worried about picketing withdrew from participating in the show, production company Magical Elves switched to filming that June 10 at the Steel & Rye restaurant in the suburb of Milton.
Prosecutors said Harrington, Redmond, Fidler, Cafarelli and Ross showed up at the restaurant and Teamsters chest-bumped and threatened crew members, slashed tires and blocked a food delivery.
They said a van bringing Lakshmi to the set was also swarmed by Teamsters including Fidler, who told her, "I'll smash your pretty little face."
Harrington was sentenced in December to six months in prison after pleading guilty.
Before the Milton incident, prosecutors said Kenneth Brissette, who had been appointed the city's tourism head by Mayor Martin Walsh, withheld permits to push the production to hire Teamsters.
Brissette has pleaded not guilty to separate charges he tried to withhold city permits for a music festival using non-union workers. Walsh, a Democrat and ex-union leader, has said he expects his administration's members to obey the law.
REAL LIFE. REAL NEWS. REAL VOICES.
Help us tell more of the stories that matter from voices that too often remain unheard.
BEFORE YOU GO
PHOTO GALLERY
Best Summer Dinner Recipes