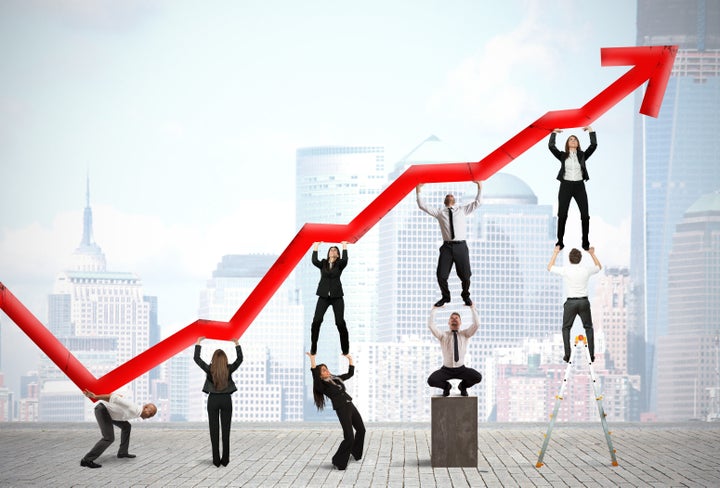 "Gallup's data show teams that focus on strengths every day have 12.5% greater productivity." - How Employees' Strengths Make Your Company Stronger, Feb 2014 by Susan Sorenson
As a team and workplace specialist, I believe teams are at the heart of every successful organization. If you think about today's workplace, everyone is working in some form of a team whether it's a team of two or twenty. It could be a sales team, global team, admin team, engineering team, leadership team or project team. The bottom line is that an organization thrives when teamwork is at its best.
There are plenty of books on the topic about what makes a high performing team or how to get the most of team members. This isn't rocket science and yet, many companies struggle with how to work collaboratively and effectively together. How often have you heard people talk about being part of a team but not "feeling" like a team?
Over the past twenty years working with thousands of diverse teams across various industries, led me to conclude that the best teamwork is a group of people working together for the greater good of the team – meaning, that each person is willing to forgo their own ego, and make decisions that are truly in the best interest of the team vs their own best interest. This requires a heightened awareness of self and others. Furthermore, the most successful teams – think Olympic teams, like the women's soccer team or the World Series Baseball team, each player shows up playing at their absolute best, energized, engaged and fully committed to the team goal. To anchor this thought further, Phil Jackson, considered one of the greatest coaches in NBA history said, "The strength of the team is each individual member. The strength of each member is the team." That's a powerful statement if you stop and think about what it means. When each person shows up using their strengths, are energized and genuinely collaborating as a team, they are naturally more productive, engaged and performing at their best. Conversely, when one person doesn't show up and perform or is unwilling to put their own interests aside for the greater good, it negatively impacts the rest of the team. We've all experienced this at one time or another, and in fact, we've all been the person who isn't performing. No one person can make the entire team great or successful over the long term, it's the combined expertise and efforts of every team member that enables a team and company to thrive.
Jessica Gaines, Business Committee for the Arts Coordinator, Americans for the Arts, shared a great example of a company who takes teamwork to a whole other level. ShoreTel, a Sunnyvale, CA-based global telecommunications vendor, organized and hosted a Battle of the Bands for its employees. They put together the bands that competed, funded music lessons to ensure they were prepared to perform, and even provided music rooms where employees could rock out at the office. Needless to say, it was a huge hit, pun intended, and cleverly integrated a form of art into the teambuilding activity. That's thinking way outside the box.
If you don't want to go that far out of the box, then at the very least, be sure your team has a clear mission and goals that each team member buys into so that they have a vested interest in the overall success of the team. Also, inject some fun activities along the way to provide opportunities for team members to build trust and stronger working relationships which makes it easier to solve future challenges.
Effective teamwork is good for business. Stronger relationships between team members, greater job satisfaction, energized employees and a more engaged workforce are just a few of the benefits. The accumulation of good talent is what produces great team results. When team members meet their goals, everyone wins. I've seen this first-hand, when team members are having fun, more aware, leverage their strengths, and are laser-focused on team results, they ultimately create a continuous positive impact. This leads to a culture of high performance, greater well-being and happy customers inside and outside the organization.
Companies who value teamwork understand that their organizational success is tied to how well their team members work collaboratively to achieve the overall goals. Producing excellent results and delivering value to your customers is what energizes your company culture. So, what can you do to invigorate your team?
About the Author: Michelle Burke is a Communication, Workplace and Team Specialist, published Author, Consultant, and Speaker. She is CEO of The Energy Catalyst Group dedicated to creating more positive and energized workplaces by helping teams be more collaborative, engaged and achieve peak performance. Her years' experience working with Fortune 100, 500 companies, established her as a leading expert in bridging communication, gender and cultural gaps. She consults with clients using her 3-A Model: Awareness, Accountability and (purposeful) Action to focus on increasing individual, team and organizational energy. Clients include Stanford University, Microsoft, Visa, Disney, Sony, Receptos, Lanza Hair Care, Genentech, HTC, and Sony PlayStation. Michelle authored, The Valuable Office Professional, was featured in Business Week's Frontier Magazine, LA Times, SF Chronicle, and Wall Street Journal. Her articles have been in Training, HR, and Chief Learning Officer Magazines. She also co-created Personalogy™ game that made Amazon's Top 100 Best Selling Card Games of 2015. Please connect with her Michelle@energycatalystgroup.com.
Related
Popular in the Community