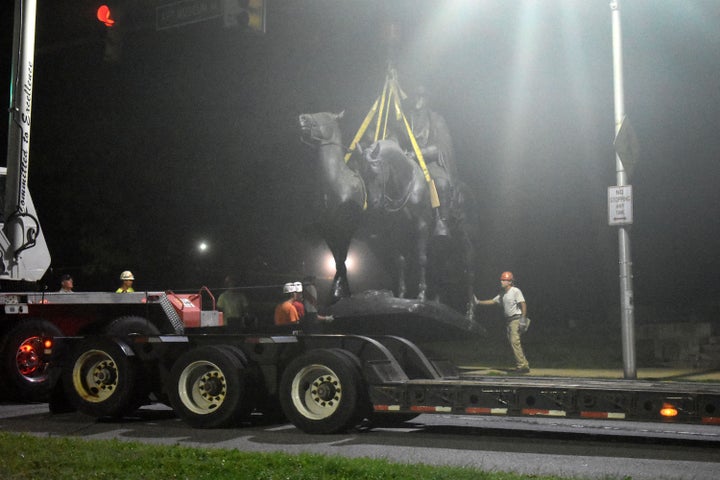 For the last several weeks, we as a country have collectively been engaged in a needed, righteous argument over why Confederate statues must go. At my organization, National Action Network (NAN), we clearly all agree that they should be removed, and have been on top of this issue for the past several years, including calling for the removal of streets named after Stonewall Jackson and Robert E. Lee in Fort Hamilton, Brooklyn. This upcoming Monday, on the 54th anniversary of the 1963 March on Washington ― a march that was addressed by the Rev. Dr. Martin Luther King Jr. making his epic "I Have A Dream" speech and supported by folks like the late great Dick Gregory ― we will once again gather in the nation's capital. We are not convening for nostalgia's sake, but rather for the fierce urgency of now.
Led by 1,000 ministers, imams and rabbis, the march for justice will raise awareness of the fact that Dr. King's dream and objectives are under direct threat today by the Trump administration. This current administration has attacked voting rights, health care, criminal justice and police reform, and given comfort to neo-Nazis, homophobes and racists. It is vital that moral leaders of the nation stand up today like the moral leaders of Dr. King and Dick Gregory's generation did years ago to raise society to a higher level of justice, fairness and inclusion.
This is precisely why Dr. King's son, Martin Luther King III, is joining Jim Wallis of Sojourners, Rabbi Jonah Dov Pesner (Director of the Religious Action Center of Reform Judaism and one of our march co-chairs), Rev. Franklyn Richardson, and I in leading this crucial gathering on Monday. The idea of creating a more just and equal United States of America is a continuing struggle that still requires much work ― especially during a period when many of the gains so many sacrificed to achieve are under renewed threat. We cannot stop at just bringing down Confederate statues and forget to deal with the policies that reinforce Confederate ideas. Voter suppression based on race, gender inequality, homophobia, high incarceration rates, and a lack of police accountability are a few key examples. We cannot simply let them take statues down and leave those policies in place.
At a pivotal moment when the attorney general is reversing many of the advances we've achieved, as is this administration overall through various actions, we must raise our voices louder than ever before. If those leading the nation do not possess the moral courage to do the right thing, then it is up to moral leaders to take us there. As we commemorate Dr. King and his profound "I Have A Dream Speech" this Monday, we will renew those dreams as we march from his memorial to the Department of Justice. We will challenge Congress and the nation to deal with policies and legislation that not only pauses progress, but also turns back the clock.
When Donald Trump was elected, many questioned whether or not he would keep a bust of Dr. King that President Obama had placed in the Oval Office. Trump finally clarified and said he would in fact keep it (and added Winston Churchill's bust). While he has kept Dr. King's bust, he has clearly put the dream aside. Those who believe in Dr. King's vision and fought to maintain those principles will be in Washington on the anniversary that this dream was articulated. We don't just need removal of Confederate statues; we need a return to the policies of that dream ― and we will not be moved.
As Dr. King so aptly stated 54 years ago: "We have also come to this hallowed spot to remind America of the fierce urgency of now. This is no time to engage in the luxury of cooling off or to take the tranquilizing drug of gradualism. Now is the time to make real the promises of democracy. Now is the time to lift our nation from the quicksands of racial injustice to the solid rock of brotherhood. Now is the time to make justice a reality for all of God's children."
Popular in the Community