Nahed, a Syrian mother, once had a good life. She was a school teacher in Rural Damascus. It was a middle-class living that could provide for her family. But all that changed when the civil war came to her country.
The fighting between the government and rebel groups forced Nahed and her family to flee their home.
They now live in a tiny room in Damascus and struggle each day just to get by. Nahed even sells off the few possessions she brought with her, just so they can afford to stay in that small space.
Tears is the one word that tells of their plight and that of millions of other Syrians.
UN World Food Program officer Dina El-Kassaby recently met Nahed and other Syrian families whose lives have been turned upside down. El-Kassaby sees the sadness and the exhaustion of these war victims.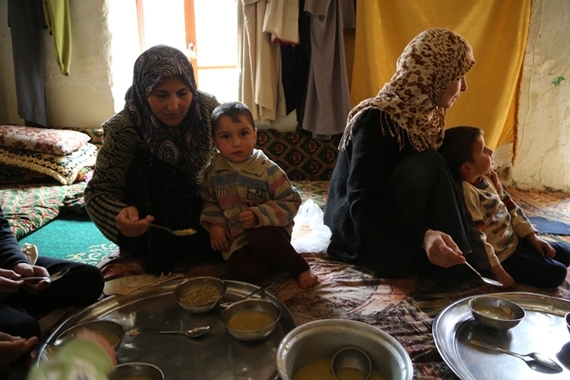 Abida and Osama (right) from the Old City of Homs and Hajar and her son Ahmed from Baba Amr (left), fled their homes on the same day. They left without any personal possessions and only the taxi fare they needed to reach their mother's house in Maskaneh. They are among 4 million inside Syria who depend on aid from the UN World Food Program. (WFP/Dina El-Kassaby)
One of the few things that gives Syrians hope is the food packages from the World Food Program (WFP).
When ISIS attacked Yarmouk, Syria last month it caused a major hunger crisis. Some families managed to escape to Yarmouk's outskirts. They can only survive with the food provided by WFP and its partner, the UN Relief and Works Agency.
For some Syrians though, food remains out of reach because they are blocked from aid by the warring forces. The UN is demanding access to all Syrians trapped by the civil war.
That is one of the tragedies that happens daily inside Syria. WFP and its partners stand ready with food to deliver, but cannot reach those in need unless the armies stand down. They try to negotiate humanitarian access each day.
When WFP can get through they save lives. In fact, WFP was able to finally reach Syrians in Al Waer with food packages earlier this month. These were the first deliveries in months for the city.
Throughout Syria, WFP provides an enriched peanut paste to children called Plumpy'Doz. This special food prevents deadly malnutrition. Children who escaped the Yarmouk siege are eating this life-saving food as we speak.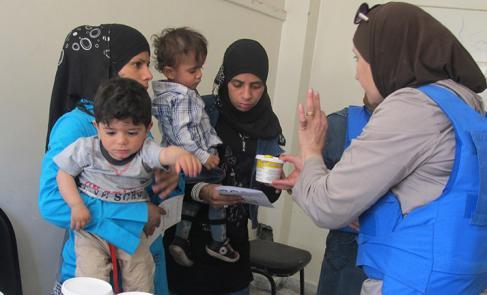 To help those who escaped the Yarmouk siege, Plumpy Doz nutritional supplements are being distributed to families with children under five years old, generously contributed by the World Food Programme (WFP). (UNRWA photo)
But there is a looming crisis within a crisis. This is the shortage of funds for WFP, which depends on voluntary donations to provide food to Syria.
WFP requires $832 million (U.S.) for the rest of this year to carry on the relief mission. Otherwise rations will be cut and another tragedy will befall innocent Syrians. El-Kassaby says the WFP Syria team needs funds right away to maintain the feeding of the war victims. A donation page has been set up by WFP.
The U.S. is the single largest provider of aid to Syrians through the Food for Peace program. Congress and the President are being asked by the World Food Program U.S.A. to increase funding for this life-saving initiative. Food for Peace is the lifeline to those starving in Syria and other war-torn countries like Yemen and South Sudan.
What will end the hunger and suffering in Syria is a peace treaty. That miracle appears far off today. But, until we can find this elusive peace, we cannot forget the plight of the Syrian people.
Whether it's the war victims inside Syria or those who fled to neighboring countries, they need our help. If we provide the food and other aid, that will help build the peace.
Without food, nutrition and hope, Syrians will not have the strength to make a peace or rebuild their country.
We cannot give up on peace for Syria. We must certainly not give on the Syrian people.
Related
Popular in the Community