Teatro ZinZanni's latest production Hollywood Nights continues their long string of extremely successful, fun-filled entertaining shows. As with all the TZ shows, it loosely hinges on a plot, but story is not what has attracted people to TZ since 1998.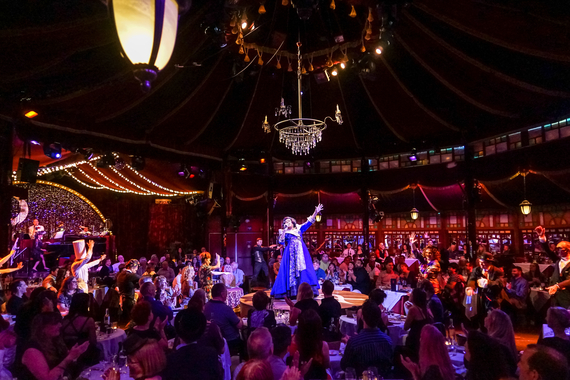 Audiences fill the 300-person spiegeltent for three hours of immersion fantasy, created by some of the most talented people I have ever seen and a gourmet meal that serves as the proverbial icing on the cake. Here's the how Teatro ZinZanni describes the Hollywood Nights plot:
"When a famous movie director makes reservations at a local fine dining establishment, the restaurant scrambles to get everything in tip-top shape; little do they know that they will soon play a major role in his upcoming film! Movie stars, stuntmen, and production crew arrive on location at the stunning spiegeltent where they will live out their cinematic dreams. The A-List cast features a sous chef that juggles more than plates, a hostess with operatic dreams, servers tapping for their 15 minutes of fame, and silver screen stars who take the art of film to new heights."

For me, highlights of the show included the outrageously funny and talented Ron Campbell as movie director Cecil B. DeGrille. DeGrille works the crowd in Groucho Marx style and serves as a kind of ringmaster for an incredible evening of great music and comedy.
Returning for this show is Domitil Aillot who always seems to be simply strolling around being another member of the cast. Eventually, however, Aillot climbs on his pole and appears to defy gravity with a seeming ease that makes one wonder if his body isn't invisibly tethered from above.
Also back are my favorites Wayne Doba and Andrea Conway Doba as the ditzy Mitzi who may just end up climbing across your table to serve you a bowl of soup. I've not had the pleasure of that experience, but we watched it happen at the table next to ours.
All in all, Hollywood Nights brings a spirit of pure joyful entertainment, music and just plain fun to Seattle. It's a delight of an evening that can't help but remove your worldly cares for a few bright hours. Hollywood Nights runs through January 31.
Calling all HuffPost superfans!
Sign up for membership to become a founding member and help shape HuffPost's next chapter