Amidst the post-game confusion, an internet phenomenon was born: Tebowing.
At Tebowing.com, Kleinstein and his cohort defined Tebowing:
To get down on a knee and start praying, even if everyone else around you is doing something completely different.
Once the Tebowing.com was launched, others began submitting photos of themselves Tebowing all over the place. Believe it or not, the first photo they received (that wasn't from a friend of Jared's) came from Occupy Chicago
Within 48 hours of launching the site, Jared received a text message that read, "Tebowing on CNN." Kleinstein and his colleagues at StreetEasy.com began celebrating the news, but that was only the beginning of a full-on Tebowing blitz. All of the sudden, Tebowing was on ESPN, Fox Sports, The Huffington Post, CBS and any other media outlet covering sports news.
A week after that meme-inspiring Broncos' comeback, the Detroit Lions pummeled Denver, sacking Tebow seven times in the process. After linebacker Stephen Tulloch dragged him down for one of those sacks, he brought the Internet sensation onto the gridiron.
Some, like ESPN's Tony Kornheiser and Jamelle Hill, thought Tulloch "Tebowing" over Tebow went too far. Some believe that Tulloch was making fun of the religious aspect surrounding Tebow. But according to Kleinstein, Tulloch didn't go too far.
"I can't say it went too far, strictly because we didn't put a religious affiliation on it," Kleinstein said. "We allowed the public to make their own interpretation of it, but based on Tulloch's reputation as a stand-up guy we can safely assume he had the right intentions."
With talking heads debating the morality of Tebowing over Tebow on ESPN, there was little doubt that this act had reached the big time. Across the country, Tebowing was the new planking.
Nevertheless, it is still the second-most popular football celebration in Denver, where the Mile-High Salute still dominates.
"Both gave a way for Denver fans worldwide to unite using a single gesture, but Tebowing allows a non sports fan to identify with a cause," he said. "Whether you're going into surgery and want to unite with people praying around the world or you're just a Broncos fan excited about the game, you have something in common. Also, I haven't seen Terrell Davis Tebowing, which would be awesome."
The legendary Broncos running back isn't the only one he would like to see Tebowing. Kleinstein says he would love to see Diana Agron from "Glee" do the pose. Or Tim himself Tebowing.. next to president Barack Obama. For a historical figure, Kleinstein said he would like to see Moses Tebowing, "because then it would've been added into the bible, meaning it probably would be published in Websters dictionary rather than just Urban Dictionary."
Before You Go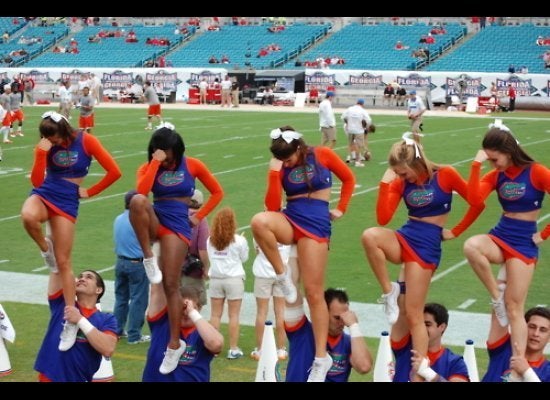 PHOTOS: Tebowing
Popular in the Community