By Chris Colin for WIRED.
Healing the tension between wealthy tech workers and their impoverished neighbors.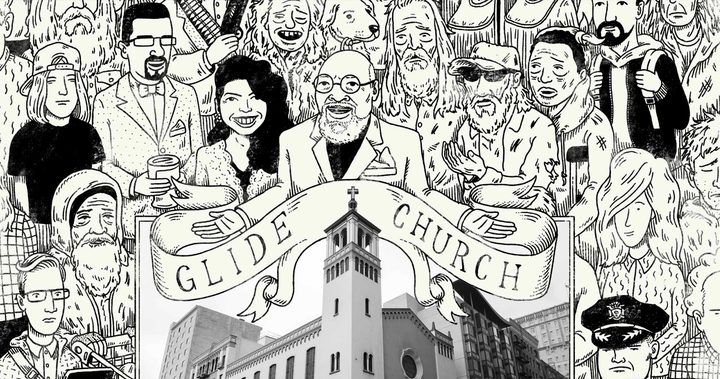 One day last summer Chirag Bhakta and a friend were walking through the Tenderloin, the San Francisco neighborhood Bhakta has called home all his life. Wedged improbably between the city's gleaming high-rises, tony Union Square shopping zone, and affluent Nob Hill district, the Tenderloin is a sprawl of code-red despair. People shoot up openly, stagger about in various stages of undress and untreated illness; nowhere else in town is such an intricate, root-bound extremeness of poverty on display. This level of misery is one of the most striking things a person can see in San Francisco, topped only by a relatively newer sight — that of well-to-do 23-year-olds gliding blithely through this scene while playing Twilight: The Movie Game on their phones.
The socioeconomic Maginot Line that long kept the TL apart from the rest of the city has in recent years been breached, as tech companies have pressed closer with their lavish mid-­Market offices and well-paid young employees. As a result, these 40 or so blocks have become an epicenter for one of the country's most pitched gentrification battles — pitched, arguably, because fighting about "gentrification" is just an easy way of fighting about larger and messier things: the growing chasm between rich and poor, sure, but also technology's place in the world and, on days like this one, which side can act more cartoonishly moronic. Bhakta and his buddy had turned onto Larkin Street when they spotted four white guys in button-down shirts.
"I was like, fuck it, I'm going to do away with my filter," Bhakta, 29, recalls. A tenant-rights-nonprofit worker by day, he watched the influx of tech companies lead to higher rents, more evictions, and a general sense of displacement in an already marginal community. When he was growing up, his parents, immigrants from India, had washed dishes and worked a cash register just blocks away. Bhakta could no longer hold back.
"Fucking tech bros ruining the neighborhood," he spat.
"If you can't afford it, get out!" one shouted.
As Tenderloin conflicts go, this one was relatively demure. The insults escalated — but ultimately both sides walked on. Maybe they weren't the punching sort. Maybe they had somewhere to be. Or maybe, at some subconscious level, everyone knew things were more complex than they were letting on.
Indeed, Bhakta sometimes fantasizes about conducting a more substantive conversation. But he also feels that bridging San Francisco's two most polarized and symbolic monoliths — its growing tech community and its impoverished Tenderloin — isn't his responsibility.
"If they can read code, they can understand why gentrification is a problem in the TL," he says. "It's not my job to hold their hand while they get to know their own neighborhood."
On this, Bhakta is correct. That job belongs to an 87-year-old man three blocks over.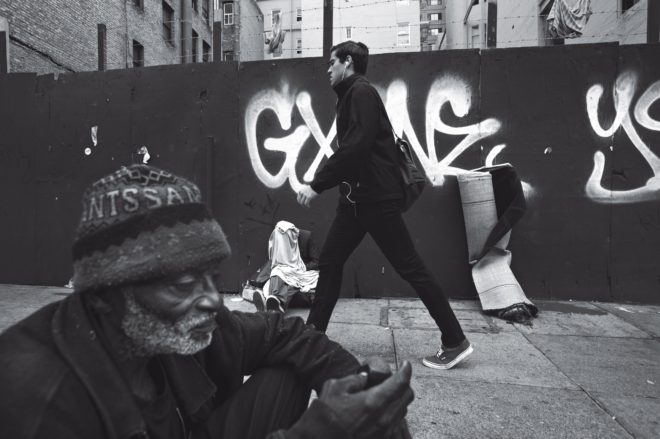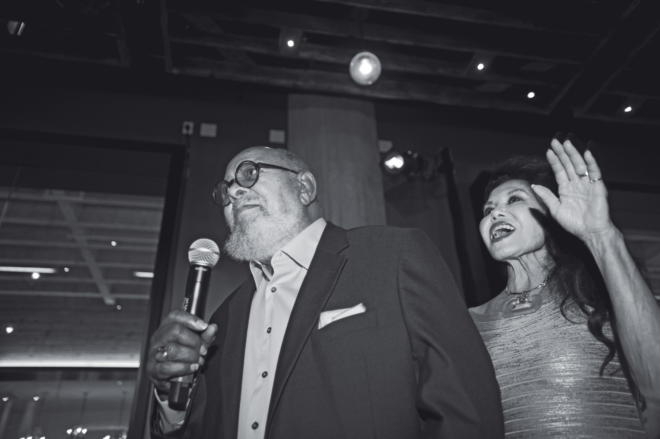 Reverend Cecil Williams is large and peaceful-­looking, with a bushy beard and the vaguely cosmic power to lure a dozen Zendesk employees from a perfectly nice office building. It is a bright and cold day in San Francisco, and from their glassy Market Street headquarters the crew walks toward Williams and his Glide Memorial Church, a beautiful but weathered building three grimy blocks and several galaxies away.
Maybe the Zendeskers mapped their walk before they came, or maybe they just looked for the line of hungry people. The line snakes down Ellis Street, past a boarded-up lot and a single-room apartment building for the poor, then winds up Leavenworth. For nearly a half century, Williams' church has served three squares a day to the city's most down-and-out — roughly 800,000 meals a year of late — making it one of the most ambitious soup-kitchen programs in the nation. The Zendesk team proceeds past the food line, into an elevator to a spartan conference room four floors up.
As emissaries of the tech world, the Zendesk employees represent the forces that have exacerbated the city's ever-widening economic disparity.
The group — cheerful, mostly young — stands out among some of the tougher clients Williams, his wife and the founding president of Glide, Janice Mirikitani, and their staff welcome as one of the city's largest providers of social services. With an operating budget of around $17 million, the church supports the city's poorest and most disenfranchised. On top of free meals, it offers legal counseling, child care, after-school services, recovery groups, a meditation group, an acupuncture clinic, a pregnancy support group, a grief support group, a healing-through-Negro-spirituals workshop. Glide also runs three supportive housing developments nearby, where residents receive social services in addition to a roof overhead.
The Zendesk employees gathering in the conference room have come at an odd moment in San Francisco history. As emissaries of the tech world, they represent the forces that have exacerbated the city's ever-widening economic disparity—the very issue that most consumes Glide and, frankly, the whole town. From the latest gentrification skirmish to the endless Google-bus wars, the Bay Area often seems defined by tension around the tech community — tension that, in turn, echoes the growing gulf between the haves and have-nots throughout the country. Armed with cotton balls and syringes, the Zendesk team has come to effect a small, back-channel undo.
A software company dedicated to providing customer support systems for more than 80,000 corporate clients, Zendesk hasn't typically focused on helping its neighbors shoot smack. But assembling needle-exchange kits isn't rocket science, and in this case it's actually a Trojan horse operation: "We bring them in with the needle exchange, and from there they learn about our other services," explains Jorge Vieto, Glide's health services navigator. Incidentally, the program also works on its own merits: San Francisco has about 22,000 IV drug users, and before endeavors like Glide's, hundreds of those users contracted HIV each year through dirty needles. In 2015 all of two new drug-related HIV cases were documented.
Among San Franciscans, Glide is a little like Burning Man, the annual art fest in the Nevada desert: You go or you resign yourself to hearing about it year after year. A typical entry point to the church is the famed Sunday service, a raucous event that's one part Occupy rally, two parts Prince concert, and zero parts brimstone. Williams arrived in 1963, straight from the March on Washington, and one of his first moves was to take down the crosses. His view on running a church was: Open the place to everyone. If the idea sounds nice, that's 2016 talking. He welcomed Black Panthers and hippies and drug dealers and prostitutes when that constituted full-on heresy. Ditto the same-sex covenants he performed in the '70s, decades before the world caught up. He called for the city's schools to be picketed in 1965 for what amounted to segregation, he threw "Free Angela Davis" rallies and waded into the debate after Native Americans took over Alcatraz in 1969. The finger waggers went insane every time. "Most of the city's widely recognized historical events over the past four decades involved Glide," reporter Jenny Strasburg once wrote in the San Francisco Chronicle.
All that history has left Williams less young than he once was; these days the charismatic pastor takes a lift to the stage on Sundays and increasingly shares it with other speakers. But his magnetism is undiminished, and he's at his fieriest on the subject of radical inclusion. Whoever you are and wherever you come from, there's always a place for you in this corner of the Tenderloin.
Glide had both the cred and the networks to facilitate an introduction between the neighborhood's oldest and newest residents.
In a way, that inclusive ethos is being tested more now than it was when Glide welcomed the hippies and Panthers and drug dealers. The arrival of Twitter, Salesforce, Spotify, Zendesk, and other companies in the Tenderloin and adjacent mid-Market corridor has ironically amounted to one of tech's biggest disruptions, depositing more than 10,000 comparatively wealthy, generally white employees into the city's poorest, most diverse neighborhood. Of course, the sudden appearance of pour-over coffee and artisanal cocktails in once-funky neighborhoods is nothing new in the city. But over at Glide, Williams and others started to notice something else. At an institutional level and an individual level, tech was showing up at their door with a specific if unspoken agenda: They wanted an intro.
"Many of them have chosen to live here and just don't know how to make a connection," James Lin, Glide's senior director of mission and social justice, tells me — they have a neighborhood, in other words, but scarcely know their neighbors. Enter Glide. The church had both the cred and the networks to facilitate an introduction between its oldest and newest residents. As cofounder and minister of liberation, Williams has stood astride poverty and fame for half a century; he marched in Selma, he's counted the Mandelas and Obamas and Oprahs and Bonos of the world as friends. A newly arrived company looking for an ally on these blocks, or perhaps a broker, could do far worse.
To Felicia Horowitz, wife of tech luminary Ben Horowitz and a devoted Glide supporter, the tech industry has to work extra hard for community acceptance—even as far more insidious local industries mostly escape public reprobation. Chirag Bhakta didn't mutter about predatory lending bros ruining the neighborhood. At the center, Horowitz sees an abiding tech truth. "We're outsiders. That's what it comes down to. We always have been," Horowitz told me.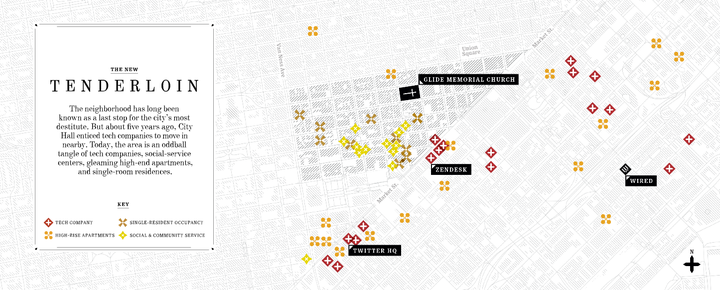 To critics, tech's budding interest in the TL is little more than reputation laundering. This is an industry that has ushered in exploding rents, driven beloved old establishments out of business, and frayed the very fabric Glide works tirelessly to save. The community-minded overtures it does make are mandatory in some cases. The so-called Twitter tax break exempted participating companies from millions in payroll taxes in exchange for moving into this neglected part of town and some vaguely worded community engagement promises.
These are concerns about which Williams does not give a damn. While the city spins out in endless arguments about the techies, Glide leadership has moved on to a more strategic question: What would Jesus do about a bunch of engineers moving into the neighborhood? The answer so far: Love them. Help them engage with this perhaps intimidating rung of society. Sure, get them to cough up money. But mostly love them and, on this morning with the Zendesk crew, have them make needle kits.
"There's more that unites us than divides us," one of the Glide workers says in his preamble to the group, and for a moment the gulf between user and coder feels navigable. The volunteers gather around a set of folding tables stacked with bins full of needle equipment. Zendesk is considered one of the city's more generous companies (it has a robust giving plan, volunteering is expected of employees, and in 2015 it launched a nonprofit for community initiatives), but a tedious gig putting things in bags? I expect a little half-­assedness—some bored texting, some lackadaisical me-and-my-needle-kit selfies. I see the opposite. Two workers discuss the possibility of assembling more kits back at the office. Others speak with pride about having doubled Zendesk's regular visits to Glide. One senior IT guy named Doug enjoys volunteering here so much that he comes on weekends. An engineer named Jim enthused that making the kits is disruptive. "The difference you make is measurable."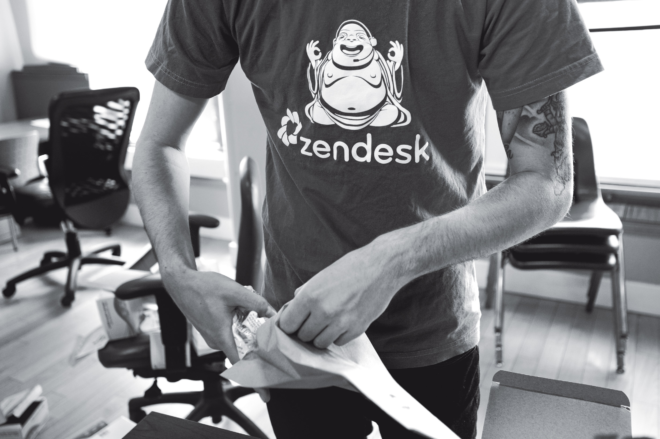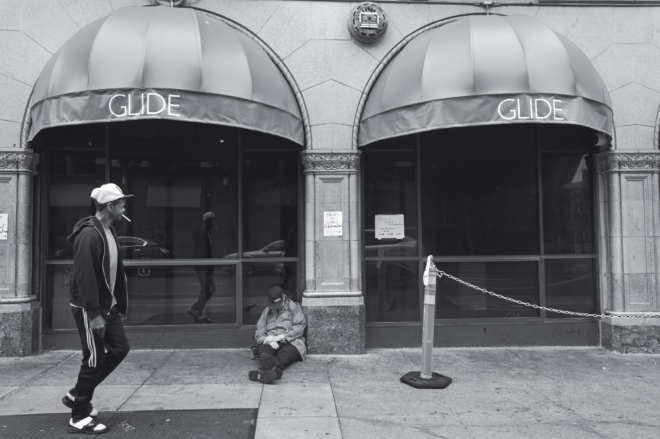 One day, a few dozen Twitter employees walk over to Glide to help prepare food during a periodic Friday for Good company outing. In the church's aging industrial kitchen, CEO Jack Dorsey slips on a hairnet and begins to dole out lunch.
Dorsey is slender and unassuming, decked out in red high-tops and jeans. "Earlier I was cutting potatoes," he tells me. The image is oddly destabilizing: On the one hand it's uncomplicatedly good that a person who could pop over to Paris for lunch has come to a dingy church basement to serve the poor. On the other hand is this naive but nagging thought: Couldn't he, you know, feed these people forever? That question has been a growing part of San Francisco's, and the nation's, complicated relationship with its newest industry. Is it unfair to expect a company to solve generational poverty simply because it has set up shop nearby? Or — and this question might require a channeling of Glide's most fundamental teachings — has the country reached a point where it's outrageous to do anything but try?
In the early 20th century the Tenderloin was the Paris of the West, a lively center of vice brimming with nightlife and culture.
As it happens, questions like these are currently being fielded in the Sanctuary. On Sundays, 200 congregants gather in the spacious, booming space for the rollicking Celebration. But today the room is being used for a kind of bespoke private sermon, as Nicole Brown, Glide's director of institutional giving, loads up a batch of Twitter volunteers with Glide-think.
"Glide is not church, please know that," she begins. Rather, it's a place to reflect on the "tapestry of our shared humanity," a tapestry in which Twitter is a "cornerstone partner." What follows is a mix of absolution, local history, and private homily.
"Our housing crisis did not start when Twitter moved onto Market Street," Brown assures them. "This is 30 years of failed public policy. We wanted to remain a precious, beautiful two-story city, and we did not build housing."
What happened and didn't happen on these streets is indeed more complicated than is commonly understood.
This article also appears in WIRED's February issue.

REAL LIFE. REAL NEWS. REAL VOICES.
Help us tell more of the stories that matter from voices that too often remain unheard.