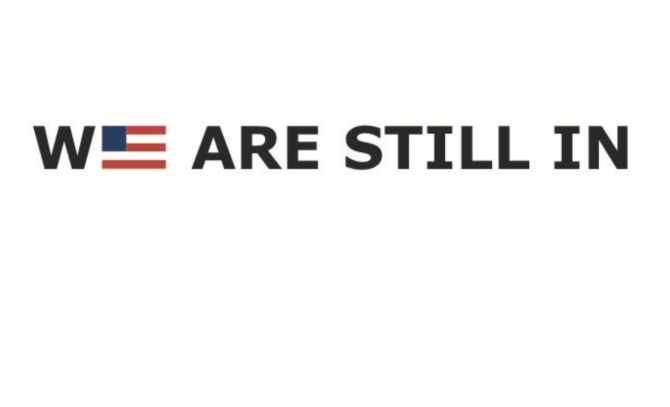 It wasn't quite as romantic as when Ilsa left Rick alone on the tarmac in Casablanca, but the parting of President Trump from the Paris Climate Accord prompted a fast and furious response from America's major tech companies on Twitter.
"Am departing presidential councils. Climate change is real. Leaving Paris is not good for America or the world," Tesla and SpaceX founder Elon Musk tweeted. Disney CEO Bob Iger quickly followed: "As a matter of principle, I've resigned from the President's Council over the #ParisAgreement withdrawal." A more detailed statement followed shortly: "Protecting our planet and driving economic growth are critical to our future, and they aren't mutually exclusive. I deeply disagree with the decision to withdraw from the Paris Agreement and, as a matter of principle, I've resigned from the President's advisory council."
Salesforce CEO Marc Benioff tweeted "Deeply disappointed by President's decision to withdraw from ParisAgreement. We will double our efforts to fight climate change." The tweet was accompanied by the following statement.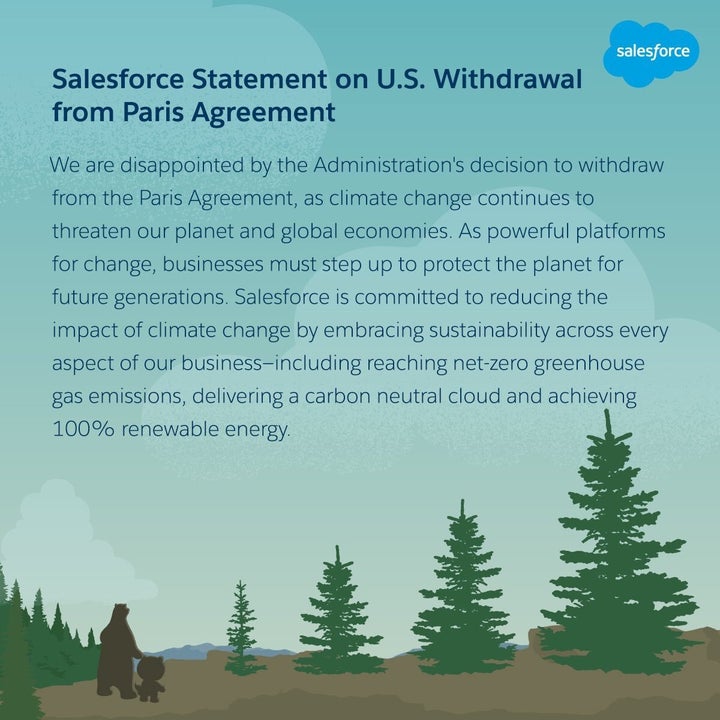 Microsoft President and Chief Legal Officer Brad Smith wrote on LinkedIn:
"Microsoft believes that climate change is an urgent issue that demands global action. We have a longstanding commitment to sustainability, which includes operating 100 percent carbon neutral and setting goals to increase the amount of green energy to power our operations.
We all live on a small planet and every nation needs to work with others to protect it. We've been a steadfast supporter of the Paris Agreement, from encouraging nations to come to an agreement in 2015 to urging the U.S. to ratify the agreement in 2016."
Like many others, Smith vowed that Microsoft would fight on despite the administration's rejection of the accord.
"We remain steadfastly committed to the sustainability, carbon and energy goals that we have set as a company and to the Paris Agreement's ultimate success. Our experience shows us that these investments and innovations are good for our planet, our company, our customers and the economy."
Tim Cook, CEO of Apple e-mailed his employees a firm commitment to continue on the road to renewable energy:
"Climate change is real and we all share a responsibility to fight it. I want to reassure you that today's developments will have no impact on Apple's efforts to protect the environment. We power nearly all of our operations with renewable energy, which we believe is an example of something that's good for our planet and makes good business sense as well."
Google CEO Sundar Pichai also vowed to continue the fight: "Disappointed with today's decision. Google will keep working hard for a cleaner, more prosperous future for all."
Google has already announced that it will reach 100 percent renewable energy for its global operations this year ― including both data centers and offices. The company says it is the world's largest corporate buyer of renewable power, with commitments reaching 2.6 gigawatts (2,600 megawatts) of wind and solar energy.
Smaller tech firms have vowed to carry on change as well. Amar Hanspal and Andrew Anagnost are Co-CEOs of Autodesk write in Medium.
"U.S. businesses are ready. Many of us power our businesses with 100 percent renewable energy, and we are building net zero buildings, designing enduring and sustainable products, and creating livable, resilient cities. We have entrepreneurs developing innovative low-carbon energy solutions, and changing traditionally polluting industries. The private sector has never cared more about acting on climate than it does today."
They sum up, perhaps, the spirit of the tech industry best when they say:
"We're still in. Our employees are still in. Our customers are still in. We're all still in."
As Stuart Lauchlan reports in Diginomica, many of the biggest tech names have joined the We Are Still In movement, led by former New York City Mayor billionaire Michael Bloomberg, a coalition of mayors, governors and academics who have declared that they will continue to support action intended to meet the requirements of the Paris Accord. "In total, the signatories represent 120 million Americans and $6.2 trillion of value to the U.S. economy," Lauchlan writes.
President Trump's decision to jettison the Paris Climate Accord in the wake of pleas not to from America's best and brightest CEOs (including dozens from other sectors beyond tech, not to mention the advice of the Pope, the Secretary of State and his own daughter) is as baffling as it is shortsighted. Having failed to secure a single big legislative win in his first 136 days in office, his decision to leave the voluntary accord smacks of a desperate attempt to prop up his isolationist base by distancing himself from anything that resembles an international treaty. His claim that the accord was costing taxpayers billions of dollars is patently false and even if it were true, the agreement is voluntary and he could have lowered the commitment for now without leaving the accord. His judgement that this will have a positive on jobs in dirty energies like coal shows a remarkable lack of business perspective for a man who claims to be a brilliant business strategist. The economic arguments shift decisively every day toward cleaner energy and renewables. There are already three times as many people employed in the solar industry as in coal mines. Hell, there are more people employed by Arby's than in coal mines.
Markets are global and international companies know that crippling America's leadership on the sustainability issue is very bad for business and will ultimately lead to less growth and fewer jobs. Unfortunately, America is living through a period when reality doesn't matter all that much.
Jerry Bowles is a regular contributor to Diginomica, an independent enterprise software site, and to HuffPost.
REAL LIFE. REAL NEWS. REAL VOICES.
Help us tell more of the stories that matter from voices that too often remain unheard.
BEFORE YOU GO