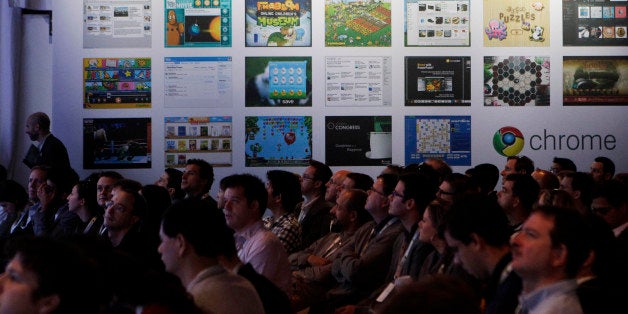 Less widely known are the glaring economic effects for minorities who are excluded from the field: The typical tech worker's salary is more than double the median household income for African-Americans. It is almost double the median household income for Hispanics.
An analysis from CompTIA, a trade association for the information technology industry, put the median yearly salary for an IT worker at $78,288 in 2013. (Another analysis from PayScale pegged the median cash compensation for private industry IT workers at $77,600.)
Data from U.S. Census Bureau American Community Survey; analysis by CompTIA analysis. Infographic by Alissa Scheller.
Groups within and outside the industry are working to increase the number of black and Latino entrepreneurs and STEM workers in the field. CODE2040, a nonprofit that aims to boost minority representation in tech, has a summer fellowship to introduce college students to the tech industry.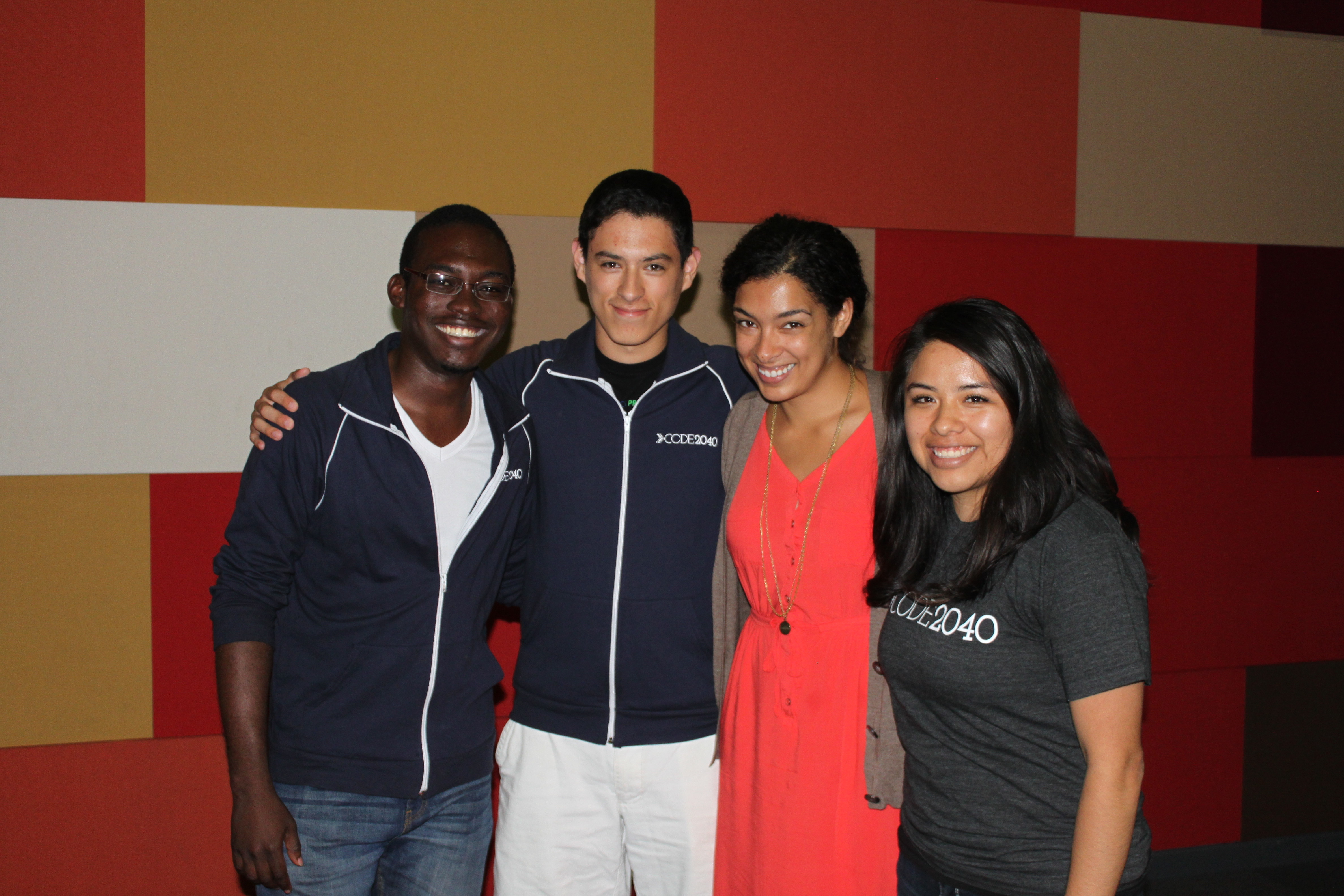 CODE2040 2013 fellows Ebenezer Sefah, Carlos Folgar, and Janeth Moran Cervantes with founder Laura Weidman Powers (third from left). Courtesy CODE2040.
"We had a handful of students a couple summers ago who were chatting with each other about their internships and realized suddenly that they were all making, as summer interns in college, more than both their parents made 30 years into their careers," Weidman Powers said. "That was a pretty sobering and exciting realization for the students. They suddenly had a totally different vision of where their lives could go and how they could impact their family and community."
Weidman Powers, now 32, was attending Stanford Law School when she altered her career path after interning at a tech firm and "getting hooked on the idea of showing up at work everyday to solve a big problem that nobody's solved before."
CODE2040 has started small, selecting about 80 fellows in total for its annual program including this summer's cohort of 35. The students -- who are overwhelmingly on financial aid for their schooling -- are placed in internships at CODE2040's partner companies, including Reddit, SurveyMonkey and Etsy and receive a minimum weekly salary of $1,000. Fellows learn from mentors, attend training and seminars, gain a growing network of minority entrepreneurs and see that they have a place in the industry.
"For some students... they don't know people who have worked in tech or in Silicon Valley, and so it didn't really feel like a possibility for them," Weidman Powers said. "We also have some students who are really high achieving, who took a look at their options and thought, 'Well, why would I go to the tech industry when there aren't people like me succeeding?'"
The connections students make in CODE2040 help them build a network of minority entrepreneurs and others in the industry who are then willing to help them in their job search, Weidman Powers said. That additional support is important when a degree alone is no guarantee of employment -- according to USA Today, 11 percent of computer science and computer engineering graduates from top colleges are black or Hispanic, more than double the portion of the workforce they make up at big companies like Google, Facebook and Yahoo.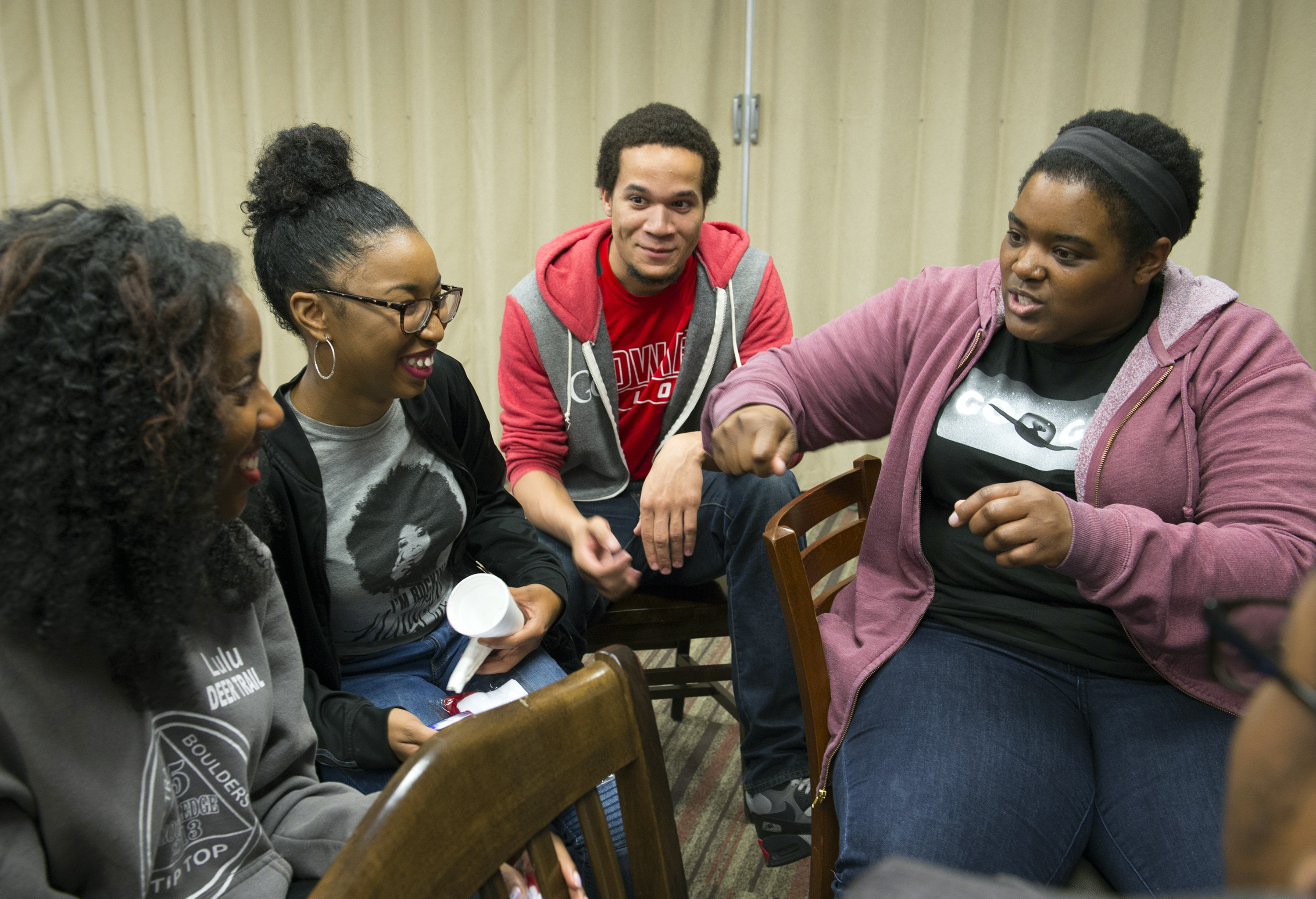 Google software engineer and Google In Residence Sabrina Williams, right, talks with students during a Google Student Development class on Impostor Syndrome at Howard University in Washington, Tuesday, April 14, 2015. AP Photo/Molly Riley.
But balancing the numbers requires changes long before students get to college. The Leveling the Playing Field Institute, which aims to break down barriers to minority access to STEM professions, sees the disparity of access to STEM education for younger students as one of the largest issues. A May LPFI report on California's public high schools found that schools with larger black and Latino populations are significantly less likely to offer any computer science classes than schools where less than half of the students are minorities.
LPFI founder Freada Kapor Klein was honored alongside Weidman Powers at the Ford Freedom Awards, receiving the Legacy Award with her husband Mitch Kapor. Before the ceremony, the two women spoke to 1,700 local elementary and middle school students about the importance of STEM education.
"If we believe that genius is evenly distributed throughout the population, we've got to ask why some groups are so grossly overrepresented in tech," Kapor Klein told HuffPost in an email. "The answer is that there are huge disparities in opportunity for young people depending on the zip code they were born in, and there is a moral argument to be made for leveling the playing field."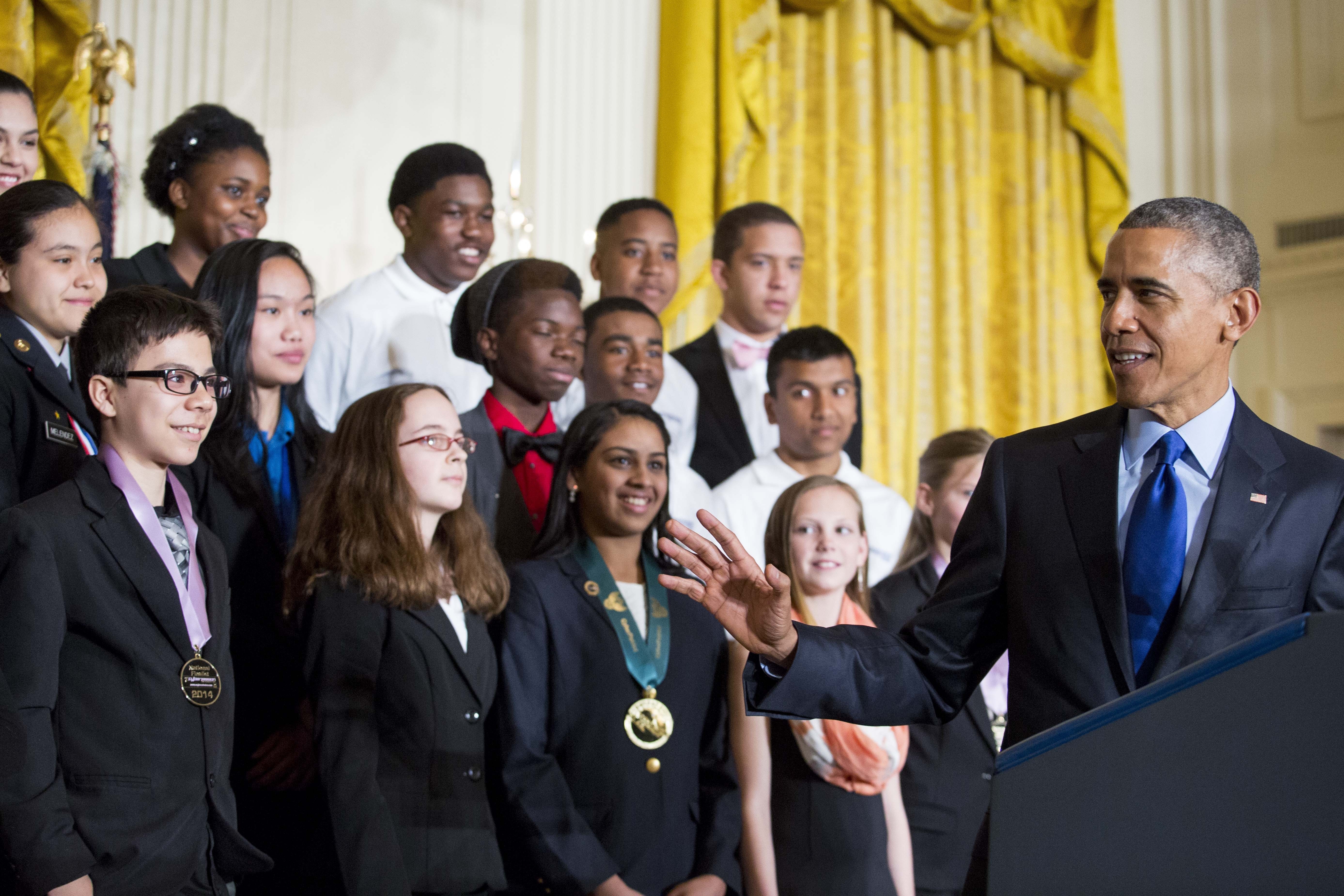 With students from a range of STEM competitions from across the country looking on, President Barack Obama announced more than $240 million in pledges to boost the study of STEM fields at the White House, March 23, 2015 in Washington, DC.
Drew Angerer/Getty Images
"Entrepreneurs tend to scratch their own itch -- they come up with solutions to problems they've seen and experienced," Kapor Klein said. "When certain groups of people, with specific lived experiences, are not at the table, tech is missing out on thousands of potentially profitable ideas."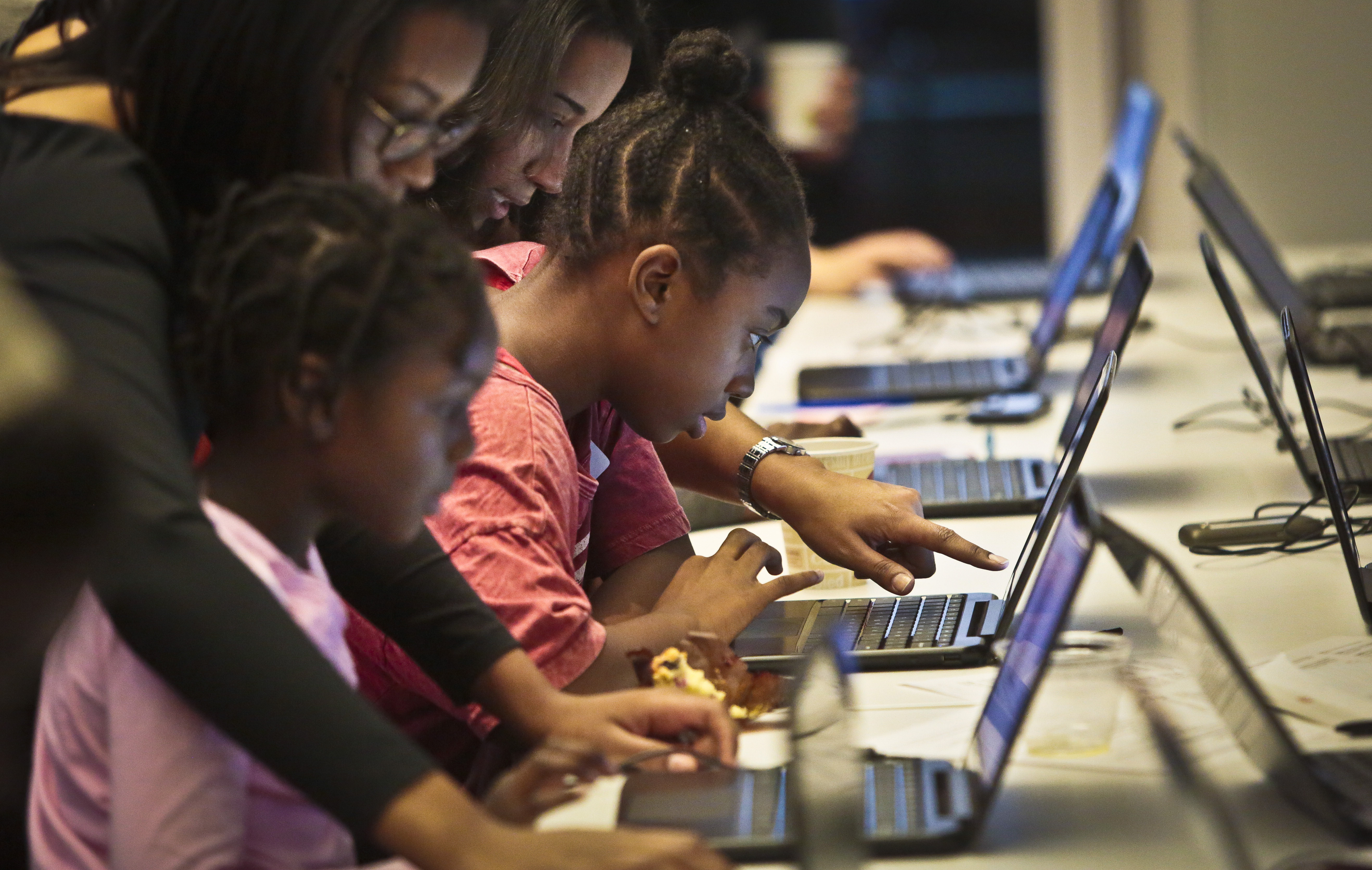 Black Girls Code workshop volunteers guide students during an app building session at Google, on Saturday, Dec. 14, 2013 in New York. AP Photo/Bebeto Matthews.
Calling all HuffPost superfans!
Sign up for membership to become a founding member and help shape HuffPost's next chapter
BEFORE YOU GO
PHOTO GALLERY
10 States Where Poverty Is Worse Than You Think