Over the last few months, I've been trying a wide variety of connected home devices that are worth knowing about (I'm listing them in order of preference):
RING video doorbell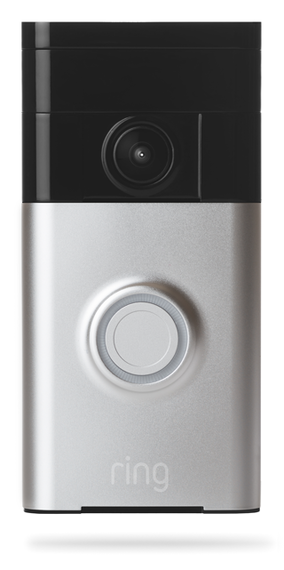 If you live in a home rather than an apartment, you probably have this problem: The doorbell rings and you can't see who's there; or maybe you're in a different part of the house and wonder if you should bother to walk all the way to the front of your house; or if inside, if you need to go outside to your gate. Or what about when a delivery is made to your house and you're not there, but you'd like to authorize the delivery person to leave your package.
Ring ($199 at Amazon), which I've been testing for a few weeks (courtesy of Santa Monica based Ring), solves all of these problems by replacing your doorbell with a simple unit equipped with a webcam that allows you, once connected to your home network, to use your smartphone to see and even speak to whoever is there when your doorbell chimes. It works surprisingly well with good picture and audio quality; and for the tech-resistant is a relatively easy 21rst Century upgrade.
With Ring you can also allow other users the ability to receive alerts when the doorbell is rung, as well as to answer themselves - which makes complete sense for your family members, and opens up interesting possibilities for remote viewing, for example, of visitors to a second home, or for the home of one's elderly parents. Ring does not offer live remote viewing on demand only when the motion detectors are triggered or someone rings the bell (but one customer service rep at Ring said that there has been high customer demand for that feature and it is under consideration for some future upgrade).
Ring comes with all the tools needed for installation and simple explanations for doing so. The instructions say installation can occur in minutes, and while I believe that to be true - in my case, it took me several tries to get the installation plate on straight (they do provide a small level), connect the doorbell wires correctly, and then attach the unit to it successfully so both doorbell and video work. I did have to call the customer support line - Ring provides toll free customer assistance 8 AM to 6 PM Pacific Time. - and was on hold for 9 minutes before I spoke to someone, who had to send me a software update before the unit actually worked. Even so, although it probably took closer to between 30-45 minutes to set up, I could do so without having to hire outside help.
My quibbles aside, once the unit was working I had no further problems save that there's a short delay between the ringing doorbell which demands immediate response and seeing who's there on your phone (made even a few seconds longer if you have to unlock your phone). You get used to that quickly as well. There is also a separate wifi Chime unit ($28.49) which allows you to plug in and connect to Ring in any room.
Combined with strategically placed Nest cams in the home (which I've reviewed favorably elsewhere) and you have a simple home security system.
Overall, Ring, is a source of delight -- just one of those upgrades you've thought about doing but imagined required too much rewiring or professional help or that you feared was too expensive or complicated to do -- and that the advancing rush of technology and spread of home wireless now allows. It is hard to avoid saying, in this Sinatra's 100th anniversary year, that as a device it makes you go: Ring-a-ding ding!
ALPHABET SOUP or Google's connected world:
Google has been rolling out a steady stream of home products, acquiring Nest home thermostats, and then Dropcam -- which is now Nest Cam -- all of which are great. However recently they've also introduced OnHub a super-router for the home, and Google chromecast - audio and video, which are not as great.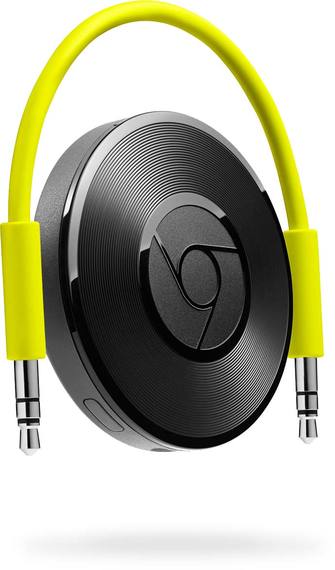 Google Chromecast audio ($35) is a small (about the size of a silver dollar pancake) and inexpensive device that allows you to turn your audio speakers into streaming devices. It works well and is a great example of simple hack that allows greater functionality that what is already in your home. That is if you can plug it into your speakers. (it comes with a cord that plugs into an earphone jack-sized hole, and they sell separately a cord for RCA plugs. If you have speakers that are so old as to run on speaker wire and/or have no such inputs - then you are out of luck.
Google Chromecast is a streaming platform and works well, but Roku performs so much better, has a better user interface and offers more choices (including Google Play) that it's not much of a contest.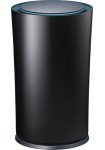 Finally, last, is Google's OnHub router. It's an attractive conical device that is not inexpensive, but I can't for the life of me tell you what its real purpose is. It's supposed to provide a stronger signal (it has 12 antennas) and is supposed to organize all your home connected devices, but honestly, I couldn't quite figure it out and figure why or who would need one. I will keep trying, and if I succeed, I'll let you know.
Calling all HuffPost superfans!
Sign up for membership to become a founding member and help shape HuffPost's next chapter