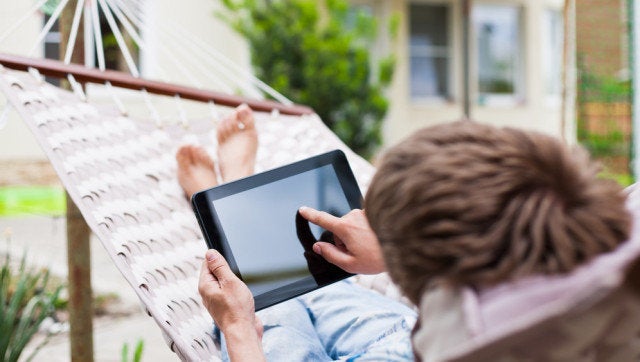 Do you remember the last time a high-tech gadget wasn't the it holiday gift? Neither can I. It seems every year, technology gifts become more essential to the holiday season than the year before. Now, no Christmas or Hanukkah is complete without getting a smartphone, tablet, e-reader, game console or some other high-tech gift. Even pet gifts are getting in the game, as we recently noted in our holiday gift guide.
The downside to the growing obsession with gadgets is that the holiday season is getting a lot more expensive. So how can you still buy the tech gifts you know your friend or loved one wants, without breaking your budget?
Here are nine ways to save money when shopping for tech:
Buy a Cheaper Alternative - Apple products are usually at the top of the list for many shoppers, but these items cost significantly more than other similar electronics. Not to pick on Apple, but one of the best ways to trim down your tech budget is to find a cheaper alternative to an iDevice. A few examples: instead of spending $499 to $699 for a tablet experience -- or even $329 for a "mini" tablet experience -- spend $199 for a Google Nexus, Nook HD 7 or a Nabi 2 for kids. Or spend just $159 for a Kindle Fire. There are worthwhile options to the MacBook line ($999 - $2,199), like the Sony Vaio T-Series ultrabook for as low as $669, Dell Ultrabook 14-inch at $629 -- or go ultra cheap with a Samsung Chromebook at $250.
Buy Out of Date - The French call it passé, but we call it saving a boatload of money. You can get an iPhone 4 8GB for free with a new contract -- saving the $199 it would cost for an iPhone 5 (also with a new contract). The same is true with laptops, desktops and tablets.
Buy Used - Refurbished electronics sell for hundreds less -- and there's no reason why you shouldn't take advantage. If it comes from the manufacturer or a major retailer, the quality should be just as good as the new product -- but at a much lower price. A few good sites to check out: Apple's "special deals," BestBuy's "refurbished," GameStop's "refurbished," Dell Outlet, HP Business Outlet and eBay stores for HP and Toshiba.
Go with a Discount Site - Before buying that expensive gift, it might be worth checking out one of these discount shopping sites: MacMall.com, Shopzilla.com, Become.com and eBay's Shopping.com. Buying from these sites, instead of the manufacturer or a major retailer, can save you hundreds on your purchase. MacMall.com, in particular, will save you a lot on all things Apple.
Buy a Game Console Instead - Instead of buying a bunch of portable gaming handsets for the kids, a Roku or Apple TV, and replacing that old DVD player that you still use every once in a while for a Redbox rental, just buy a Microsoft Xbox 360 for $99, and have one device that does it all. The great thing about game consoles -- also included here are the Nintendo Wii and Sony PlayStation -- is that they're designed to be all-in-one home entertainment centers. That means you'll simplify your life and save money.
Trade in Your Old Tech - Don't let that old smartphone or laptop languish in a cardboard box in the attic. Do the frugal thing and take it in to BestBuy, Radio Shack, GameStop or Circuit City, where they'll offer you cash, a gift card or credit for the value of the item that can be used toward the purchase of something new and shiny.
Get a Freebie - It sounds too good to be true, but you can actually find free gadgets online. And I'm not talking about a 2005 BlackBerry handset. FreebieJeebies.org is one site that offers free tablets, computers, and smartphones -- including the iPhone, MacBook Air, iMac, iPads and more. There are also sites like A-Free-iPod.com and GratisiPods.com that offer, as their names imply, free iPods. The catch is that you have to sign up for a marketing program, refer a few friends, and you might also have to pay international shipping charges. But, hey, isn't it worth it for a free gadget?
Take Advantage of Store Rewards Cards - It's hard to find a retailer these days that doesn't offer a rewards card. The next time you're offered one when checking out, instead of blowing off the cashier, sign up. Two you should sign up for: Target's REDcard and Amazon Prime. Target's REDcard is free and will save you 5 percent off on most purchases. Not bad. The catch is that you have to link the card to your checking account or credit card so the purchases run through those accounts. But that's actually better, since you're not being asked to set up an in-store credit account. Amazon Prime is definitely worth the $79 membership fee, as it gives you free shipping for one year, plus hundreds of free movies in Amazon Instant Video and free access to the Kindle Owners' Lending Library. The only catch is that Amazon could start charging sales tax on purchases as early as next year, which will eat into its competitive pricing. BestBuy's Reward Zone is only worth it because it's free. Membership will get you $5 off for every $250 spent.
Skip the 'Extras' - No, you don't need AppleCare+. When it comes to gadget purchases, you can rack up a ton on extras like extended warranties and help center support. It's best to take the limited-time warranty and product support that comes with it and decide later if you really need to extend it. There are also good alternatives to manufacturer warranties: SquareTrade.com offers product warranties for up to 60% less and BestBuy's GeekSquad offers tech support on up to five computer and an unlimited number of peripheral devices (i.e., smartphones, tablets) -- but it does require a 12-month commitment.
By playing it smart, it is possible save considerably on big ticket electronics purchases. You just have to do the research and be patient. Shoppers can also sign up for price alerts (PriceSpider.com, Gazaro.com, PricePinx.com), check out daily deals sites (RedTag.com, Woot.com) and showroom stores with price-checking apps on their smartphones like RedLaser, ShopSavvy or Price Check by Amazon to save money on their gadget purchases.
Related
Popular in the Community