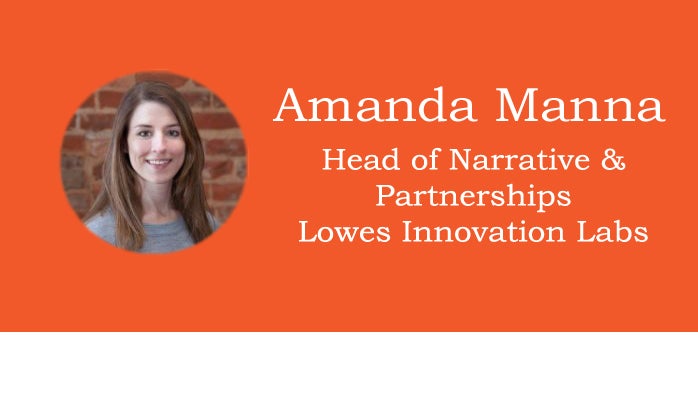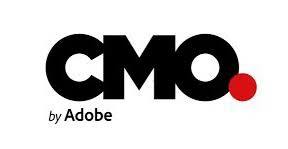 Article by Ernan RomanFeatured on CMO.com
Amanda Manna is a true innovation leader. As head of narrative and partnerships of Lowe's Innovation Labs, she oversees the team responsible for innovation strategy, an extensive applied neuroscience research program, partnerships, and marketing and communications.
In her own words: "I direct the framework we are using to drive disruptive change within Lowe's."
The Innovation Lab has established a global reputation for breakthroughs, including the first AR/VR home design tools, in-store autonomous robotics, exoskeletons for store employees, and the first store in space—a 3D printer aboard the International Space Station.
With that as a backdrop, Manna provides an interesting, perhaps even surprising, take on technology in this edition of "4 Questions for Digital Innovators."
1. What is one marketing topic that is most important to you as an innovator?
There is a lot of excitement about the potential for new technologies like augmented and virtual reality, robotics, and artificial intelligence to transform customer experiences. Too often, this leads marketers and innovators to throw technology at the wall to see what sticks.
The problem with this approach is that people aren't changing nearly as fast as technology, so what the world needs is more intuitive tools—made possible by technology—that can change human behavior.
Ask yourself, "What are the 'common cold' problems facing your business?" You know, the longstanding, stubborn problems that just continue to persist despite every effort. For Lowe's, one of those problems is how to visualize the end result of a home improvement project. It's estimated that $70 billion in projects every year never even get started because of how hard it is to envision the end result or share your vision with someone else.
After you've identified the problem, then consider how technology might be applied to help solve it. For my team, we knew we could use visualization technology like augmented and virtual reality to solve this human need and overcome fear and apathy. That insight led us on a journey that has helped Lowe's lead the adoption of augmented and virtual reality tools for home improvement.
2. Why is this so important?
Technology has to adapt to people, rather than the other way around. It's important as marketers that we are intentional about being imaginative, to ensure we build solutions that help people solve common problems or take advantage of new opportunities.
Too often, it feels like we throw new technology at problems we failed to solve with the previous generation of technology. And usually, these are marketers' problems: How do I capture and keep attention, shift perceptions, or drive a purchase behavior? Until we actually solve the human problems that our customers care about, none of this innovation will drive the results marketers need.
At Lowe's, we view our stores as a competitive advantage because they become living labs that allow us to get feedback from actual customers and employees. This is the best way we know to create not just solutions that work, but solutions that work for our customers.
3. How will this improve the customer experience?
It's clear that by solving real problems first, marketers will deliver a helpful, supportive, and differentiated customer experience.
For example, we've learned that customers are intuitively turning to AR via a smartphone for collaborative design, which enables them to visualize changes within their existing space. As a result, our first global product launch was Lowe's Vision, an AR design application for Google's Tango platform.
What you learn along the way will likely surprise you, and if you're paying attention to the right clues, they can lead to new opportunities. While we started off using VR for design, what we saw was that by putting people in a fully immersive environment, they were engaged, focused, and ready to learn. These insights led us to create Holoroom How To, a virtual DIY skills clinic that customers and employees can use to learn how to tile a shower.
4. How will this improve the effectiveness of marketing?
Today, with the launch of Apple's ARKit and Google's ARCore, augmented and virtual reality technology is now in the hands of millions of people around the world. Artificial intelligence is driving the functionality of devices, tools, and experiences that are available today, such as smart home devices, and those that will transform tomorrow, such as self-driving cars. Technologies that may still feel far-future today are actually at our doorstep.
We all have the opportunity to shape the future as a result of the actions we take in the present. Start today by putting new technologies to work in service of old problems, and you can gain a head start on rising customer expectations by building tools that exceed what they need and want today. For Lowe's, this head start has driven near-term value, in addition to the long-term benefit that comes by boosting our reputation as an innovative retailer.
The point I want to leave you with is that it is important to build solutions that don't just work, but that work for real people. When you focus on building something that is helpful, useful, and exciting, it will sell itself.
Bonus: What is your favorite activity outside of work?
I love to spend my time outside of work relaxing with my husband and daughter. A perfect weekend will find us enjoying the outdoors and listening to music on our screened porch.
Related
Popular in the Community