 WASHINGTON -- In a move that would make Jerry Maguire proud, a team of four top lobbyists at TechAmerica resigned Monday afternoon, dealing a blow to the struggling tech industry lobbying outfit. The four senior lobbyists, Trey Hodgkins, Erica McCann, Pam Walker and Carol Henton, are all expected to join a rival trade group, the Information Technology Industry Council (ITI), according to sources with knowledge of the deal.
The sources said that ITI was able to raise $50,000 a piece from more than a dozen of its members to cover the cost of bringing on the new team. Plotting mass departures is generally the stuff of post-happy hour get-togethers, but once the booze wears off, the plans usually fade, with the risk and the organizing challenges often outweighing the benefits of quitting. But Monday's resignations are only the latest in a string of setbacks for TechAmerica, which was at one time a leading voice in Washington for the information technology industry. As The Huffington Post reported last month, TechAmerica has shed more than 75 clients since July, including some of the industry's biggest players.
"I don't think we've ever seen anything on this scale, of a 'raiding of the cupboard' of another association," said an industry source familiar with the drama, who requested anonymity because his employer is a TechAmerica member. The staff losses, he said, would leave TechAmerica crippled. "You can see literally the crown jewels dropping out of their crown."
The lobby shop, under the leadership of CEO Shawn Osborne, whose background and expertise is in the startup world, hasn't played by typical Washington rules, and has operated more as a traditional business focused on cost-cutting than on hiring former government officials who could sell access. On Monday, the firm may have learned the hard way that Washington's rules are still rules.
The lobbyist departures signal a new low for TechAmerica, and they pose a real threat to its continued ability to advocate for its members' interests on Capitol Hill. Since the middle of last year, TechAmerica has shed more than a dozen lobbyists. As of Monday afternoon, its advocacy team had been reduced to three lobbyists who, taken together, possess less than three years of total lobbying experience since they registered, according to federal records.
Emails and phone calls to TechAmerica's spokeswoman were not returned Monday afternoon, nor were calls to TechAmerica board members.
TechAmerica has a tough road ahead without the Hodgkins-led lobbying team, whose work lies at the heart of the group's value to tech companies around the country. These companies regularly pay more than $100,000 a year each in membership dues. Hodgkins and his colleagues provided the trade group's member companies with access to federal agencies, which regularly award multi-million dollar IT contracts and lobby Congress, which in turn authorizes federal IT spending.
A former member of the senior management team at TechAmerica wrote in after this story was published to emphasize that the departure of the public procurement team means it is losing its biggest profit-driver. "This is the entire public sector leaving, not just some lobbyists. That is the profit center for the organization," he said.
TechAmerica's lobbying disclosure forms reveal just how much ground Hodgkins and his colleagues covered on behalf of TechAmerica's member companies: In the third quarter of this year, Hodgkins and two other TechAmerica staffers reported lobbying the House and Senate, the White House and the U.S. Trade Representative, the Office of the Director of National Intelligence, as well as the Departments of Defense, Homeland Security, Agriculture and Health and Human Services.
Lacking direct experience in lobbying or public affairs, Osborne arrived at TechAmerica following a career spent running telecom companies, and a brief stint as chairman of the board of the Telecommunications Industry Alliance.
Employees, however, say the cuts led to low morale and increased departures by the remaining staff. In August, two of TechAmerica's top lobbyists, Kevin Richards and Kristine Berman, both departed for new jobs, leaving Hodgkins as the only remaining advocacy expert on TechAmerica's leadership team.
Below: Not a dramatic reenactment of Monday's walkout.
This is a developing story and has been updated.
Support HuffPost
The Stakes Have Never Been Higher
Before You Go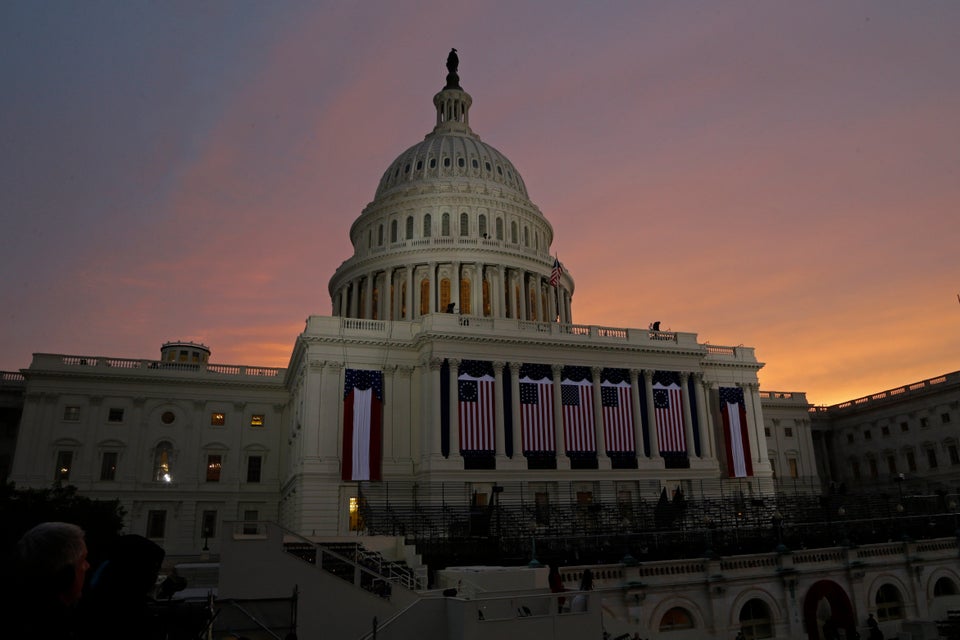 U.S. Capitol Photos
Popular in the Community