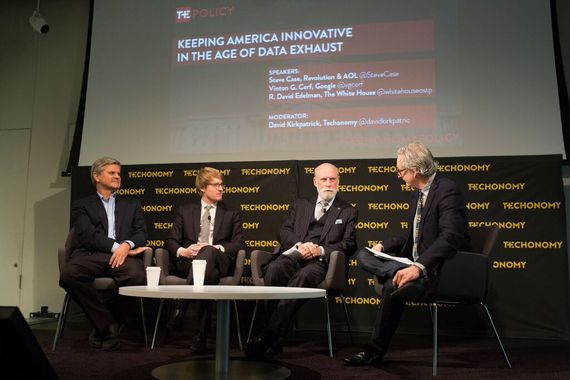 From left, Steve Case, R. David Edelman, Vint Cerf, and David Kirkpatrick. (Photo by Rebecca Greenfield)
From a founding father of the Internet who is now at the fore of interplanetary connectivity comes an evolved view: Competition need not be a zero sum game; collaboration can produce positive sum outcomes.
Internet pioneer Vint Cerf made what he called a "bigger pie argument" at Techonomy Policy 2015 in Washington yesterday. To open the event, Cerf joined Techonomy CEO David Kirkpatrick for a discussion with AOL co-founder Steve Case and White House senior advisor for Internet, Innovation, and Privacy Policy R. David Edelman for a discussion about "Keeping America Innovative in the Age of Data Exhaust." Cerf implored fellow panelists to drop the "competitive rhetoric" because "a rising tide raises all boats."
Cerf, who now serves as Google's Chief Internet Evangelist, said, "We talk about American competitiveness all the time; we have acts of Congress that speak to that ... Europe is up in arms about its inability to compete with creative and innovative American companies. They spend time trying to tear down American business instead of simply engaging by being innovative." Cooperation, not competition, will move technology forward, he argued.
That's not to say Cerf isn't rooting for the home team to stay on top. He pointed to Americans' "willingness to take risk and to reward people for that, and an acceptance of the possibility of failure and recognition that it's not fatal" as this country's competitive advantage. While Asia and Europe cultures slowly embrace risk-taking, Cerf said, the U.S. should "run as fast as we can while they try to catch up."
Steve Case, whom Kirkpatrick said has become "the biggest Internet celebrity in the Washington area" since he founded the investment firm Revolution Growth there, noted an important nuance: "While it is fair to say that this country remains in the lead, and that Asia and Europe have not shown the same level of creativity in this last wave, it's also fair to say that there are many parts of this country that have that same conservative risk-aversive perspective."
Noting that 75 percent of venture capital in the U.S. went to just three states and 85 percent went to men last year, Case said, "Many parts of Europe are not super innovative, but Berlin and Stockholm and London are on fire." He pointed to Spotify and Skype as examples of European innovation. "It's important to dig a little deeper, and if we're going to remain the most innovative entrepreneurial nation we've got to level the playing field and make sure that everybody has a shot. There are people with great ideas across the country who don't have access to networks."

Cerf said that cooperation among government, the private sector, and the legislative branch will be key to keeping the country innovative. But can leaders of tech, business, and government work together to insure that conditions for invention and innovation remain strong? That was the main question the panel addressed.
"We have the opportunity to remain the most innovative entrepreneurial nation, but it's not guaranteed," Case said. "We need to recognize that the next wave of the Internet is going to require more dialogue, more partnership. This last wave has been more of a go-it-alone, app-centric focus. The next wave is going to require entrepreneurs to partner more both with large companies, and partner more with government to have a genuine dialogue around policy." He said, "If we get it wrong we will lose our edge and lose our way and 50 years from now we will say, 'What happened here? We were asleep at the wheel.'"
Edelman offered one bit of evidence that the mindset in Washington has shifted dramatically. When he got his start in government in the Bush administration State Department in 2008, he said, "there was not a recognition at the senior level that [technology or the Internet] was essential to our public policy."
Today, Edelman said, "Technology is no longer an acceptably foreign language to senior officials in the government." For instance, he said, "You don't hear Cabinet officials in the administration or anywhere else saying 'I don't really understand economics.' To not 'get' economics would be to not get one of the core pillars of what we're doing in public policy." The same is now increasingly true of technology, he said. "For any incoming cabinet official, and really among the whole senior team in the administration, you either need to have an understanding of technology or know enough to know what you don't know and surround yourself in your inner circle with those that really do."
Calling any remaining lack of tech awareness in the top ranks of government a "self-solving problem," Cerf said new generations of leaders will have experienced technology and know about it "just by virtue of being younger."
Indeed, Edelman offered an example how digital tools wielded by a tech-savvier generation have already effected policy change. When the White House launched We the People several years ago, it promised a response to any petition that accumulated at least 10,000 signatures (a threshold since raised to 100,000).
"One of the issues that was not at the top of the radar screen for any of us in policy, but should have been, was cell phone unlocking," Edelman said. When a petition demanding a consumer's right to move his or her cell phone between networks attained enough signatures, Edelman said, the White House quickly published a three-step policy, press attention snowballed, Congress introduced four bills to change the law, and new legislation was passed within months.
Cerf applauded the outcome: "Freedom of choice--about almost everything--is the most important policy we can adopt in this government and this country," he said.
Support HuffPost
The Stakes Have Never Been Higher
Related
Popular in the Community