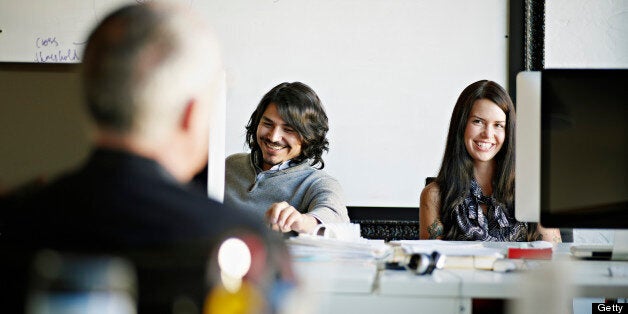 Courtney Boyd Myers, 28, thought she'd found her dream job when she joined a thriving education startup in London staffed predominantly by people her age or younger.
Her youthful co-workers were extremely web-savvy. They weren't yet distracted by children or spouses, making them tirelessly hardworking. Her colleagues were also her friends, and nights at the office would often seamlessly transition into nights on the town.
But since leaving her job in April to start her own company, Myers has been collaborating with a slightly older group of founders, an experience that's prompted her to reflect on the potential pitfalls of having so many major technology companies dominated by young people.
She and her peers would waste time trying to figure out problems someone with more experience would have been able to address quickly. Their round-the-clock work schedule made burn-out inevitable. And their shared age had given them a limited view on the world, narrowing how they approached their work.
"Having a team or company that has a diverse group of ages makes for a more inspiring and creative place to work than if there's just a bunch of millennials all hacking away at things," said Myers, who founded Audience.io, an audience development firm based in New York and London. "We have a lot of stupid apps out there that are all about finding next best restaurant -- products geared toward 20-somethings -- and I think we're missing out on products that the rest of the world can use."
The 20-somethings populating the ranks of top tech companies and aspiring startups have been praised by managers as some of the most enthusiastic and driven employees in the labor pool. They're obsessed with career advancement, immersed in the Internet and don't yet have families pulling them away from the office. Because they're still only starting out in their careers, they're also usually cheaper to hire.
Yet people have given considerably less airtime to the risks that emerge when these young workers are disproportionately represented in a company's talent pool. The lack of experience that makes them well-suited to seizing on new approaches is also causing some young firms to repeat errors that led to the dot-com crash, experts warn.
"What we're noticing is that some of the startups with millennials are making the same mistakes as people who had startups in '99 or 2000 all over again," said Marta Fuentealba, co-founder of Talent Farm, a recruiting company based in San Francisco that works with numerous technology firms. "They're not worried about making money. They have crazy ideas for their businesses. There's still no clear idea of how to earn revenues. They don't know how to put teams together that work, and they work crazy hours."
PayScale, a company that tracks benefits and compsensation, recently helped quantify just how young tech companies truly are. PayScale examined 32 major tech firms, and found only six had employees whose median age was above 35 years old. Eight of 32 firms had a median age that was 30 or younger. Those companies included Epic Games (26), Facebook (28), Zynga (28) and Google (29).
While their parents aspired to work-life balance, these younger workers have embraced the idea of work-life integration, which makes them more willing to give their lives over to their employers and could lead to broader, lasting changes in the way we work. Experts see parallels between this generation, which works constantly, but demands flexible schedules, and Baby Boomers, whose hyper-competitiveness refashioned corporate America.
"While millennials are running tech companies and startups, which are right now on the outskirts of corporate America, boomers ran into corporate America and totally transformed it," said Kim Lear, a consultant with BridgeWorks, a research and advisory firm specializing age issues in the workplace. "Just as we see millennials pushing each other and maybe burning out, Baby Boomers belonged to the generation that changed the 40-hour workweek to the 80-hour workweek."
Noting that "being on Twitter and Gmail until you fall asleep at night is really the norm" among her peers, Myers added she worries that companies dominated by millennials could lead to unhealthy work habits that cause them to overdo it early in their careers. "Working just with people who are in their 20s is a really easy way to burn out," Myers said. "At a company where you have people of all different ages, and especially people with more experience, you can avoid burnout because you're learning from people who value work-life balance and time management a bit more."
That melding of their personal and professional lives has also given some 20-somethings unrealistically high expectations of what their jobs should provide, which can lead to turnover or dissatisfaction among employees when those aspirations aren't met, Lear noted. There's a sense that their jobs should offer not only money, but also a circle of friends, the chance to change the world and, more often than not, a good time.
Companies must also be vigilant to ensure the desired flavor of Vitamin Water is on hand at all times. Fuentealba recalls how a recent college graduate working at a prominent social media company sent a scathing, firmwide email excoriating the company for not having his favorite Vitamin Water in stock -- never mind the fact that the company also provides regular, free meals for its employees. Having missed the fallout from the tech bubble's burst in 1999 and in school during the pain following the 2008 downturn, many young employees expect lavish corporate perks, Fuentealba said.
"There's this sense of entitlement mixed with chronological immaturity that can just be a mess," she said.
One 20-something working at a New York City tech startup observed that his peers' tendency to approach their jobs as a lifestyle can also make them averse to criticism and overly sensitive to feedback.
"The millennial generation … is not the best at dealing with negative feedback and craves positive feedback," he said. "And then once you throw in the ability to respond or confront people instantaneously on Twitter or Facebook or email, you get a lot of heated thinking and rash decisions that prior generations didn't even have the opportunity to do."
As much as they might recognize their faults, 20-somethings in tech aren't poised to upend the status quo.
Asked whether she'd make a point of hiring middle-aged employees to staff her burgeoning startup, Myers said she'd consider it, but had no immediate plans to do so.
"People in their 60s have really interesting insights and a beautiful view of the way things have come up in their lifetime, and patterns they've seen," she noted. But, she added, "There's too much catch-up. I'd rather take them out to lunch every so often and glean insights that way."
Calling all HuffPost superfans!
Sign up for membership to become a founding member and help shape HuffPost's next chapter
BEFORE YOU GO
PHOTO GALLERY
13 Most Bizarre Tech Job Titles