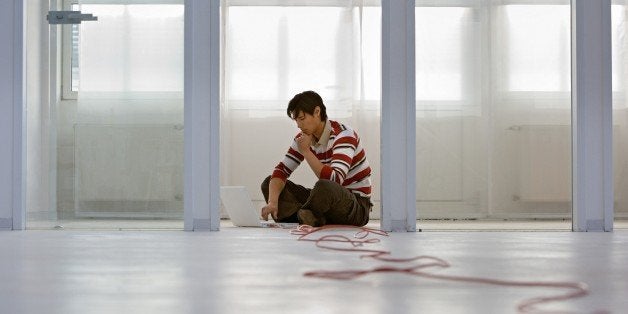 Startups can live or die by the depth of their investors' pockets, but some have stumbled on what can often be the most reliable source of funding -- contracts with the federal government.
The types of startups attracting interest from the U.S. are diverse and range from transportation-related companies to early-stage learning websites. Read on for a closer look.
Transportation-related technology startups were the biggest beneficiaries of federal government contracts in 2013, according to a survey conducted of tech companies on industry website CrunchBase.
About 56 percent of the $1.1 billion federal dollars spent in 2013 in dealings with tech startups, classified as companies started after the year 2000 that have raised at least one round of funding from investors, went to companies specializing in transport -- often space transport.
Which company attracted the most investment? Tesla Founder Elon Musk's SpaceX, a space transport services company headquartered in Hawthorne, California, received a mammoth $594 million in federal government contracts in 2013, according to information obtained through public filings available on USAspending.gov. That's up from $256 million in 2012 and $195 million in 2011.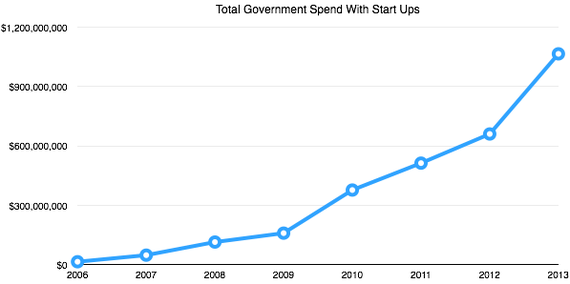 Overall, SpaceX has received over $1.3 billion in federal funds since 2008.
The money came primarily from NASA, which has awarded SpaceX contracts to design and demonstrate launch systems to supply cargo to the international space station. While SpaceX has numerous contracts with companies in the private sector, government contracts represent a large chunk of its funding.
On its next mission, SpaceX is slated to deliver cargo, including equipment for science experiences, imaging software, spare parts, food, provisions and clothing to the crew of the international space station.
Enterprise and biotech-related startups received the second and third largest sums of money from the federal government, respectively, with enterprise contracts up by almost 2000 percent, from $13.2 million in 2009 to $243 million in 2013. Biotech startups received $101 million in contracts in 2013, up from $59 million in 2009.
Indeed, enterprise startups received approximately 21 percent of all federal funding since 2000, or $700 million of $3.35 billion in total funds, according to public filings, while biotech startups received 14 percent, or $467 million.
The biggest recipient of funds in the enterprise software startup arena in 2013 was little-known startup Digital Management, a company specializing in cyber security and enterprise mobility. Founded in May 2002, Digital Management raised one round of funding worth just $1.7 million in 2010 and two debt rounds totaling $2.54 million before going on to win government contracts totaling $499 million over the last three years.
In 2013, Digital Management received $237 million in federal funds, up from $163 million in 2012 and $98 million in 2011.
Those contracts include one signed in 2011 to support the advancement of Trusted Computing Technologies for the Air Force Research Laboratory.
Digital management provides software development support for the Aviation Resource Management System, an online system that supports commanders, aircrew supervisors, and managers, providing operations management information to support implementation of air force flight management policies.
The biggest winner in the biotech sphere in 2013 was Carestream Health, a provider of dental and medical imaging systems and healthcare IT solutions for life science research and drug discovery and development. Carestream received $22 million in funding, primarily from the Department of Veteran Affairs, in 2013.
Analytics-related startups ranked low on the list of government contract recipients, receiving just $34 million in contracts in 2013, but $32.6 million of that sum was awarded to one company: Palantir Technologies, the big data company whose clients have included the NSA, the FBI and the CIA.
Since its founding, Palantir has received a total $120 million in government contracts, according to public data.
The data-mining giant compiles and interprets intelligence-related data, breaking global issues like human trafficking and disaster response into digestible formats like maps and graphs, and counts Condoleezza Rice and former CIA director George Tenet among its advisors. It's even been credited with helping to catch Osama Bin Laden.
It's not all big business. The federal government is doing deals with small startups, too.
Notable small firms receiving government contracts include Anybots, an 11-year-old Silicon Valley-based Y-combinator-funded company which makes remote-controlled telepresence robots. It received a total of $58,646 between 2010 and 2012 from the United States Navy and NASA.
And General Assembly, an education platform for technology, design and entrepreneurship, which provides training for the Consumer Financial Protection Bureau, received $10,750 in federal training contracts in 2013, according to public data.
All in all, government spending with startups is increasing very quickly. In 2013, federal contracts with startups accounted for $1.1 billion, up from $661 million in 2012, and $514 million 2011. A total $3.35 billion in federal contracts has been awarded to startups since 2000.
Approximately 4 percent of companies listed on CrunchBase had financial dealings with the federal government.
In almost in every industry, it appears the companies winning government contracts are those that were designed purposefully to do so. For the most part, those companies are not consumer-facing, and it's likely many people will not have heard of them.
With the exception of consumer-facing startups like Anybots or General Assembly, which only receive minor payouts from the federal government, most of the companies securing major government deals, such as SpaceX, were built for the purpose of interfacing with government agencies.
In other words, don't expect the federal government to come knocking on your door unless you've worked with a federal agency since inception.
Related
Popular in the Community