Every year at this time I invite a panel of 14 judges representing all facets of the kids' media business to do some soul searching. Eschewing public opinion, personal bias or the fact that they compete with each other professionally, we engage in a 6-hour ongoing conversation and even longer email thread about what the characteristics of good kids' digital play should be and which industry players are most deserving of what we call The KAPi Awards (Kids at Play Interactive) giving out at CES in Las Vegas each year.
Products can nominate themselves or they can be nominated by one of the judges. This year's winners represent a number of trends that parallel many of the trends you're seeing in the adult world. They reflect a nervousness on the part of parents to make sure that their kids play with 21st century toys designed to give them the building blocks for the skills they'll need.
The convergence of physical and digital play, the idea of making stuff like circuit boards, robotics, early adventures in augmented reality/virtual reality and teaching kids to code, all scored high on the list. Imaginative, whimsical, exploratory and designed to mold the entrepreneurial mentality of a new breed of digital natives, here are this year's winners and why:
Best App or Product for Younger Children: The Foos Coding 5+ by codeSpark. Ideal for future programmers, The Foos (pictured below) are animated creatures that present challenges that can be solved by code. The better you do, the greater the challenge, making The Foos an excellent first coding experience.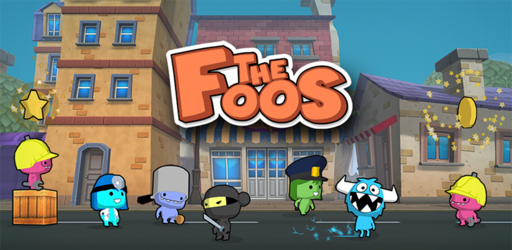 Best App or Product for Older Children: View-Master by Mattel. 75 years ago the View-Master toy offered a new way to view the world, through stereoscopic vision. This year's View-Master leverages the power of your smartphone and Google Cardboard to unlock VR (virtual reality) content. Once again you feel like you're inside the image.
Best Maker Product: Circuit Stickers by Chibitronics. We all know how stickers work which is why the simplicity works so well when matched with a make-your-own circuit kit. These peel-and-stick electrical elements give you a new way to experiment with batteries and LEDs, to make things like electronic greeting cards. No soldering required.
Best Physical Digital Product: Moff Band by Moff, Inc. All kids wriggle and move. Now, all that activity can be translated into information, and delivered to your smartphone thanks to this durable, affordable Bluetooth slap bracelet.
Best Hardware: Dash and Dot by Make Wonder. Using their iPad as a controller, even the youngest kids will be coding as they map out a chain of commands (including some dances) for these two robots (pictured below). A simple graphical user interface offers a wide array of programming games and activities and both Dash (the big guy) and Dot (the little round one) have enchanting dialogues too.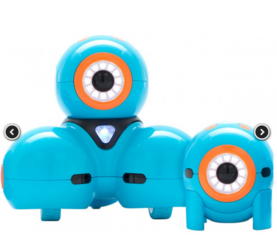 Most Innovative: Edwin the Duck by Pi Lab. This Rubber Ducky is the one, because no other floating toy has been this smart. After some time in his charging nest, Edwin can become a lullaby playing night light or a bath thermometer, with LEDs that indicate if the water is too cold, too hot, or just right.
Best Content Distribution System: YouTube Kids by Google. Here's a welcome sign of leadership in the name of kids from a corporate giant-- namely Google. YouTube Kids comes closer to leveraging the raw power of YouTube, and its endless supply of puppy videos, for a kid audience. No, it's not perfect. But YouTube kids is a step in the right direction.
Best Product for Schools: GoNoodle by GoNoodle. Got a group of kids and a few spare minutes? What teacher doesn't? GoNoodle is a video streaming service for classrooms that can turn this time into a mini-gym class, or a trip to a Zumba studio. Some videos reinforce grade level lessons, and they work at home, too.
Best Creativity Product: Stikbot by Zing. Free app/toy combos are common, but this one does something unusual. The free app works without the toy, making it easy to make your own stop motion productions. However, you will probably want to buy the Stikbots, because they're cheap and so easy to pose, with suction cups for feet and hands.
The judges also award two people, one who's lifetime commitment to kids and technology is honored and a second who displays the tenacity of an emerging star. This year's winners are:
Emerging Pioneer: Ayah Bdeir. The co-founder of the Open Hardware Summit, a TED Senior Fellow and an alumna of the MIT Media Lab, Ayah Bdeir is the founder and CEO of littleBits, an electronic building block kit. Bdeir is an engineer, interactive artist and one of the leaders of the open source hardware movement.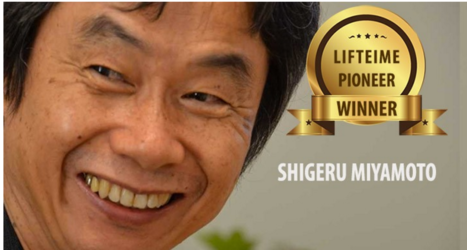 Lifetime Pioneer: Shigeru Miyamoto, Senior Managing Director, Creative Fellow, Nintendo Co., Ltd. Mario, Donkey Kong, The Legend of Zelda are household names for one reason: Shigeru Miyamoto (pictured above). Called the "Spielberg of video games" and "the soul of Nintendo," Shigeru has never stopped innovating. Super Mario Maker now lets children become the game designer.
Awards are given out on Jan 7th at CES® 2016. Check http://kapiawards.com for details.
Robin Raskin is founder of Living in Digital Times (LIDT), a team of technophiles who bring together top experts and the latest innovations that intersect lifestyle and technology. LIDT produces conferences and expos at CES and throughout the year focusing on how technology enhances every aspect of our lives through the eyes of today's digital consumer.
Related
Popular in the Community